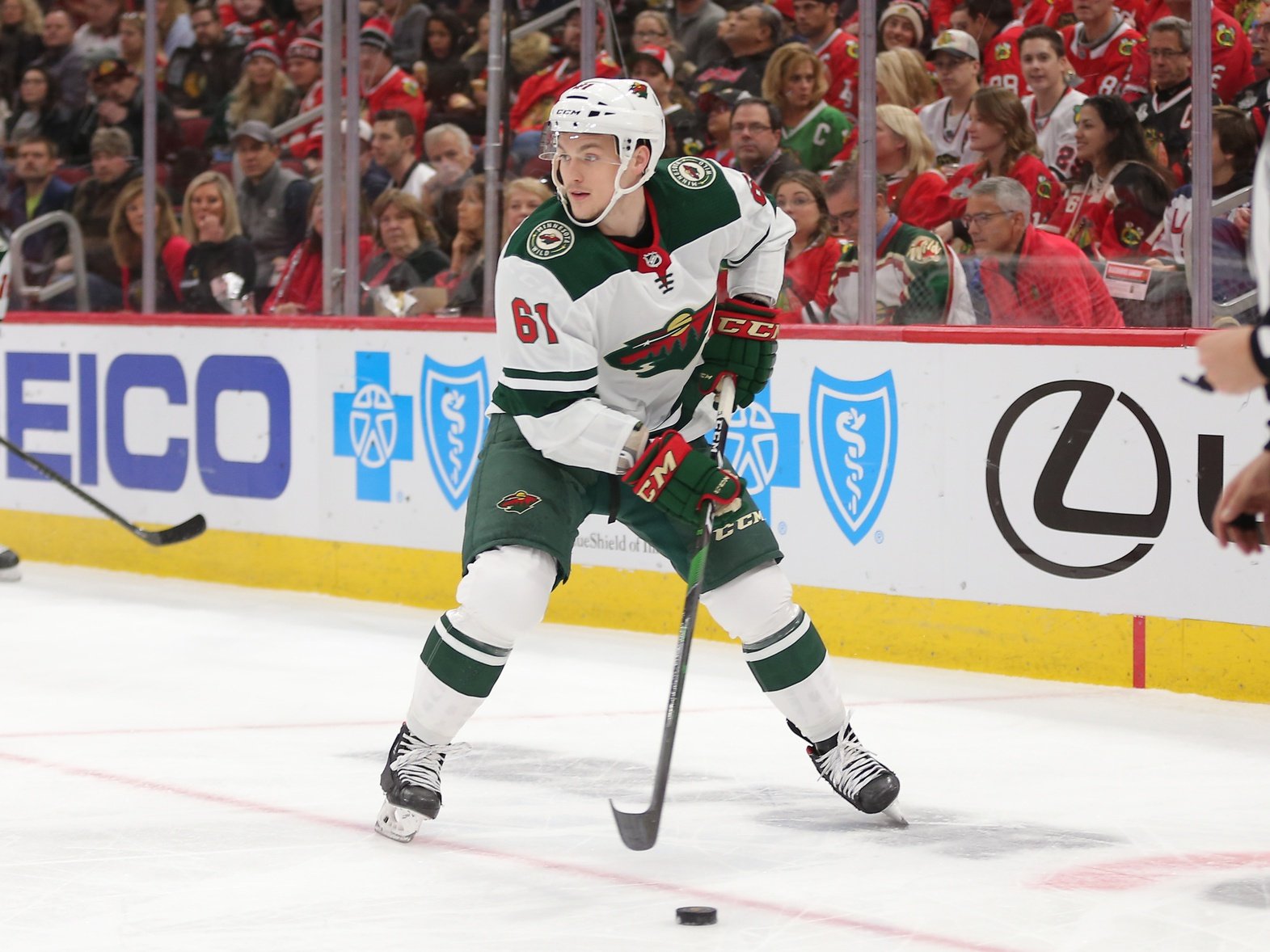 Imagine being 23 years old and traveling halfway across the world for a job. You don't speak the language, you're in a completely different culture and your local McDonalds serves… borscht, maybe?
As everyone here knows, Kirill Kaprizov is dealing with that life change (minus the borscht part). But Wild farmhand Brennan Menell is doing the Reverse Kaprizov: He exercised his restricted free agency and signed with Dinamo Minsk of the KHL Wednesday.
Menell has been off the radar with casual Minnesota Wild fans, outside of a five-game NHL stint this year. Pity, because his story is great. Raised in Woodbury, Menell went undrafted in 2015, then passed through the draft twice more. Despite being overlooked, Menell kept working hard and growing his game, scoring 71 points as a defenseman in his final year in juniors.
He got invited to the Wild's prospect development camp and impressed enough to be signed to a contract. Menell never stopped proving himself. At 21, he was an AHL regular. The next year he notched a 44-point season for Iowa. And this season he scored 47 points in 57 games, finishing second among defensemen in the AHL. He made the All-Star team and earned First Team AHL honors.
Menell didn't see any playoff minutes for Minnesota, but he figured to be in the mix come training camp. So why did he bolt to the KHL? And why does it matter?
To Russia* With Glove
Usually when a young prospect goes to the KHL -- and it's not a case where, like with Alex Khovanov, the team planned for and agreed to the move -- it's indicative of some kind of breakdown of trust between the team and prospect. Given that this doesn't appear to be a team-sanctioned move, that's a possibility. But we don't know, and any speculation is just that.
It can be said that there are legitimate motivating factors for this decision that have nothing to do with Menell's relationship with the team.
First of all, there's no guarantee that there will be an AHL season. The AHL announced a delay of the season to Dec. 4 back in July due to the coronavirus pandemic. Not nearly enough things have changed, as cases continue to rise in the Untied States. The NHL has been able to pull off their return to play in a bubble, but the AHL won't have the resources to do the same.
Even if Menell makes the Wild with an expanded roster, he is at risk of losing precious playing and development time. If he finds himself out of the rotation, like in the playoffs, then he has a lost season even if he is able to be in the NHL and make an NHL salary.
By going to the KHL, Menell ensures that he has playing time in his age-23 season. He'll probably get a salary somewhat similar to what he'd earn in the NHL, and certainly above the $70K he was making on the AHL minimum salary.
How this impacts the Wild
It's hard to say the full extent of the impact of Menell's exodus from the organization. He had a great AHL season, but we have no idea how he'd perform in the NHL. He could have been a solid two-way defenseman on the bottom-pairing. He also could have struggled.
What's more certain is that Minnesota lost a lot of flexibility. Menell was an NHL ready prospect on the right side of the defense. Having him in the mix gave them an option, along with prospect Calen Addison. And if Minnesota were able to pull off a trade of a right-shot defenseman, there's a case to be made that Addison could have slid onto the second pair.
Now they have one fewer option. Does this mean they have more urgency to bring back free agent Carson Soucy, who is a left shot but played right defense? Will the Wild take trading Matt Dumba off the table, knowing that the options to replace him are thin once again? If so, that could greatly impact how Minnesota approaches trades in the offseason.
But Menell's departure creates opportunities for some Wild prospects. Addison suddenly has a much less crowded field to make the team. 20 years old is fairly young for a defenseman to be in the NHL, but blueliners players his age get called up more frequently than they used to. In the AHL, 24-year-old Louie Belpedio could get top-pairing minutes to show he can be part of the Wild's future.
What's Next For Menell?
Without coronavirus Menell's path forward with Minnesota would be simple: He would get a qualifying offer and compete for a roster spot with the Wild. If he won, he'd have started the season on the third pair. If he lost, he'd be back at Iowa, soaking up top minutes while being the first call-up in case of injury.
Now things are more complicated.
There's a path back for Menell, of course. The pandemic gets under control by next year, leading to the AHL being back in operation. He succeeds with Dinamo Minsk, proving himself a viable option for Minnesota in 2022-23. He signs a contract with Minnesota in 2022, earns a spot in training camp, and the Wild make room for him. A happy ending!
There's a lot standing in the way between Menell and that outcome, though. If he struggles overseas, that obviously hurts his stock with the Wild and perhaps any other teams that would otherwise have interest. Giving Addison and Belpedio a clear shot at a bigger role doesn't help with that.
And even if he succeeds, Addison and/or Belpedio could still have enough success to box Menell out for the future. If that's the case, Menell could find himself making a trade request or being expansion draft bait for Seattle.
What causes a Woodbury kid to leave his hometown team and fly out to Belarus? Lots of reasons. Coronavirus, opportunity, money, playing time -- all good reasons that could easily be right for his career. Pulling the Reverse Kaprizov might work out for Menell, but it lessens the chances for a storybook ending with the Wild.
*Belarus, actually, but I couldn't think of a movie title parody including Belarus. Maybe The Minskurian Candidate would have been better? That feels forced, though.