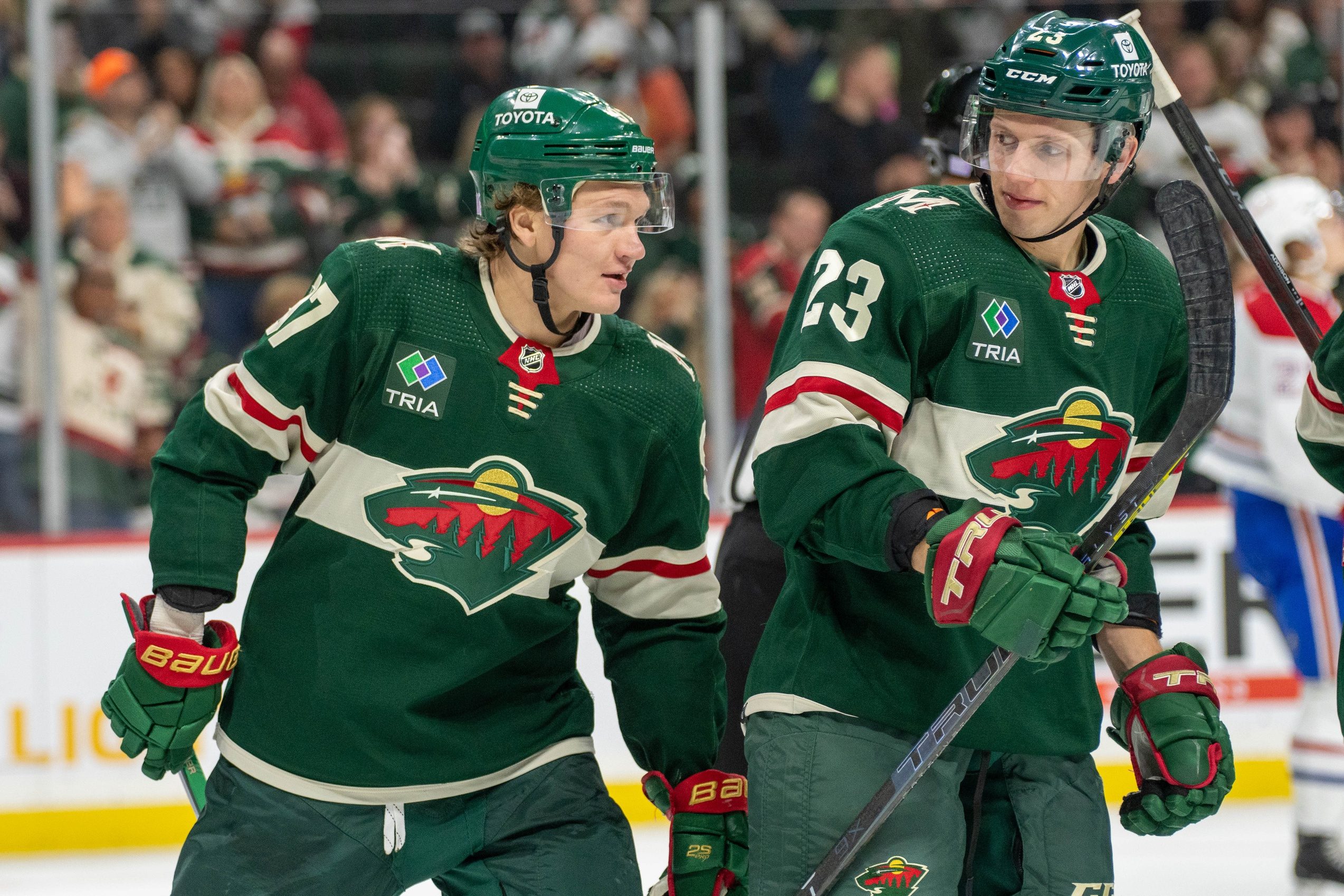 Yesterday the Minnesota Wild announced that Kirill Kaprizov's injury will keep him out for three-to-four weeks. To say it's a major blow is an understatement. Kaprizov is as close as it gets to a one-man offensive attack in the NHL, at least this side of Connor McDavid.
His 39 goals make up 21.2% of the Wild's 179 goals in all situations. He's registered a point on 74 goals overall, making up 41.3% of their overall offense. That also includes points on 33 of Minnesota's 106 5-on-5 goals (31.1%).
How are the Wild going to replace that kind of production? They can't. Fortunately, they have two things going for them. For one, thanks to Kaprizov's brilliant play, the Wild have built up an impressive cushion in the Western Conference playoff race. With 17 games remaining, Minnesota is up 10 points over the Calgary Flames, who are the best team outside the Wild Card race.
To put it another way: Their playoff chances were rock-solid with Kaprizov and not much lower without him.
The second bit of good news is there is a top prospect in Iowa, putting up nearly a point per game at age 21, who's ready for action. The Wild have Marco Rossi, their top pick in 2020, crushing it in the AHL with 36 points in 39 games. He's showing tremendous growth as a two-way force.
What better time to call him up than now, when the Wild have a Top-6 role open — with power play time! — where he can get all the puck touches they're accustomed to? There's no greater opportunity to see how his game has grown, and give him a real audition to see if he can help the Wild in this playoff run.
So did they call him up? Come on, now. You've seen how this team is handling Rossi over these past two years. You know how this story ends.
The Wild recalled Sammy Walker to fill the open roster spot. Walker is having a strong rookie season in Iowa. He's currently leading Iowa in goals (24), and points (44). You can maybe point out that he's riding a sky-high shooting percentage (24.5%, best in the AHL with 50-plus shots), but production is production. There's nothing wrong with having Walker on the team.
But what Walker isn't doing is standing out as much as Rossi has. Rossi's played 11 fewer games in Des Moines, so his point totals don't stand out as much. But on a per-game basis, Rossi's out-shining Walker at a younger age. Rossi's got 0.92 points per game to Walker's 0.88. Pretty good, especially when considering Rossi gets tough defensive matchups at center, while Walker is mostly a winger.
The difference is even more pronounced over the past month. They've both played 12 games since February 10, and Rossi has clearly been the better player.

But who gets the call-up? Walker, who has been performing much worse, and isn't even getting unlucky (shooting 20% on 15 shots). Opponents have held Walker without a shot in five of his past 12 games. Rossi has three or more shots in six of those 12 games.
Again, this isn't to knock Walker, but it needs to be said that Rossi has deserved an opportunity. From the jump, the front office has obsessively said that Rossi would have to earn the chances he gets. But when the time comes around, they passed over Rossi for a player who has been much less productive, assertive, and yes, deserving over the last month.
What does this accomplish?
Confusingly, it apparently means that the Wild get to play Rossi meaningful minutes in Iowa while sitting Walker in the press box. Instead of grabbing a chance to see Rossi's upside in a big spot or infusing Walker's speed into the lineup, the Wild are replacing Kaprizov with...
Sam Steel? Yep, Steel.
Steel had a nice run from late November into December alongside Kaprizov and Mats Zuccarello. Then he fell off the face of the Earth entirely, losing his spot next to Kaprizov, then his lineup position altogether. Before March 4's game against the Calgary Flames, Steel hadn't drawn into the lineup since February 15.
Steel broke an 11-game pointless streak by notching a secondary assist on a Marcus Foligno goal. That gives him a total of one assist over his last 12 games, or 198 minutes.
Meaning: He's been exactly as productive as Rossi was over his 199 NHL minutes. If Steel gets to replace Kaprizov, despite being not productive enough to be in the lineup even when he was with Kaprizov, Rossi's lack of production back in October and November isn't an excuse.
Again, we have to ask: What exactly does this accomplish? Why does Steel, a 25-year-old with (almost certainly) no long-term future in Minnesota merit this opportunity over the future of their franchise? The one who has, by all accounts, been doing everything asked of him in Des Moines to go along with his production?
Entering Thursday's action, Rossi ranked 35th in the AHL with 0.92 points per game (minimum 20 games). That includes being 15th among centers, and fifth among players under 24.
Every excuse for not giving Rossi a shot is gone now.
There's no room to play him, Minnesota wants him playing top minutes in all situations. Okay. Kaprizov's injury frees up 21 minutes a game, including almost four minutes of power play time. What a great home for a Top-6 forward who needs puck touches to succeed! As for his position (center) replacing a winger, Ryan Hartman can shift back to the wing, or Rossi can even play the wing in the stretch run.
Rossi doesn't need the pressure of [either having to rescue the Wild from a slump/having to carry the Wild in a playoff chase]. The Wild are 9-0-2 over their last 11 games. A shot by Stephane Veilleux was more likely to become a goal (7.9%) than the Wild are to miss the playoffs (7.0%).
You can't shake up the team/locker room when they're rolling. Do you watch the news? What's a bigger shake-up than 40% of your offense going on the shelf for a month?
What if he doesn't become Kaprizov?" No one on earth will be expecting him to be as good as Kaprizov. There's just one of that guy. The question can't be Is he going to be able to replace Kaprizov? It should be, Is he a better alternative than someone like Steel? He is.
What about his confidence? It's great that Rossi's been able to rebuild his confidence in Iowa. It really is. But how great is it for his confidence to be passed over at the trade deadline for okay-but-not-great veterans like Marcus Johansson and Oskar Sundqvist? How great is it for his confidence to be doing well, but still waiting for a call-up when Minnesota needs someone like him the most? What does it do for his confidence for the team to consistently say, We don't trust you yet, kid?
Even if their plan was to keep Rossi in Iowa through the year, plans need to be fluid to meet today's demands. Today, the Wild need a player who can at least theoretically break some games for them. The Wild need someone like Rossi.
The time is now to test him. If he passes? Great. The Wild have another option at their disposal heading into the playoffs. For a team that's 31st in scoring, they need that. If he doesn't quite play to that level? Great. You got a no-risk progress report of a top prospect, and maybe even a list of things to build on in the offseason as he prepares for full-time duty.
The only way the team can lose here is to not play him. Yet, that's the reality Wild fans are facing, yet again, watching Minnesota handle their top prospect.