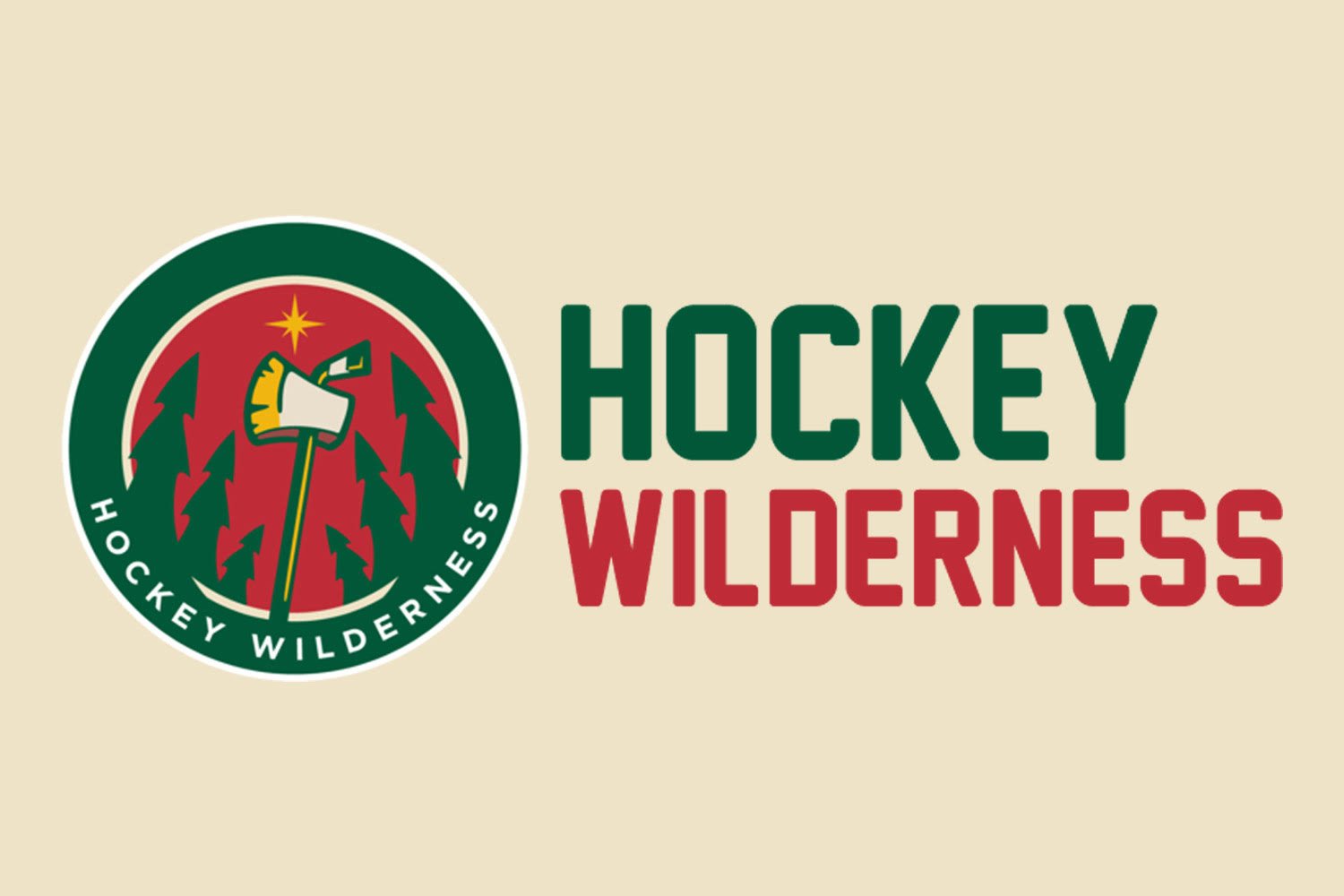 Last night, a number of the Hockey Wilderness team all met up at the X to take in the second development scrimmage of the camp. This included myself, Tony, Barry, Tony Dean, and a bunch of Wilderness-ers themselves! It was a great time, and the scrimmage showed off what we have to look forward to.
Much like Joe did on Saturday, I'll give my thoughts on the players that I had thoughts about. Unlike Joe, I'm going to break it down by position as well.
Obviously the huge caveat here is that these observations are made in a single night in a single scrimmage; drawing conclusions from that situation is just silly... but I'm going to do it anyways.
Goalies
The 6' 2" 21-year-old net minder made some nice stops. He moves well, seemed to track the puck effectively, and generally looked promising. He'll start in the AHL next season, as he lost his NCAA appeal due to cheating on a test, and will hopefully provide a bit of stability in net for the Iowa Wild. He, did give up his fair share of juicy rebounds.
Brody Hoffman
Charlie Lindgren
The only chance I had to see Lindgren was in the shootout, which tells us nothing. The Lakeville invitee is probably on the outside looking in, but (again) given the Wild's net minder situation, he could possibly be brought in to the Quad City affiliate, or the Alaska Aces.
Ales Stezka
Stezka was just drafted, and holy cow can he move. he made more than one great save, and kept a shutout all the way through the first half (to be fair to Hoffman, who replaced Stezka in the 2nd half, the White Team really kicked on in the 2nd half and gave Brody more work than Stezka saw). It is possible Stezka is a little too active- at one point he went to play a puck behind his net, lost it, and had to sprint back to his crease to make the save (which he did).
Kahkonen let in one goal in the scrimmage... but it was an absolute snipe from the middle slot. Hoglund, who scored, had all kinds of time to line himself up; there is no shame in Kahkonen giving up that goal. He made some very good saves and his positioning seemed sound, though he doesn't seem quite used to the speed of North American ice- he would sometimes go to cover a puck, but arrive late and have to recover. Still, he also is a promising prospect.
Defenseman
I have to say, Olofsson really underwhelmed me. He didn't make a huge impact in the scrimmage (which is to say, he didn't make huge mistakes, but nor was he a bright spot on the ice). Based on the scrimmage tonight, I would say that Olofsson is seeming to develop to be a Suter-esque player; not offensively potent, but defensively sound. Is there a role for that player in the NHL? Absolutely (especially if he can break out of the zone like Suter), but Olofsson will need to do more to make me a believer.
Much like Olofsson, I didn't notice Reilly much through the scrimmage. There were moments where he would control the puck really effectively, but his decision making lags behind the game somewhat. It's hard to tell if he was making good decisions, as he usually tok so long to make a choice that he couldn't pull off whatever he was trying to do.
Gelly (my dark horse candidate last season) has a lot to prove. He would, by turns, make a great play and make a mistake in the scrimmage. He seems to suffer somewhat from Matt Dumba Syndrome; he tries to do too much instead of making the smart play. His skating was a strength, and despite his size he had a strong presence. Hopefully Gelinas has an injury-free year in Iowa, as his offensive ability is something the Iowa Wild could definitely use.
Sjalin showed some good skating ability, and was very defensively capable. He made a number of nice zone exit passes, as well as an awareness on the ice that is very promising. Add to that his stellar name, and Sjalin is an exciting prospect. He seemed to be one of the more well-rounded defenseman that caught my eye, which is nice.
Soucy was really impressive. His skating was stellar, his passing was on point, and he showed a lot of awareness for what was going on around him. He is a big player at 6' 5", and he knows how to use his size, though there is a purpose behind his physicality; he isn't just hitting people to hit them. Dr. Seuss will be very interesting to watch as he finishes his time at UMD.
Gudbranson wasn't the biggest player on the ice, but he played like it. More times than not, if I was looking at Gudbranson, it's because he was using his physicality to move someone around. The next step will be doing something with the puck after he gets it. This isn't to say he was a turnover machine, but his passing didn't wow me; it got the job done with minimal flair or "wow" factor.
Labbe made a number of stellar defensive moves. He was quick to join the rush, and was very effective through the transition. He wasn't the most impactful player on the ice, but he had moments where he made a play that drew my eye. As with Olofsson, this could well indicate that his strength lies in the defensive zone (though his offensive ability is certainly there, it just wasn't tonight).
Louie Belpedio
Belpedio is not afraid to throw his 5' 10" frame around. The Skokie, Illinois native didn't stick out with his on-puck play, but he made a number of defensive moves that were important. His physical play means he may be ready for the NHL sooner than some other players, but there still needs to be some refinement.
Forwards
Joel Eriksson Ek
Tony said it best: I am no longer lukewarm on Eriksson Ek. His skating was superb, his vision was great, and he can drive to the net. He looks very slim on his 6' 2" frame, and could use adding a few pounds, but that will come with time. Eriksson Ek is an exciting offensive player with defensive ability as well. The Koivu comparisons I see people making are easy, but off point to me. Eriksson might not have the same defensive stability that our Kaptain does, but he will almost certainly have more offensive upside.
Jordan Greenway
Wow. The first thing you notice about Greenway is his size; he is big. He is only 6'5", but he gets every inch out of that that he can. Secondly, he is fast- really fast. His skating is Brodin-smooth, and his reach is enormous. It's not all about size, but geez, Jordan has size. What's more, he adds skill to that; he's not some hulking goon, but rather an aware, intelligent forward. Greenway is a combination of skill and size that is very intriguing. The biggest complaint I had is that he seemed to disappear for long periods of time. Then again, what hockey player doesn't?
Jared Bethune
Ryan Graham
Graham was another invitee who made a strong case for himself. While not as noteworthy as Bethune, Graham always seemed to be involved in scoring chances for his team. No one ability of his stuck out, which is both a good and bad thing; he could be a very useful utility player, who is capable at everything, if not stellar at anything.
Lucia didn't impress me; the first time I noticed him was when he Brodziak'd a breakaway. To his credit- he got a breakaway. His strength seemed to be his skating and positioning; he was good at getting to where he needed to be. He definitely needs to work on his hands, however, as he wasn't able to settle the puck in time to really do something productive with it. This was highlighted in the shootout, when he completely beat the goalie, but couldn't handle his own deke and whiffed the final shot.
Tuch took a while to make an impact, but when he did, oh boy did he. Take everything I said about Greenway, and insert it here. In fact a duo of Greenway and Tuch could be one of the most feared forechecks in the league (perhaps centered by Joel Eriksson Ek?). Another very exciting player (in the context of a development camp).
Downing didn't stick out to me until his sick backhand to beat Hoffman glove side on the top shelf. Downing was picked up as a free agent, and his game needs a lot of refining, but frankly he can't be worse than what Iowa had last year, and he showed flashes of skill that could indicate something more.
Robin Hoglund
Hoglund scored the opening goal in the scrimmage, a Nino-esque snipe from the middle slot. That was his bright spot, as he subsequently disappeared. I legitimately don't remember him on the ice after that.
Kurtis seemed more composed than many other players, but when you remember that he was the 4th-oldest forward, and was only one of three forwards to play in Iowa last season, that makes sense. Gabriel had one bight moment, but was largely invisible.
Mitchell is one of the other forwards who played in Iowa last season, and he was almost completely invisible. I recall seeing him on the ice, but he did nothing to make an impression. Perhaps that means he is merely a defensive forward, but his time is running out to earn a spot in the Wild organization, particularly given that he was the second-oldest player on the ice.
Brad McClure
McClure didn't impress me immensely, but he got to the front of the net for his goal; something that has been sorely missed on the Wild. For that reason alone, the invitee might need to be offered a contract as a coach to teach the other forwards how to do it.
Carter Rigby
Rigby disappeared for stretches, and then would be at the center of the team's attack. He was a battler along the boards, and at times seemed to have a magnet on the end of his stick for the puck. An intriguing player who might garner a second look.
DJ Roomba, as Tony likes to call him, had some very nice moments. The 6' 3" invitee displayed some nice hands, as well as an ability to skate. His passing and vision needs some refinement, certainly, and his positioning was shaky at best, but there is some upside there, if the Wild are interested. The fact that he's o the bigger side could be a benefit for him.
Duke has wheels... the kid can skate. Add to that the fact that he has absolutely filthy hands, and you have an exciting player. Duke seemed to be the tip of the spear for almost every attack his team made in the second half, and his driving into the zone with speed and control was the catalyst for three of the team's four goals. His control of the puck is superior and very impressive.
Sam Warning
Warning had moments of brilliance, but was very inconsistent. He didn't seem to fit with the rest of his line, which could have been a number of things. In the end, he wasn't impressive, and the invitee is on the bubble for me.
Jenys was really impressive; he seemed to combine very well with Pontus Sjalin. Perhaps there's something about excellent names. In particular, Jenys' passing and vision was excellent, as well as his skating. It will be interesting to see how Jenys matures and grows as a player.
Final Thoughts
Again, these observations are all on one scrimmage on one night; drawing conclusions is a terrible business model for any NHL team. That being said, there are definitely some players in the pipeline to be excited about, not least of which are Joel Eriksson Ek, Jordan Greenway, Alex Tuch, and Reid Duke. What is really important is that more of these players will be in Iowa, giving that team (hopefully) a lift that it desperately needs.
If there are any players you're curious about who I didn't talk about, just let me know in the comments and I'll tell you if I saw anything.