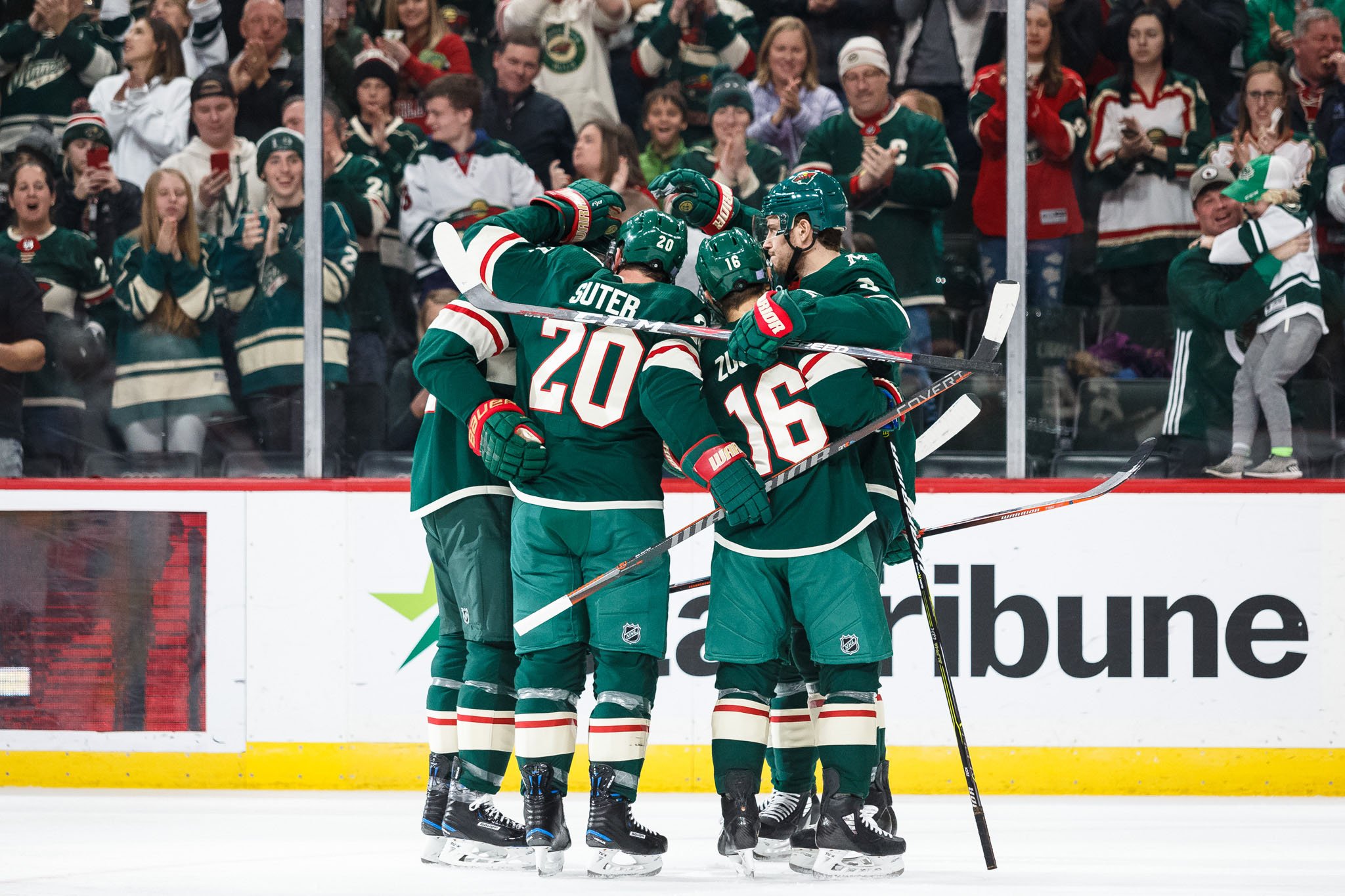 As you gather around the dinner table to eat some of your favorite Thanksgiving foods, here are some things that Wild fans can be thankful for today. Feel free to use these as some conversation starters!
The Minnesota Wild hold the second best record in the Western Conference.
I bet at the beginning of October you never thought you would be saying this as you baste your turkey today. Trailing only Nashville, the Minnesota Wild's 13-7-2 record is second best in the West as they have enjoyed surprising success under Bruce Boudreau this season. Their record will be put to the test tomorrow, however, as they host the Winnipeg Jets for the first time this season since last April's playoff roasting.
Devan Dubnyk has been elite once again.
Outside from Wednesday night's performance against Ottawa, Devan Dubnyk has been one of the best goalies in the NHL once again this season. His performance saved the Wild's bacon early on this season, as it has helped lead to that second best record in the West here as we eat on turkey day. As of Thanksgiving Day, Dubnyk holds a .921 save percentage and .925 save percentage at five on five this season.
Zach Parise is enjoying a career resurgence this season.
Wrote on this Wednesday, as Zach Parise is scoring at a level he hasn't been at in 10 years, and it is incredibly rare for his age -- 34. Parise currently holds nine goals and ten assists in 21 games this season, and more importantly, he feels completely healthy after myriad injuries the past few seasons.
Mikko Koivu also took a dip in the fountain of youth.
In addition to Parise, Koivu has also enjoyed great success this season -- 19 points in 21 games -- while doing so at the age of 35. Koivu currently holds a five-game point streak entering Friday's game against Winnipeg, and also has a point in seven out of the last nine games.
The Wild defensive core has been one of -- if not -- the best in the National Hockey League.
Last season Minnesota enjoyed two really good defensive pairings and a not so good third pair -- thanks, Kyle Quincey. But this season they have had great success across the board thanks to Nick Seeler and the newly signed Greg Pateryn. With Ryan Suter, Jared Spurgeon, Matt Dumba, and Jonas Brodin at the top, it sure is hard to find a defense playing better in the NHL right now.
Matt Dumba leads all NHL defensemen in goals scored.
YEAH, BUT TURNOVERS!!
Excuse me, but you can take those turnovers and stuff it today. Matt Dumba has been excellent for the Wild this season, and his two goals last night put him at 10 for the season which leads all NHL defensemen. He was switched to a pair with Jonas Brodin for Wednesday night's game which yielded pretty decent results for the blueliner. It is perfectly okay to be thankful for Dumba's bombs from the point on Thanksgiving.
The Wild were able to get a meeting with Kirill Kaprizov.
Last but not least, a couple of weeks ago Wild general manager Paul Fenton was able to get a meeting with the team's most prized prospect. They were able to talk and Kaprizov even got his hands on a Wild jersey after all this long time. Paul Fenton and his boss, Craig Leipold certainly have emphasized communicating with Kaprizov as a top priority in order to get him to come over to the states when his KHL contract expires in 2020.
---