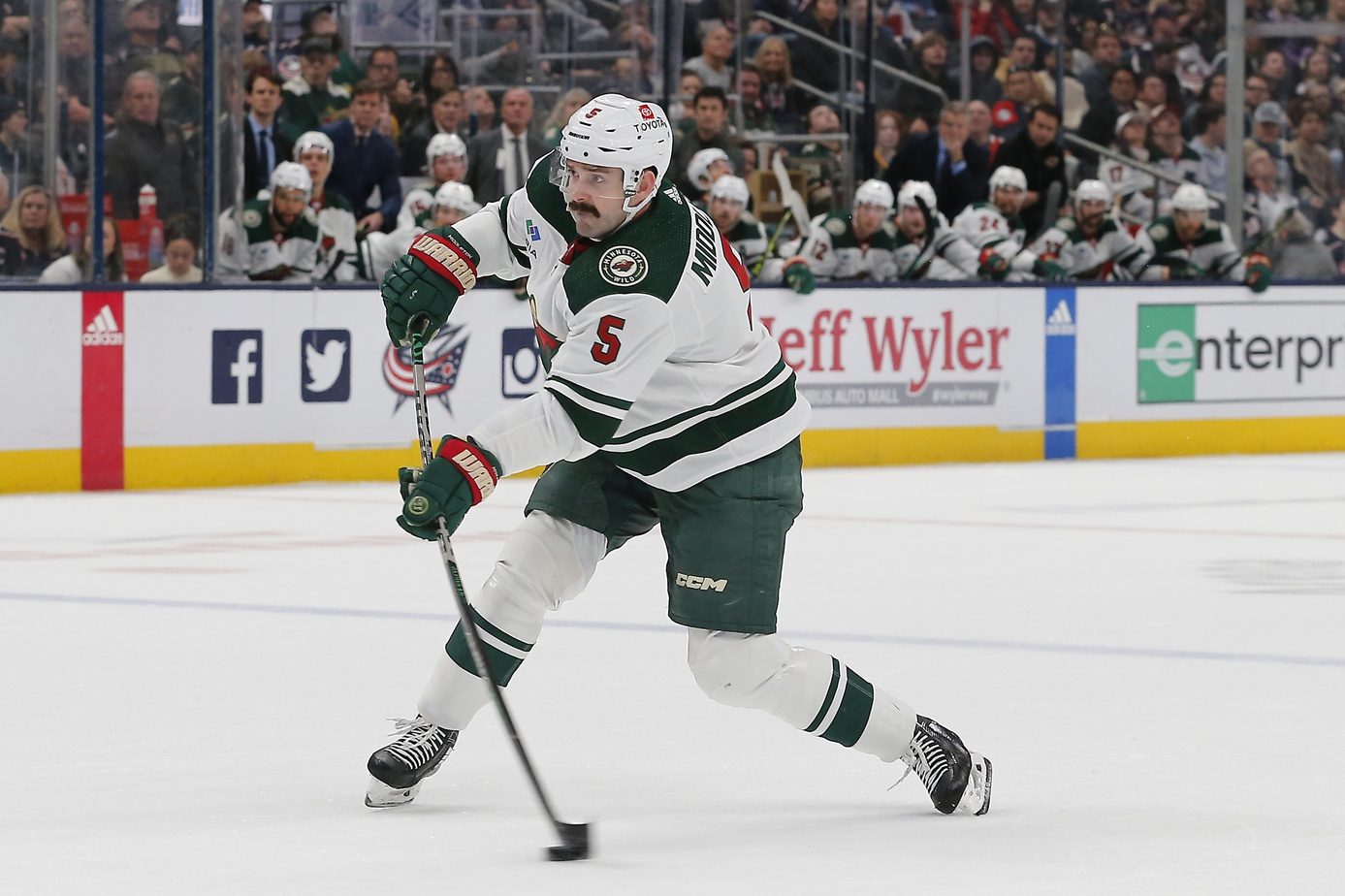 Jake Middleton was not a household name when he arrived in a trade with the San Jose Sharks before the 2021-22 deadline. However, his impressive play next to Minnesota's captain Jared Spurgeon down the stretch was enough to convince the Wild to hand the late-bloomer a three-year, $7.5 million deal. One year later he's still lining up next to Spurgeon and the pair has been stellar. They've been a rock for Minnesota, showing the Wild were wise to invest in him.
In San Jose, Middleton was former Norris Trophy winner Erik Karlsson's partner for most of the season. Before Minnesota traded Kappo Kakkonen straight-up for Middleton, he played a responsible, hard-checking, stay-at-home defenseman role to Karlsson's freewheeling offensive ways.
But when he got to Minnesota? Well, he's done exactly the same thing: All brakes, no gas. Good. That's what the Wild wanted, and that's what Middleton's giving them.
[caption id=attachment_145932" align="alignnone" width="731]

Courtesy of Evolving-Hockey[/caption]
Middleton puts the "defense" in "defenseman." Sure, Middleton provides almost nothing offensively for the Wild, but he does not have to. That's not his role, and that's why the Wild have Spurgeon.
Still, he's on pace to break his career-high 14 points, even if only by two. Maybe that wouldn't cut it on last year's high-flying team, when stay-at-home defensemen like Dmitry Kulikov and Jon Merrill were hitting 20 points. But this year, Middleton ranks fourth amongst Wild defensemen in points.
But where he really makes a difference, especially alongside Spurgeon, is in the hitting department. He's tops on the team with 93 hits on the season. Middleton puts his body on the line in other ways, too. His 124 blocked shots are 23rd in the NHL, and second to only Spurgeon on the team.
That willingness to sacrifice his body will become crucial in the playoffs when things become tighter and physicality is more prominent. He's safe, dependable, and knows his role: Clear the net, take the body, get the puck, then give it to Spurgeon.
That defensive duo is racking up the seventh-most minutes in the league. As a pair, their 1.47 Goals Against per hour at 5-on-5 ranks sixth among the 135 defensive units with 200-plus minutes. Not surprisingly, they're also 12th in goals for percentage at 5-on-5 (62.9%), and 23rd in controlling the expected goals share as well (55.5%). They have a high save percentage, suggesting they might be due for a few more pucks to go in for them, but they're also shutting down opponents' chances.
That's true, even if they give up a lot of shot attempts. They're 73rd out of 135 defense pairs in allowing shot attempts, barely in the bottom half in the league. But that's by design. Remember, they may let up a lot of shots, but not all of them are reaching the net. In fact, Spurgeon and Middleton have the best ratio of shots to blocked shots as a collective duo. Many others are harmlessly around the perimeter.

Being that steady defensive presence, Middleton opens up Spurgeon to be more active on the blue line, and that has led to his second-best goals for the season in his career. He has had his second-best expected goals for of his career, and this has seen Spurgeon land in the Norris Trophy conversation, according to The Athletic.
So Middleton's play has been really solid for the Wild thus far. He's come exactly as advertised but is he worth the contract the Wild gave him?
In a word: Unequivocally.
Middleton has been a rockstar. He crunches minutes on a top pair that allows Spurgeon to do what he does best – be proactive offensively. Middleton is also Minnesota's most physical defenseman.
There are a lot of guys in the league getting paid a lot more to do less than what Middelton provides for Minnesota. Guys like Erik Johnson, Tyler Myers, and Ryan McDonagh are all in that same build/role that Middeltoin is in, but Middleton provides a whole heck of a lot more bang for the buck.
He's not the greatest player in the league by any means. It's not like the Ryan Hartman contract or any crazy-valuable deal like that. However, it's a good piece of business by Bill Guerin.
There were questions on whether the Wild should hand out a multi-million dollar deal for a former 7th-rounder. He hadn't really shown all that much at the NHL level and doesn't even own a suitcase (yes, that's real). Therefore, the deal was met with a lot of meh reactions. However, Middleton's contract has proven to be a great addition to Minnesota's defensive core and brings them something they don't have otherwise.
All stats via Moneypuck.com & Evolving Hockey unless otherwise noted.