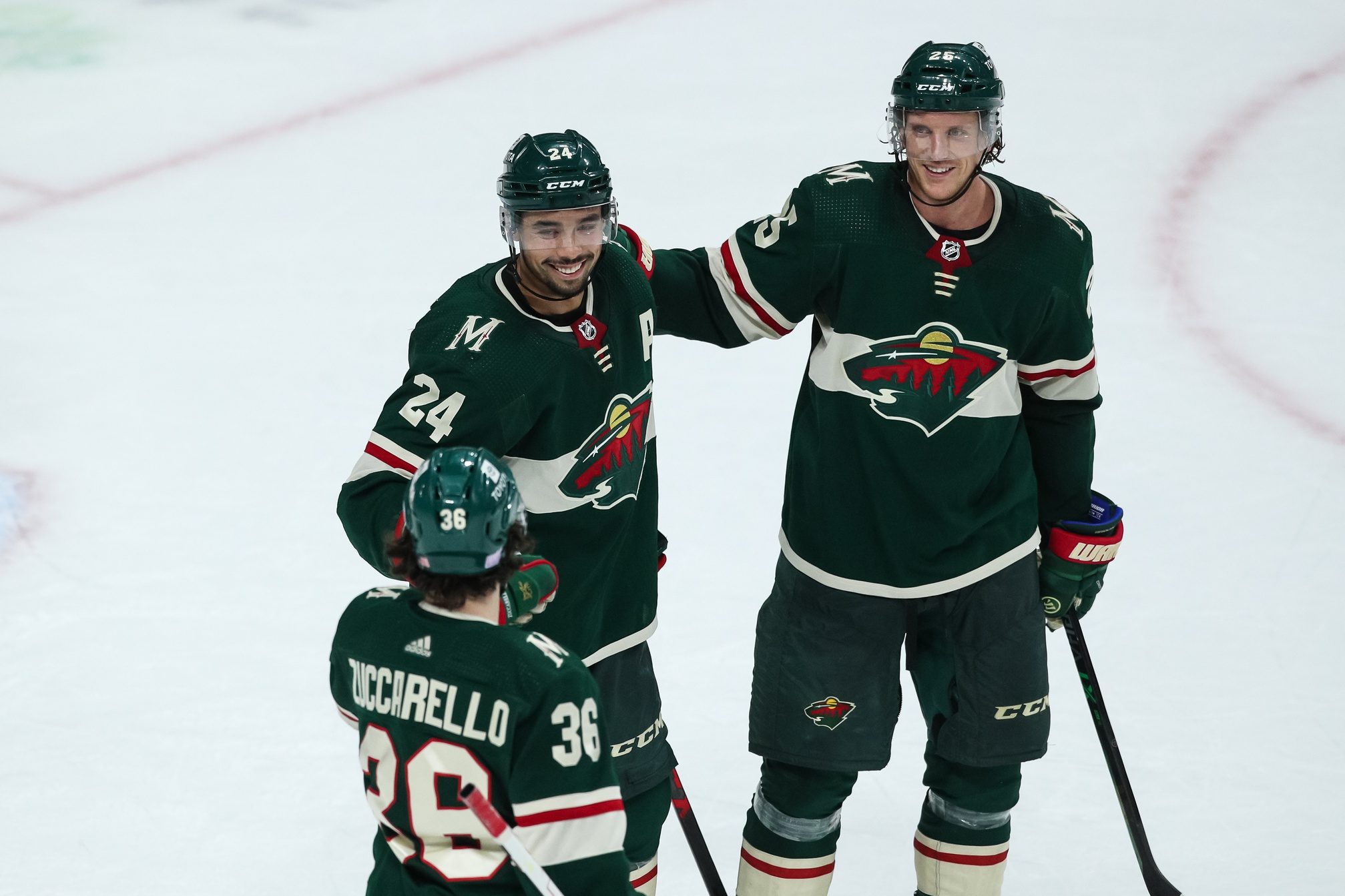 With Minnesota Wild captain Jared Spurgeon out, the obvious player to take his spot is fellow right-shot defensemen Matt Dumba. He has a big physical presence and innate ability to jump into offensive plays as a defenseman. A player who typically is on the trade block every year, Dumba is continuously proving his doubters wrong and is a vital part of the Wild's top-scoring defensive core.
Dumba and Marcus Foligno were named alternate captains before the season started. Dumba is not taking the role of being an official part of an all-new leadership group lightly. He's likely the most vocal of the defenseman, a true leader on the back end, and is stepping up in every aspect of the game.
With Spurgeon out, Dumba and his defensive partner, Jonas Brodin, have been getting a few more minutes of ice time every game. As a result of being given more responsibility, the Wild have a 5-0-1 record with Spurgeon out of the lineup. While he's only logged two points in that span, he has a plus-4 rating while playing 25 minutes a night since Spurgeon's injury. He's a big part of an elite defensive core that ranks first in the league with 67 points.
Dumba brings a phenomenal physical presence to the blue line, leading Wild defensemen with 38 hits. A few games ago, Dumba leveled San Jose Sharks forward Alexander Barabanov, leading to a kerfuffle between the two teams. He's got the ability to change the vibe of a game with one hit. You can also count on Dumba to be the one blocking shots when a game is tight. At the end of a game against the Tampa Bay Lightning in St. Paul, he had two huge blocks to keep the match in the Wild's favor.
We're even seeing him return to form offensively after a couple of down years. His best season came in the 2017-18 campaign when he notched 50 points in 82 games. Injury may be to blame for the past few seasons, as he's struggled to get back to that peak since a pectoral injury ended a dominant 2018-19 season. However, he is currently on pace for an 11-goal, 41-point season. That is close to his best seasons in terms of point production. Hopefully, his previous injury issues are no longer a problem, and he'll continue to improve.
Dumba's the kind of player who can light up an entire arena with his play. Every time his blasts from the point end up in the net, the guy celebrates like it's his first NHL goal. Most guys brush it off and go for the group hug, but Dumba loves a good celly. His go-to is usually the one knee fist bump or swipe of the ice, which is always a fan favorite.
When he's on top of his game, he's one of the most electric players on the Wild. His one-time goals are just like Anthony Edwards dunks; they get the fans out of their seats and fired up. Dumba is always the first to join the group hug when his teammates score, often leaping the highest or cheering the loudest for his teammates. His actions speak to his leadership and the team-first guy he is, always showing how proud he is of this group.
There is a reason his name is always on the trade block, though. With his type of game, his offensive play is excellent, but he can struggle in his end sometimes. Untimely turnovers and mishandling with the puck often get fans so frustrated. In Las Vegas a few weeks ago, Dumba turned over the puck which led to the game-winning goal for the Golden Knights. He took responsibility for his mistakes, saying, "Bad play. Yeah, it sucks. Sucks. I feel like it comes down to one play. The boys worked so hard in the third trying to pull us out of that and just fell short. Yeah, I've got to be better."
Year after year, fans constantly call on Wild management to trade Dumba for someone "better." Look at any social media post involving him, and there's bound to be at least one person calling for a trade. However, these days, right-handed offensive-minded defensemen are pretty hard to come by. Besides Calen Addison, there aren't many right-shot defensemen in the current Wild prospect pool. So why would the Wild want to get rid of a guy that proves to be more valuable than not? Dumba will become a free agent in 2022-23 and currently makes $6 million a year.
Love him or hate him, Matt Dumba is a crucial piece to the Wild's blueliners. His teammates love his infectious energy, and he's part of a great leadership group for the Wild. As he's logging more ice time, the team keeps winning, even without their best defenseman. Dumba is taking his role on the Wild seriously and stepping up when he's most needed.