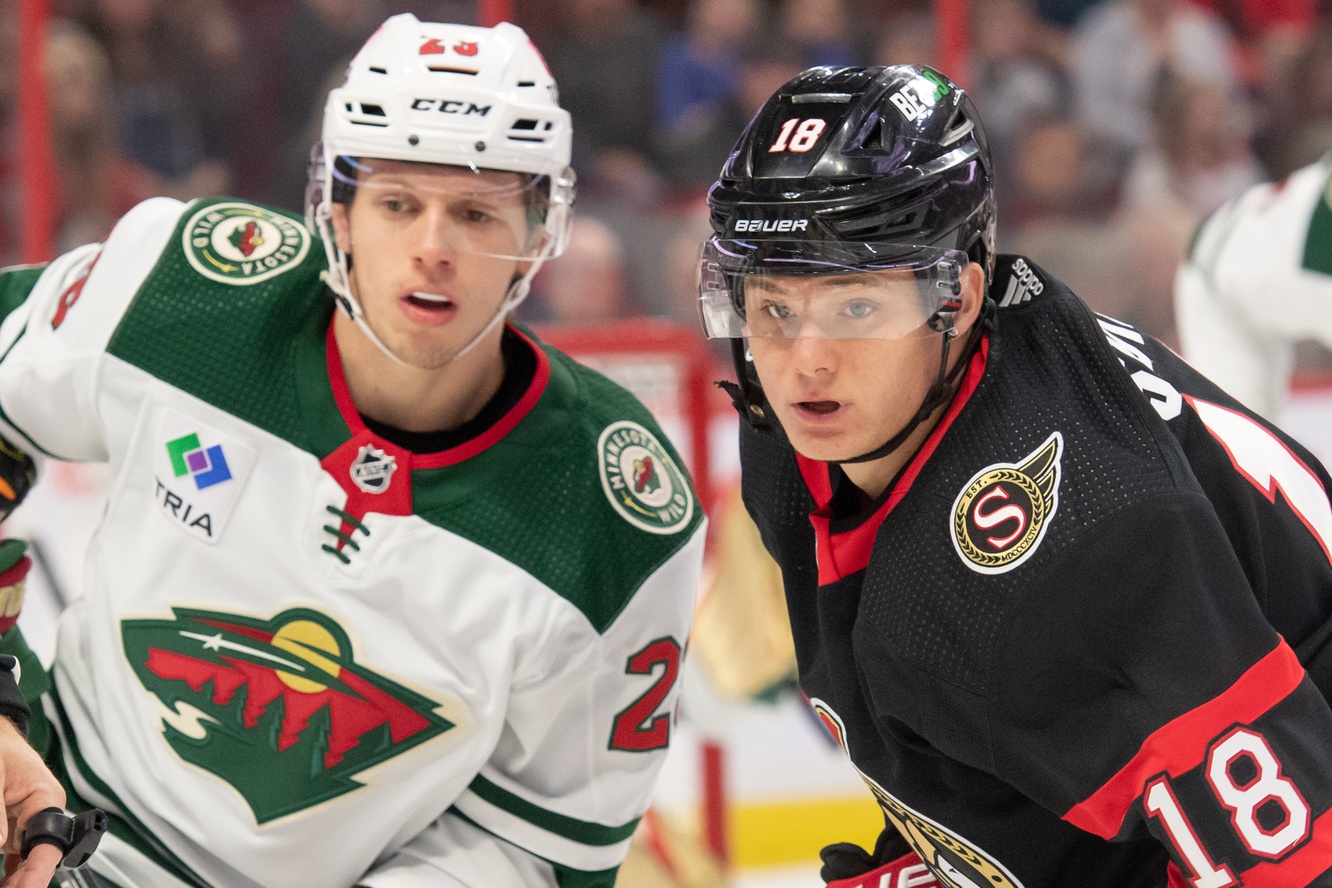 Image courtesy of Marc DesRosiers-USA Today Sports
The IIHF World Championships aren't attracting a ton of top talent this year, but some notable names are playing for their countries right now. Team USA is relatively loaded with Alex Tuch, NHLers in Conor Garland and Scott Perunovich, and top prospect Cutter Gauthier. Team Canada has MacKenzie Weegar, Tyler Toffoli, and a trio of premier prospects in Adam Fantilli, Jack Quinn, and Peyton Krebs. Team Finland is rocking Mikko Rantanen and Kaapo Kakko. 
However, Team Austria is one squad that really doesn't have much talent to boast. The Salzburg Skaters have 21 NHL games combined, and Marco Rossi owns all 21 of them. To put it another way, Team France has more NHL experience.
As expected, Austria's played like they've got no other NHL talent. They've won just one of their seven games (against relegated Team Hungary) and scored 10 goals. Still, Rossi did what he's done just about everywhere except the NHL: produce.
Rossi factored in six of Austria's 10 goals, scoring one and assisting on five more. That includes showing up against the tournament's top teams. In their matchups against their five toughest opponents (USA, Sweden, Finland, Germany, and Denmark), Rossi assisted on four of Austria's six goals. At 5-on-5, Austria was absolutely destroyed in those games, getting outscored by a 3-19 margin. But Rossi held even. He was on ice for all three of Austria's 5-on-5 tallies while only giving up three goals in return.
There's only so much you can do in an international tournament when you play for Austria. But credit to Rossi, he entered Tuesday in the tournament's top-30 in scoring and was seemingly the only thing that made Austria look like they could hang.
If you're keeping score, since returning from his long absence from myocarditis, Rossi has 104 points in 115 AHL games, six points in seven World Championship games, and led the NHL in scoring during the 2022-23 pre-season.
If only that would just translate to the NHL. 
Rossi remains polarizing in the State of Hockey, and figures to be so until he either blossoms or the Wild move on. The stats are what they are: a lone assist in 21 NHL contests. The situation was what it was: there was a coach who didn't trust him and gave him very few opportunities. It's not particularly interesting to re-litigate it now. The bigger concern is the future. 
As of now, we still don't know what will happen with Rossi's situation. Our last inkling of what the Wild are thinking came from a snippet in Michael Russo and Joe Smith's Minnesota Wild mailbag on The Athletic. "It's not that they think he's not ready," they wrote. "They're clearly starting to re-consider whether his future is in Minnesota and whether he can be a top-six center."
What's limiting his future? According to Russo and Smith, "The team feels he's too weak physically to function in the NHL and not explosive enough with his skating." Without top-tier strength and the high-end skating that can come from strong legs, Rossi's relied primarily on his smarts and skills to get points.
The Wild brass appear to be discouraged by this. But shouldn't they be encouraged instead?
Despite his lack of strength, Rossi has scored at a rate of nearly a point per game over the past two years. As you'll see, his AHL numbers before turning 22 stack up extremely favorably against some premier, top-line players in the league:
Tyler Johnson: 0.91
Jordan Kyrou: 0.91
MARCO ROSSI: 0.90
Sean Couturier: 0.90
Nazem Kadri: 0.88
Kyle Connor: 0.88
Mark Stone: 0.86
Here's the big question: If this is what he can do with limited strength, what can he do after an offseason of training in the way the Wild want?
Russo and Smith note that Rossi will be in the Twin Cities this offseason skating with Andy Ness and working with Minnesota's strength coaches. In not going home to Austria, Rossi's showing that he is clearly committed to getting better. All that needs to happen is for their coaches to do what they're supposed to do: Make their player stronger and better.
Mikael Granlund is the obvious comparison because of their shared team, initial position in the NHL, similar size, and draft slot at No. 9 overall. Like Rossi, Granlund also initially struggled in the NHL, with eight points in 27 games in his first NHL season. Like with Rossi, they came in his Draft-plus-3 season.
The Wild could have given up on Granlund at any time in the next three seasons. He topped out at 13 goals and 44 points, which was underwhelming for a guy whose expectations were to be Kirill Kaprizov before Kaprizov. But the reason for those expectations were that he succeeded wildly at basically every professional level before the NHL. 
He'd had massive success in Finland prior to signing with the Wild. Granlund also had 28 points in 29 AHL games during the year he experienced his growing pains. During the following season, in the midst of an eight-goal, 41-point campaign, he had his own experience with international success. During the Olympic Games on a talented Team Finland team, scoring three goals and seven points riding shotgun with Teemu Selanne.
Granlund eventually got stronger, got better coaching from Bruce Boudreau, and the results speak for themselves. He didn't become a franchise-changer like Minnesota drafted him to be, but he still was a legitimate top-six forward who scored 65-plus points twice.
One hopes that the timeline is a bit faster with Rossi, and that he can stick down the middle, which Granlund couldn't. But the point stands. Unless there's a reason that Rossi is physically incapable of gaining strength, he's showing in the World Championships why giving up on him would just be silly.
2