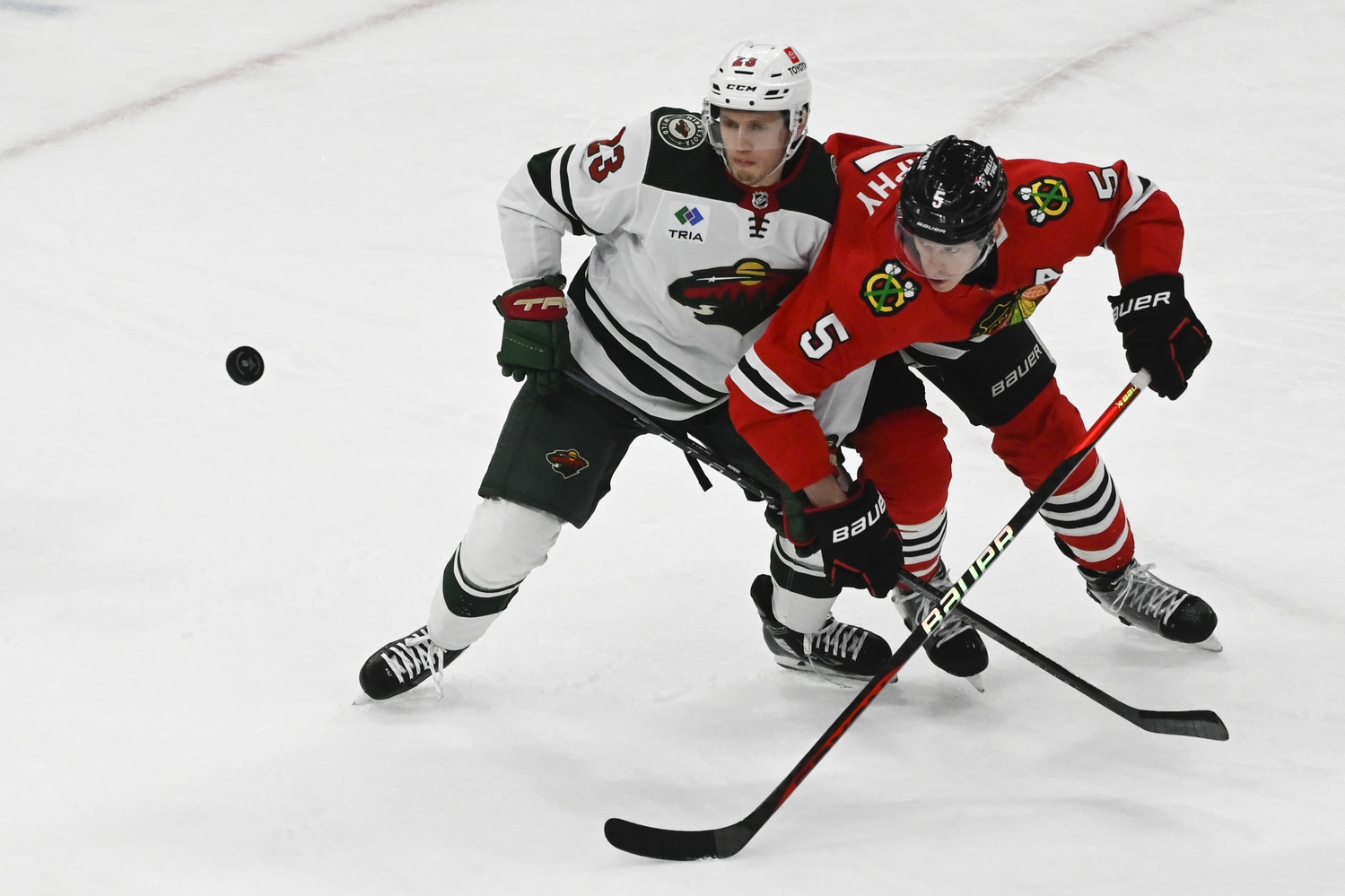 Image courtesy of Matt Marton-USA Today Sports
Calen Addison Trade Rumor Season was so last year. Granted, according to people close to the team, Addison still appears to be on the trade block, but that story is too old to have the juice. This summer's hottest fashion trend?: Marco Rossi Trade Rumors.
The Minnesota Wild's top draft pick (No. 9 overall) in 2020, Rossi doesn't seem like an obvious player to be on the block. Yes, he didn't establish himself as an NHLer this season, but he's had lots of success in professional hockey. 104 points in 116 AHL games as a center is pretty impressive, especially considering he's really only had two years of development due to losing the 2020 season to myocarditis.
Rossi was a guy Minnesota drafted to be the No. 1 center of the future. And now, three years later, they want to trade him just 269 NHL minutes into his career?
The rumblings that Bill Guerin might try to pull such a trade off are gaining steam. Fan speculation is one thing, but when the most plugged-in reporters are sounding the alarms? You've got to take notice.
"My biggest question is do [Addison and Rossi] even get to training camp? Both of them," Russo said on the May 4 episode of his Worst Seats in the House podcast after detailing their summer plans to work out with Minnesota's coaching staff. "I think that they're going to trade [Addison] if they can. And same thing with Rossi. I am not convinced that if somebody came to Guerin with a first-round pick and he looked at it and said 'You know what? We could start over…' I think that they move him."
Rossi not making the NHL is a point of concern with the section of the fanbase skeptical about him. But it seems to go beyond that, at least if you assume the level of accuracy on the Wild's thinking that Russo brings to his reporting. It sounds like the team has issues with Rossi's personality.
"I will say, with Guerin in particular and Dean Evason, the people that are running the ship, he needs to show a little bit more of a pull, he really does," Russo elaborated. "Even down the stretch, when Sam Steel took the roster spot instead of him over [Joel] Eriksson Ek… There was no anger about it, nothing, it was like, 'Nope, I'll wait my turn.' And Bill wants to see him be pissed."
It's not just one person taking a look at this. Dane Mizutani of the Pioneer Press wrote about the uncertain future Rossi (and Addison) face this offseason.
Is it wise for a center-starved team to cut bait with their best center prospect in recent memory before giving him a chance to shine? Your thoughts on the matter probably have to do with Rossi, and it's not hard to get familiar with this writer's. 
So, instead, let's ask ourselves: What could the Wild even get in exchange for Rossi? What would his value be on the open market?
Teams tend to believe in their Top-10 picks and give them every opportunity to succeed. It's very, very rare to see them ship one out within three years. 
From 2010 to 2019, we've only seen it happen nine times out of 100. Here they are:
Even that list probably oversells how often it happens. Boqvist and Hanifin were both in packages for name-brand NHLers in Jones and Dougie Hamilton, respectively. Sergachev and Jones himself were less on the outs with their organization and more the price to acquire disgruntled but talented young NHL centers in Jonathan Drouin and Ryan Johansen.
So the closest analogous situations to Rossi are Dach, Andersson, Nylander, Reinhart, and Niederreiter. What were their situations like? And can they tell us anything about what Rossi's market may be like?
Dach might give us the best idea of the up-to-the-minute pulse on Rossi's value, given the recency of his situation. The Chicago Blackhawks had him on the NHL roster for three years, where he put up a modest 59 points in 152 games in the NHL. Under a new general manager who hadn't drafted Dach and had no attachment to him, the Blackhawks moved on at the 2022 Draft.
Dach landed with the Montreal Canadiens, who surrendered the 13th overall pick and an additional third-round selection (66th overall). The Blackhawks got to "start over" in the sense Russo speculates Guerin might want to by taking center prospect Frank Nazar with that pick.
Andersson was another center, and he struggled to make the NHL roster despite playing decently for the New York Rangers AHL squad. He put up 17 goals and 39 points in 54 games for the Hartford Wolf Pack, but he only had three goals and nine points in 56 NHL contests. Andersson requested a trade that offseason, and the Los Angeles Kings sent the No. 60 overall pick at the 2020 Draft to oblige Andersson's request.
Nylander, a Buffalo Sabres draft pick, also stalled out in the AHL. In 165 games from ages 18 to 21, Nylander only scored 30 goals and had 86 points. It's no surprise, then, that Nylander played in just 19 NHL games, scoring three goals and six points. After three years, Buffalo sent Nylander to Chicago for Henri Jokiharju, a defenseman they took at No. 27 overall in 2017.
The New York Islanders drafted Reinhart after the 6'4" defenseman impressed with 12 goals and 36 points for the WHL's Edmonton Oil Kings.
Then his point production dropped two straight seasons in juniors. Next was the AHL, where he only had 22 points in 59 games. The Isles managed to salvage a great amount of value for him, though. They snagged the 16th overall pick (Mathew Barzal, who emerged as a Mat Barzal-type player) and 33rd overall (Mitchell Stevens, who did not become nearly so Barzal-esque) in the 2015 Draft.
Lastly, there's Niederreiter, another failed Islanders pick. However this situation was a bit unusual, as his return was an NHL player. Unfortunately for Long Island, that player was 25-year-old Cal Clutterbuck, with a third-round pick thrown in. It appears Niederreiter's trade request and two goals and three points in 64 NHL games combined to drive his value down.
However, he scored 28 goals and 50 points in the AHL the season before.
Niederreiter's presence throws this off a touch, so let's leave him out of this upcoming math. We have a pretty good idea of what a top-10 pick returns three years later in terms of draft picks. The Athletic's Dom Luszczyszyn released a trade value chart that we can use to get a handle on the Game Score Value Added (GSVA) these picks were expected to be worth. Here's the value for each trade return (valuing Jokiharju as a 27th overall draft pick):
Dach: 6.3
Andersson: 1.2
Nylander: 3.2
Reinhart: 7.3
Do a quick-and-dirty averaging out of that value, and it spits out an average of 4.5 GSVA, or a package equivalent to the 17th overall pick in the draft. It makes sense. Rossi's perceived value might be closer to Dach and Reinhart's at the time their teams gave up on them than they are to Andersson or Nylander. Still, experts believe the 2023 Draft has a lot of talent, which might pull his value the other way.
Whatever the return is, though, getting value for Rossi is only half of the equation for Guerin and the Wild. Such a move not only has the potential to bite them, as it might have with Chicago after Dach had a strong season in Montreal. But it also sets back their already-thin center pipeline. How can they fill it going forward?
That's a question for another day.
1