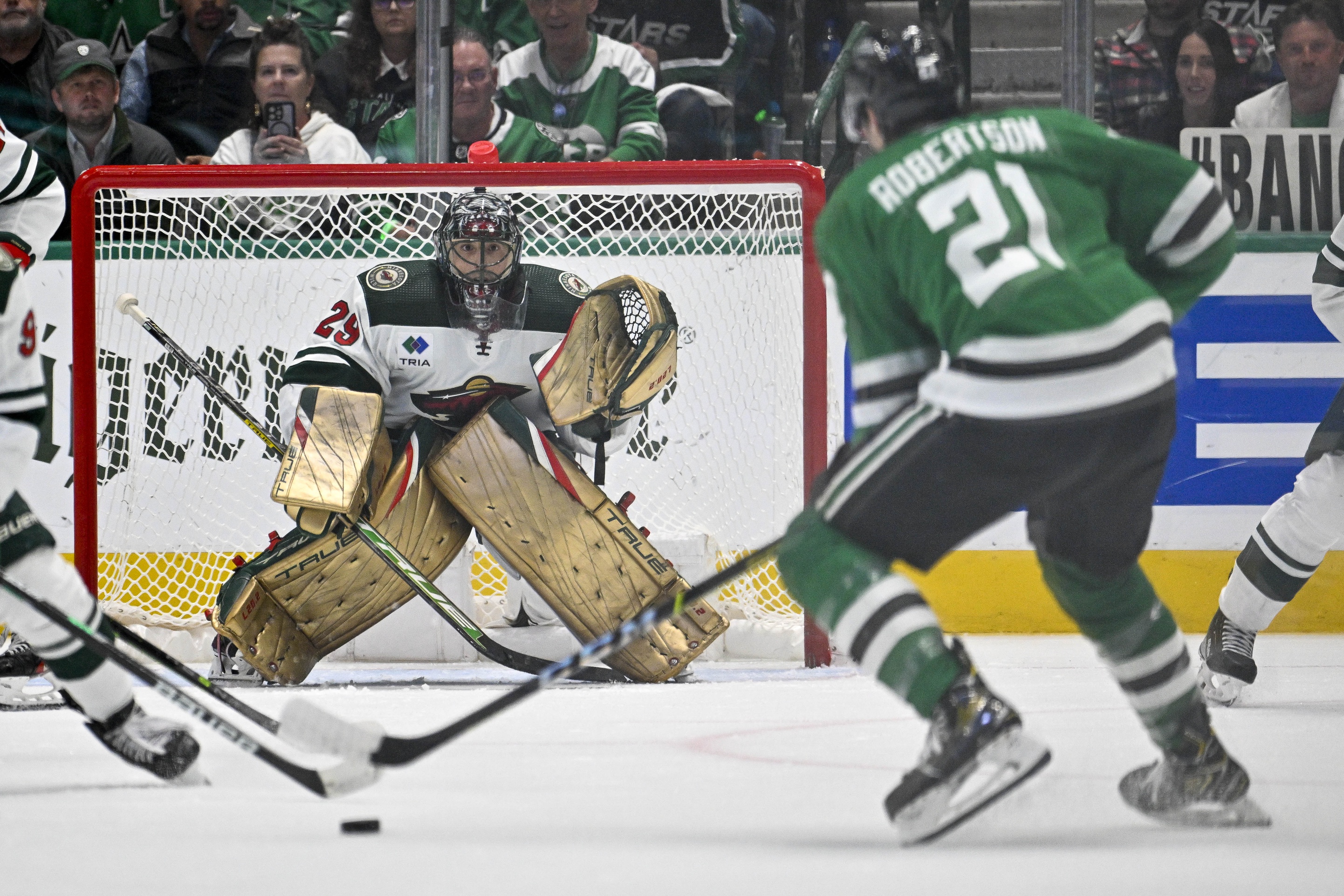 Image courtesy of Jerome Miron-USA Today Sports
The Minnesota Wild have an interesting dynamic going within their goalie unit. 25-year-old Swedish starting goaltender Filip Gustavsson just inked a three-year, $11.25 million extension after a fantastic showing last season. Additionally, Jesper Wallstedt, their 2021 first-round pick out of Sweden, is blossoming in Iowa. The Wild seem to be preparing him to leap to the NHL in 2024-25.
While the future seems bright for the Wild and their goalie situation, there is some uncertainty this upcoming season surrounding the play of Marc-Andre Fleury, their second goalie option. On the surface, it looks great to have Fleury as the second option. However, it is unclear just what kind of season Fleury could have next year, judging by his mixed bag of performances in Minnesota.
Commonly referred to as "Flower," Fleury has had a long, illustrious career in the NHL. The Pittsburgh Penguins drafted Fleury first overall in 2003. Since then, Fleury has amassed three Stanley Cup Championships (2009, 2016, 2017) and a William H. Jennings and Vezina Trophy (both in 2021). He also won an Olympic Gold Medal with Team Canada in 2010.
Fleury will turn 39 in late November, and no matter how legendary and storied the career, Father Time eventually catches up to every player. The same questions become amplified when any player plays below their standard, and that seemed to be the case on the surface for Fleury in 2022. 
Among 68 goalies who started 15 or more games, Fleury was tied for 26th in Goals Against Average (2.85), tied for 24th in Save% (.908), putting him somewhere around Alex Stalock and Craig Anderson on the stat sheet. Fleury also didn't pass the eye test on many nights, giving up soft goals that were uncharacteristic for him. Though in fairness, it did seem like he was often victim to unlucky bounces or defensive lapses. All of that is the life of a goalie, and it's why looking at the numbers in the grand scheme is very important.
The numbers suggest that the Flower may be wilting, but in terms of giving the Wild a chance to win last year, he wasn't. He went 24-16-4 last year, tied in the win column with the likes of Tristan Jarry and Sergei Bobrovsky. The future Hall of Famer also delivered Quality Starts in 26 of his 45 trips to the crease. Fleury's 57.8 Quality Start% was in line with recent Vezina winners in Igor Shesterkin (60.3%) and Andrei Vasilevskiy (58.3).
It's clear Fleury isn't the goalie he used to be even three years ago when he won his first and only Vezina. Still, you can hardly say he's wilting, even if Gustavsson clearly passed him on the depth chart.
All that means is even though Fleury's pushing 40, he still feels as if he has something to prove. Fleury has always held himself accountable. He might be a surefire Hall of Famer, but he still plays with a chip on his shoulder despite that.
Fleury may not be the slam-dunk No. 1 option he was in his prime, but he's still a solid second option for the Wild next year. Most of his metrics are top-30 in the NHL, which makes him a fringe starting-caliber goalie in a backup role. Assuming that Gustavsson will play north of 50 games this coming season, there is no reason to not be confident that a rested Fleury couldn't help the Wild win games next year.
Not only could his play benefit the team in terms of giving Gustavsson rest, but he could offer another season of mentorship to the "Gus Bus." As we saw last year, Fleury also has no problem rubbing off on Gustavsson, despite the fact that the two are competing for starts. No doubt, Fleury's veteran presence helped Gustavsson achieve the second-best Save% (.931) in the NHL, only behind the Boston Bruins' Linus Ullmark. That relationship should still be solid, as Gustavsson earned a $3.75 million AAV contract for the next three seasons, giving him security with the team.
It's a pretty good bet that this upcoming season will be Fleury's last donning the Forest Green and Iron Range Red. Not only is he nearly 40 and on an expiring contract, but the Wild are also likely to call up Jesper Wallstedt. Whether Fleury is playing this season to earn a decent contract somewhere else or trying to have a retirement tour to remember, it's warranted to have some confidence in the wily veteran. 
Every Wild fan should be on board with sharing appreciation for a hockey legend to have one more go with their favorite team as we witness the changing of the guard and the future of the Minnesota Wild's goaltending. The fact that he should probably give the Wild another solid campaign as well is a bonus.
All data from Hockey-Reference unless otherwise indicated.
1