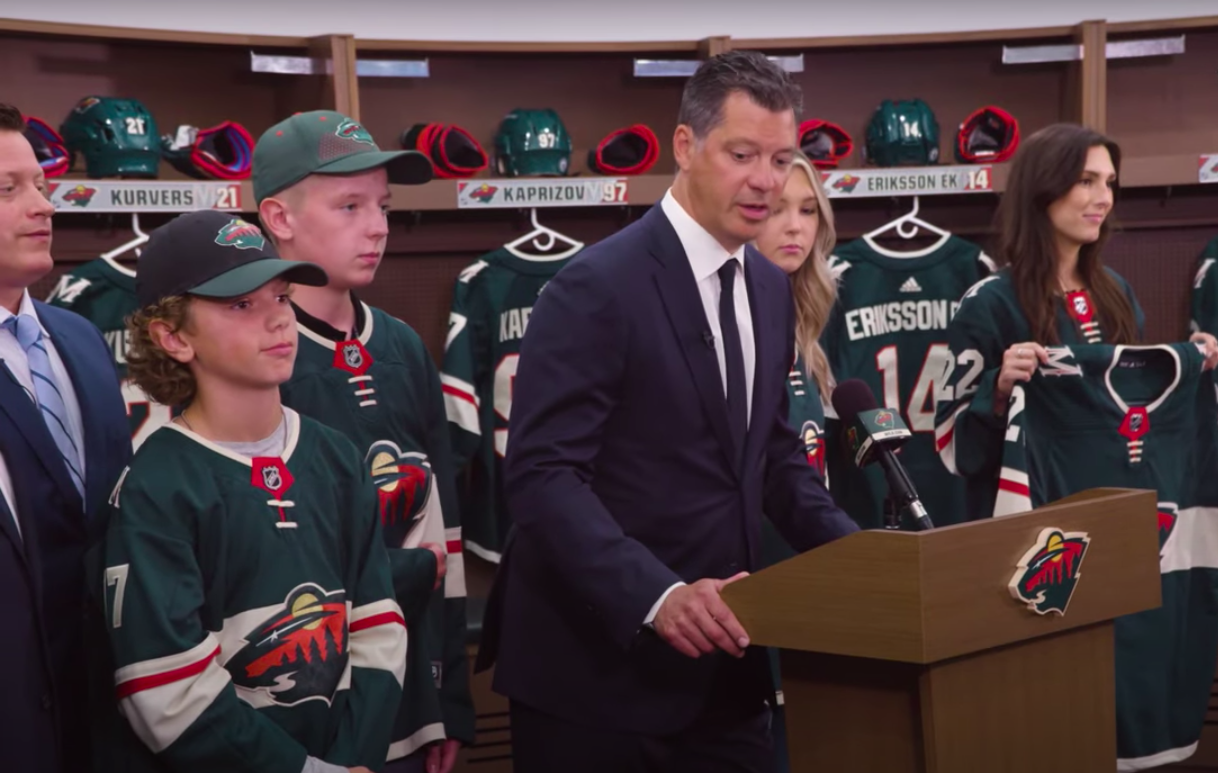 Last Tuesday, the Minnesota Wild posted a Tweet celebrating three years of Bill Guerin as general manager. The replies to the tweet are overwhelmingly positive. Declarations of "In Billy we Trust" ran rampant, showing that fans believe he'll deliver the franchise a Stanley Cup. Guerin has completely changed the way fans think about his team. It's been quite the difference from the 2019 fan survey conducted by The Athletic showing Minnesota's front office, led by Paul Fenton, ranked dead last. That sentiment, if not the survey, was the final straw for Fenton, prompting Wild owner Craig Leipold to make a change, officially ushering in the Bill Guerin era.
Guerin's first season with the Wild was nondescript. Hired in August of 2019, his first season was more of him observing and taking in the different dynamics of his new team. But once he decided his observation time was up, he imprinted himself on the Wild in big ways. Maybe more than any other GM in Wild history, in fact. In three seasons, the Wild has gone from dead last to 10th overall according to the latest poll.
How has Guerin achieved this overwhelming support from the Wild fanbase in just three seasons? Let's compare his first three seasons to the first three seasons of Doug Risebrough and Chuck Fletcher.  
Coaching
Risebrough turned to a coach that gave the Wild immediate legitimacy by choosing Jacques Lemaire. Lemaire won multiple Stanley Cups as a player with the Montreal Canadiens, then won a Cup with the New Jersey Devils as head coach in 1995. 
Lemaire's neutral zone trap suffocated the life out of opposing offenses by clogging up the neutral zone. However, it required forwards and defensemen to always be in the right position, which meant offensive chances were almost non-existent. By shutting down the opposition, he also shut down the offense for his own team. But this kept the Wild in every game and gave the team a chance to win almost every night. Lemaire had a .480 points percentage those first three seasons with Minnesota, despite an expansion roster.
Chuck Fletcher, on the other hand, had two coaches in his first three seasons. He first tapped former Gopher Todd Richards to take over duties following Lemaire's resignation in 2009. Richards lasted for only two seasons in Minnesota, going 77-71-16 for a .518 points percentage. Those seasons were incredibly unremarkable, and only notable for Mikko Koivu's rise to the captaincy in 2010. 
After firing Richards in 2011, Fletcher promoted Mike Yeo to head coach. Yeo led his Houston Aeros team deep into the Calder Cup Final the previous season. He got the team out to the league lead by early December, only to have the team suffer a couple of injuries, and completely fall out of the playoff picture. Yeo's style was less trap-heavy than Lemaire, but was still demanding in terms of defensive structure. The Wild remained at or near the bottom of the league in goals. Yeo had a .559 points percentage and is the only coach since the 2002-03 team to lead the Wild past the first round of the playoffs.
Guerin didn't wait long to make changes to the coaching staff. He dismissed popular coach Bruce Boudreau in February and installed Dean Evason in that role on an interim basis. Evason earned a full-time contract after a strong showing before the COVID-19 pandemic shut down the sports world. Evason has been in some version of the postseason in every season he has been head coach. Unfortunately, Minnesota hasn't been able to finish teams off in the playoffs, even if they were ripe for the picking. That's even with the team setting new franchise records with Kirill Kaprizov and Kevin Fiala leading the charge on offense.
Free Agents
Free agents weren't always willing to play for an expansion franchise in the early years of the team. More often, Risebrough had to sign players that at one point had promise but spent time overseas to improve, like Wes Walz. Other players like Andrew Brunette or Dwayne Roloson were NHL journeymen looking to latch on with a team one way or another. 
While those players above were some of the success stories that came out of that time period, others were more forgettable. Travis Roche, Alexandre Daigle, Bill Muckalt, and Jason Marshall failed to provide anything of note. However, it's tough to say whether the team was trying to assemble the best team then, or were just trying to fill out rosters since most expected expansion teams to be bad until they got a few high drafts picks into their systems.
That wasn't the case for Fletcher. He had a team with bare prospect cupboards and was drifting into irrelevancy. Fletcher couldn't talk Gaborik into sticking around. In reaction, he went out and signed Martin Havlat to a six-year, $30 million contract. Havlat didn't make it three seasons with Minnesota. He was traded in 2011 for Dany Heatley. However, Havlat was far from the only free agent signing for Fletcher.
The following season he signed Matt Cullen, picked Jared Spurgeon off of the Islanders roster, and brought in Justin Fontaine, who played a necessary role on multiple lines during his time. But as good as those signings turned out for Minnesota, there was the three-year deal to Eric Nystrom, or bringing in guys like Warren Peters and Jed Ortmeyer. Fletcher spent too much money on bottom-of-the-line-up guys that were never going to contribute.
Bill Guerin's first three seasons were way more conservative. He signed Cam Talbot to be his goaltender before Year 2, a position that needed an upgrade after Guerin traded Devan Dubnyk. The year after, he signed depth defensemen Jon Merrill and Dmitry Kulikov, then spent way too much money for Alex Goligoski at his age. He also snagged depth forward Freddy Gaudreau on the cheap.
Trades
The Wild's first GM made a lot of trades as part of the expansion draft. But think of this, Risebrough acquired big man Andy Sutton and some picks to not pick Evgeni Nabokov from the Sharks. He traded a 2000 third-rounder and 2002 fourth-round pick for Manny Fernandez. Chris Terreri was moved to acquire Brad Bombardir from the Devils. 
Later on, moves to acquire Sergei Zholtok, or trading Sean O'Donnell, the Wild's first captain, for defenseman Willie Mitchell were completed. But it's not like these notable trades were especially highly praised at the time. Zholtok, Fernandez, and Mitchell eventually became early Wild contributors. Was this blind luck, or did Risebrough's staff know something everyone else didn't?
Fletcher on the other hand made some big-time splashes in his first seasons as Wild GM. His first player trade was to acquire Kyle Brodziak. He then traded prospect Benoit Pouliot for Guillaume Latendresse, a move that looked like a smart, savvy trade until Latendresse was sidelined permanently by concussions. Then after his first draft, he sent Nick Leddy and Kim Johnsson to Chicago for Cam Barker. That move still stands today as the worst trade in franchise history.
Spending draft capital is what Fletcher loved doing best. A fifth-round pick for Brad Staubitz? A third-rounder for Darrell Powe? He even sent second-round picks to acquire Chuck Kobasew and Eric Belanger in separate deals.
Guerin hasn't fallen into that trap yet. Nearly all of his trades have involved players as he jettisoned the old core from the team. Jason Zucker, out. Luke Kunin, gone. Eric Staal swapped for Marcus Johansson. Once Guerin got his team, the nature of his trades changed as well. 
He traded Kevin Fiala for a first-round pick (Liam Öhgren) and prospect Brock Faber. Talbot created a distraction in the fallout of the Marc-Andre Fleury trade (for a second-round pick) which forced Guerin to swap him for Filip Gustavsson. The jury's still out on these trades. There's also the fact that buying out Zach Parise and Ryan Suter limits what he can accomplish, at least in terms of the cap hits of incoming players.
Drafting
It's tough to beat Marian Gaborik for the Wild's best draft pick. Sure, twenty years later, it looks like Kirill Kaprizov will run away with that distinction. Still, Gaborik played in a far more restrictive league and system. Kaprizov has way more time, space, and help than Gaborik ever had in those first seasons in Minnesota. 
But Risebrough had more luck in his early drafts than he did late. Koivu and Pierre-Marc Bouchard were big-time producers for this franchise. Nick Schultz was a blue line staple for the Wild. Josh Harding became a spectacular goalie until MS derailed his career. You can build a solid team around a core like that, and they later did.
But they had no luck unearthing late-round producers. They had 20 third-or-later round selections in those first three years. They combined for 239 points. 106 came from Stephane Veilleux, the league's most average player. 71 more came from 32-year-old draftee Lubomir Sekeras. Even the success stories were muted.
That's part of the reason Fletcher took over. Leipold saw that the team had little coming up behind the players that won the Northwest Division two years before. Fletcher and assistant GM Brent Flahr nailed the Leddy pick. Problem was, they traded Leddy right away. But they also found Darcy Kuemper and Erik Haula as late-round gold. Mikael Granlund, Jonas Brodin, Zucker, Johan Larsson all made the NHL and some even had big success in the league.
That's what Fletcher did. You can quibble with their upside, but he churned out quality NHL players. Spending the draft assets like he did hand-cuffed Flahr and his scouts where they had to pick certain players. Those certain players were more about a high floor, meaning they were projected to make the NHL, but not necessarily a high ceiling to become a star.
Judd Brackett is taking the opposite approach under Guerin. Perhaps the single best move Guerin has made in his short tenure was bringing Brackett aboard to run the draft and the scouting department. Fletcher had a top-ranked prospect pool in his day, but his prospect pool isn't loaded with potential stars like Guerin's top-ranked pool. 
Guerin didn't arrive until after the 2019 Draft,  meaning his first draft was in 2020. But he snagged Marco Rossi and Marat Khusnutdinov right out of the gate. The encore presentation included Jesper Wallstedt and Carson Lambos. This last draft banked on star power by selecting Öhgren and Danila Yurov. The Wild's stockpile of young talent is absolutely what's been driving Minnesota's 10th overall ranking of front offices.
Comparing them after three years, we can see all these GMs faced unique challenges. Risebrough was an expansion GM. Fletcher had the team in transition from those expansion years while expectations were raised to win and win now. For Guerin, his challenge is different, but the salary cap problems he's dealing with are unique to him. Still, he's also reaping the benefits of Fletcher drafting Kaprizov, and Fenton selecting Boldy.
Guerin has three more seasons to navigate before the salary cap shackles come off. Can he avoid the pitfalls of the previous GMs to finally lead the Wild to a Cup? We'll see. But Guerin has been able to secure the loyalty and admiration of the fanbase, and that's something few GMs, let alone Wild GMs, have been able to acquire.
 Stats courtesy of Hockey-Reference.com. Transactions and timeline courtesy of TheHockeyNut.com and SporTrac.com