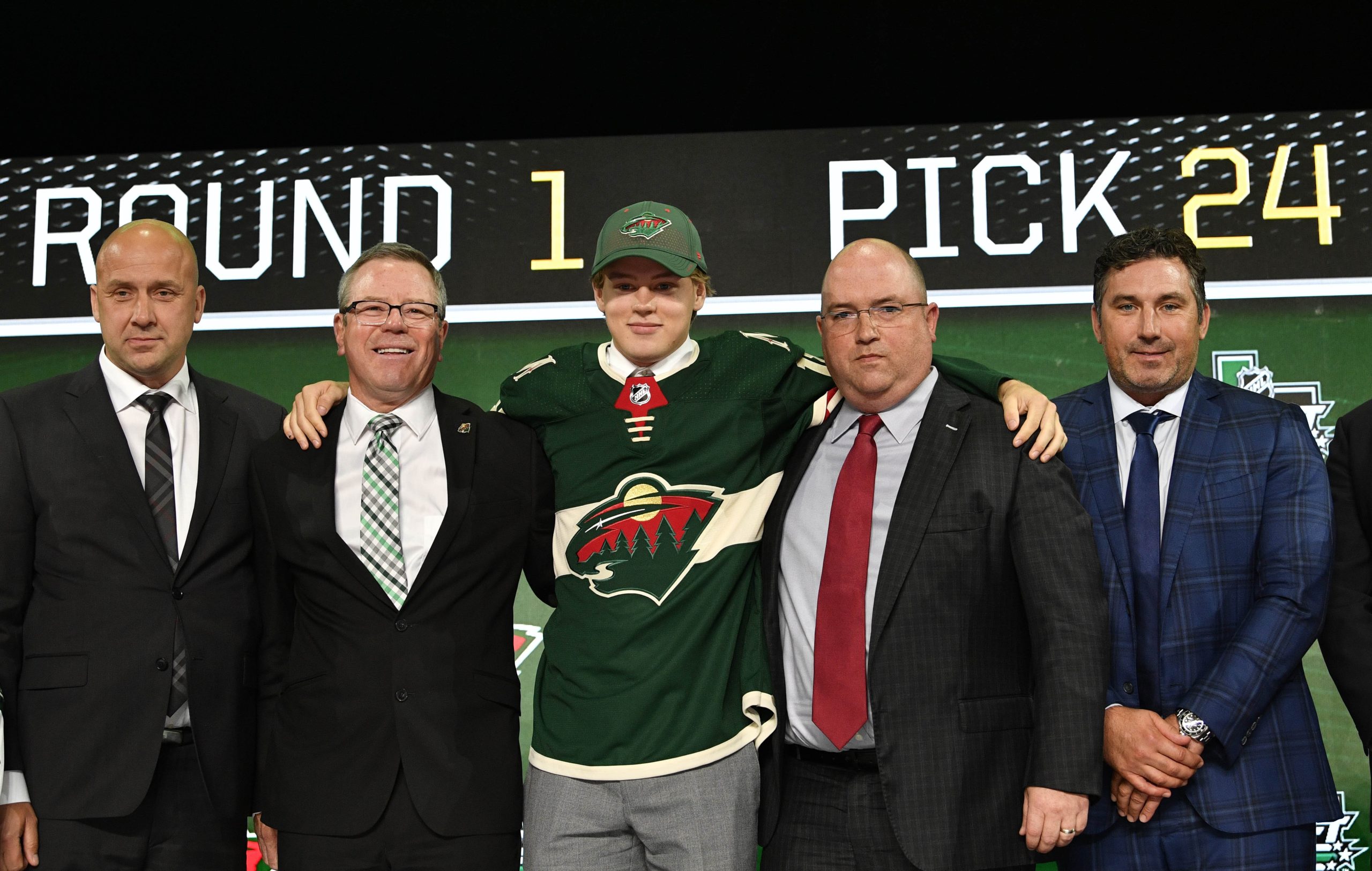 Friday will mark the second draft in the Paul Fenton era of the Minnesota Wild. As we gear up to break down the newest batch of Wild prospects that are selected over the weekend, let's take a look back to one year ago when Fenton was in charge of his first draft as Wild general manager.
The following are the prospects Minnesota selected in the 2018 Draft, and we'll review their seasons after being taken by the Wild.
Round 1: D Filip Johansson
Johansson was a surprise pick for the Wild at No. 24 overall. Many expected the Swedish defenseman to go on day two in the draft, but the Wild felt compelled to reach for him given their lack of a second-round pick. Johansson told The Athletic in April he and his team (Leksands IF) had a bit of a rocky start to the season. But Johansson stayed committed to improving his game, and put more of an emphasis on defensive play over offense. That showed as the 6-foot-1 blueliner scored one goal and three assists in 47 games. Johansson helped Leksands get a promotion to the top tier Swedish league next season, where he is expected to return. Johansson hopes more improvement comes, so he could potentially jump over to the pros the following season. Minnesota is hoping Johansson takes a big step forward in 2019-20, as the pick has become a bit of a punchline among Wild fans.
https://twitter.com/FlyingSkate94/status/978347426577711104
Round 3: C Jack McBain
After scoring 58 points in the 2017-18 season for the Toronto Jr. Canadiens, McBain began his freshman season at Boston College this past fall. Minnesota saw the upside to his game and selected the center at 63rd overall in the draft. The 6-foot-3 forward spent the season primarily on the left wing, alternating between lines two and three for the Eagles.

registered 13 points -- seven goals and six assists -- in his debut season for Boston College. Only 38 shots were registered to his name, so perhaps an emphasis on taking more shots will be on tap for McBain in the 2019-20 season.

 
Round 3: C Alexander Khovanov
Over the past few years, which goes back into the Chuck Fletcher era, the Wild have been attempting to infuse a little more Russian talent into their prospect pipeline. Khovanov became another as the Wild used their second selection in round three (86th overall) on the playmaking center. Khovanov was the top center for the Moncton Wildcats in 2018-19, and he tallied 74 points -- 25 goals and 49 assists -- which was third best on the team. Khovanov was also a power play beast for the Wildcats, tallying a team-high 26 assists with the man advantage. Minnesota signed the Saratov, Russia native in March to an entry-level contract, and even rewarded the center with a call-up to the Iowa Wild during their playoff run in April/May (he was never used in a game, though). Khovanov is likely to return to Moncton in 2019-20.
Round 3: C Connor Dewar
Minnesota's top scoring prospect during the 2018-19 season was Connor Dewar, their final pick of the third round in 2018. As the Everett Silvertips' captain, Dewar scored 81 points -- 36 goals and 45 assists -- to lead the team. In addition to having good offensive skills, Dewar likes to play a physical game despite his small frame (5-foot-11). Like fellow third-round pick Khovanov, Dewar was signed to an entry-level contract in March and also was called up to the Iowa Wild during their playoff run but never played in a game.
Round 5: D Simon Johansson
No, Simon has no relation to Filip. Filip even commented on that in April. "Like guys here think we're like siblings, but Johansson is a pretty common name in Sweden. We have nothing to do with each other, but this year we ended up being good friends." Meanwhile, Simon was loaned this past season to Almtuna IS in the second-tier Swedish league where he scored 11 points in 43 games. Johansson brings a good offensive element to the blueline, but dropped down in last year's draft as the former Wild assistant general manager called him a "late bloomer." Johansson is expected to return to his parent club Djurgardens IF in the top-tier Swedish league next season.
https://twitter.com/coreypronman/status/1010578855340494848
Round 5: C Damien Giroux
Giroux joined fellow 2018 draft pick Dewar in wearing the 'C' for his respective team this past season. With the Saginaw Spirit this past year, Giroux tallied 51 points and was one of three Spirit players to score 30 goals this past season. While having some good offensive upside, the 5-foot-10 Giroux has been a solid player in all zones. He will be returning to Saginaw for the 2019-20 season.
Round 6: RW Shawn Boudrias
The sixth-round pick Boudrias was traded mid-season, going from the Gatineau Olympiques to the Cape Breton Screaming Eagles in the QMJHL. In total, Boudrias scored 46 points in 56 games for both teams. The 6-foot-4 forward has a bit of power forward skills in his game, and has not been afraid to get into the dirty areas to get on the scoresheet. Barring another trade, Boudrias should be back with Cape Breton in 2019-20.
Round 7: C Sam Hentges
With its final pick of the draft, Minnesota selected Fridley, Minnesota native Sam Hentges. Hentges spent his 2018-19 season with the St. Cloud State Huskies, and as a freshman tallied 20 points in 37 games. Hentges spent time alternating between wing and center, as he was only going to be the third center on the team behind Blake Lizotte and Ryan Poehling -- both of whom have departed for the NHL. When Hentges was playing on the wing he was used in the top six, alternating between lines one and two. With a lot of departing players from the Huskies' top six, Hentges figures to be a big part of their offense in 2019-20.
---
Never Miss an Episode of Giles & The Goalie!
http://zonecoverage.com/wp-content/uploads/2016/05/itunes.jpghttp://zonecoverage.com/wp-content/uploads/2017/05/Podcast-header-Image-City-1.jpg