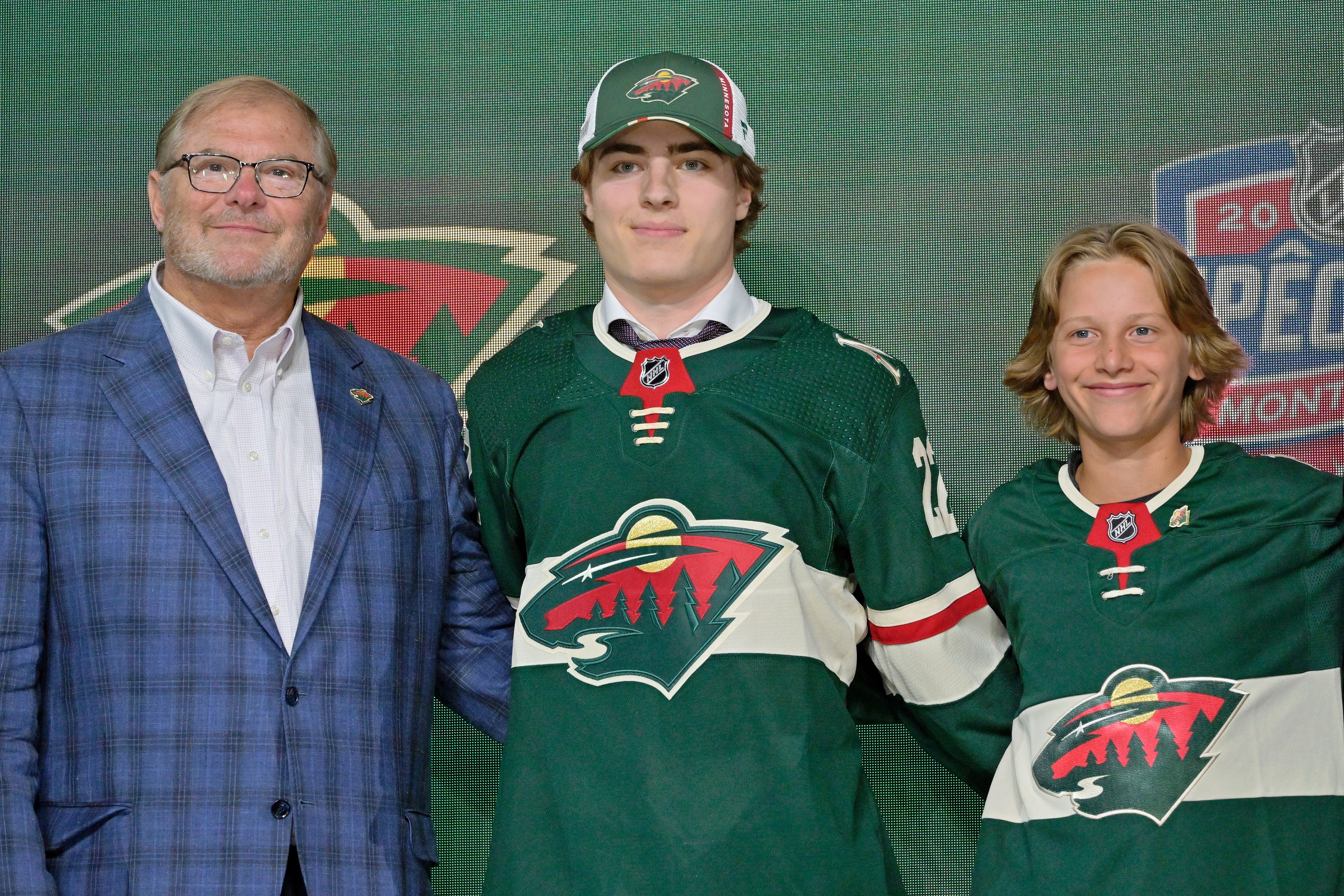 Image courtesy of Eric Bolte-USA Today Sports
Hockey Wilderness is counting down the Minnesota Wild's Top-10 Prospects, as voted by our staff. Today, we give you everything you need to know about our No. 6 prospect, Liam Öhgren.
In a league gravitating increasingly more towards speed and skill, the Minnesota Wild are a bit of a throwback. They're built in the image of their general manager Bill Guerin and head coach Dean Evason. Both were hard-nosed, physical players, which is an element they've embraced for their current squad.
"We're just not a pretty team," Guerin told The Athletic at the start of last season. "We have some skill -- maybe not as much as some other teams -- so when we don't play hard, heavy, physical... we struggle."
It's hard to imagine the 2025-26 version of the Wild sharing that same identity. Minnesota's prospect pool is appearing to catch up with the rest of the league in terms of skill. 
Sure, Matt Boldy, Riley Heidt, Marat Khusnutdinov, Marco Rossi, and Danila Yurov might have some jam and two-way ability between them. That's not the point of any of their games, though. They create scoring chances through their various strengths, with all of them sharing an ability to handle the puck in electric ways.
Of these top prospects and youngsters, Hockey Wilderness isn't looking for many of them to become a Marcus Foligno-type of player. Even Boldy, who you could call a power forward, is more Mark Stone than he is Foligno. Boldy uses his size to seize puck possession and get to dirty areas of the ice, and less to be physical.
If anyone in this top group of forwards can take up the mantle of the Guerin Wild Identity, it might be Sweden's Liam Öhgren. Even so, we figure to see an evolution in what the future of Minnesota's power forwards look like.
Foligno is a bowling ball, able to blow up players with abandon and throw fists with the league's heavyweights. In that way, he plays more like Evason, who could score a bit in his day but whose role was a physical presence. Öhgren's upside feels more similar to Guerin: a player who will be active in the forecheck, but is going to be more known for his offensive contributions.
Or, according to The Athletic's Joe Smith, the player Öhgren models his game after: Gabriel Landeskog.
Before suffering a career-threatening injury that held him out of last season and will take him out of next, Landeskog was a premier offensive player in the NHL. The rugged Swede scored 34 goals and 77 points per 82 games in the five years before his injury. But Wild fans don't see him as that lethal offensive threat. To the State of Hockey, Landeskog is the Colorado Avalanche's sunovabitch.
Unlike a Foligno-type, Landeskog being a sunovabitch isn't about hitting. At least, not since the earliest years of his career. Colorado's captain is always in the mix, strong enough to go to the net with Zach Parise-like regularity, and fast enough to hustle for turnovers and send them the other way for scoring chances. 
Simply put, Landeskog is easy to hate. That's not an insult; it's a compliment the same way it is to say that Joel Eriksson Ek pisses off opponents. Of all the Wild's prospects, Öhgren may have the best potential for being the next sunovabitch in St. Paul. 
Judd Brackett loves his pair of 2022 first-rounders, which include Öhgren (19th overall) and Yurov (24th), and not just for their skill. "You see [them] against men, [they] physically engage and play in the dirty areas," he told Smith. "[They're] hard to play against." Speaking of Öhgren specifically, he marvels, "On the forecheck, he's so tenacious."
Injuries took away from some of his numbers last year in Allsvenskan, but he turned it back on with a fantastic playoff run. Öhgren scored eight goals and added another five assists in 17 games as he dragged Djurgärdens back to the Swedish Hockey League. They didn't make it, but Öhgren will get a chance to prove his mettle there next year with Färjestad, the club that developed Eriksson Ek and Jonas Brodin.
That dip in numbers, the power forward element to his game, and the wealth of offensive talent Minnesota's system probably lead to the fanbase underrating his raw skills. Öhgren has got a shot at proving that he belongs in the same conversation as the rest of the Wild's top forward prospects next year.
Öhgren might only have above-average speed, but there's a difference between being fast and playing fast. "Everything happens in motions for Öhgren," Elite Prospects said of him in their 2022 Draft Guide. "He plays at such a heightened pace that the puck often flies from his stick no sooner than you realize he's even secured possession in the first place."
Not only can he play fast, but he also knows when to slow things down to create opportunities. Per McKeen's Hockey's draft profile on him: "His skating is very nifty in its entirety... gaining a new gear quickly while winning races to pucks and moving around defenders. [It often buys] him the often critical second or two he needs to be successful in his shot attempts."
The feet are great to begin with, but that weapon becomes so much more potent when it's combined with what he can do with his hands. NHL Central Scouting compares his playstyle to Auston Matthews, which is such a lofty comp that it feels borderline irresponsible. Why throw that name out there?
Most likely, it's because Öhgren's shot has some of the same combination of power and craftiness that Matthews employs to score 40 goals in his sleep. "Öhgren can quickly change angles and manipulate his shot angle in order to release quick pucks," wrote FC Hockey in their 2022 Draft Guide. That's an important quality to have, as goalies are too good to get beat straight-up very often. Shooters who can hide their intentions are going to have the most success.
The lead-up to the draft is when these prospects are hyped up the most. But a year later, even after a tougher season for Öhgren, that assessment of his shot still holds up. Scott Wheeler ranked Öhgren the NHL's 40th-best prospect (and the Wild's second-best skater) in July. Wheeler says of Öhgren's shot, "it really rattles off of his stick."
He's not just a one-trick pony, either. Wheeler compliments his complete package on offense, specifically calling out his "really sneaky craftiness and evasiveness" and "his combination [of] shot-and-pass, power-and-finesse."
Power forwards whose skills can match most any 5-foot-10 player in a team's top-six are absolute unicorns. That's when you start talking about the Stones, the Boldys, and Matthew Tkachuk-type players in the league. And if Öhgren joins Boldy in those ranks at the NHL-level, the Wild's future and evolution of their power identity will indeed be fun to watch.
7