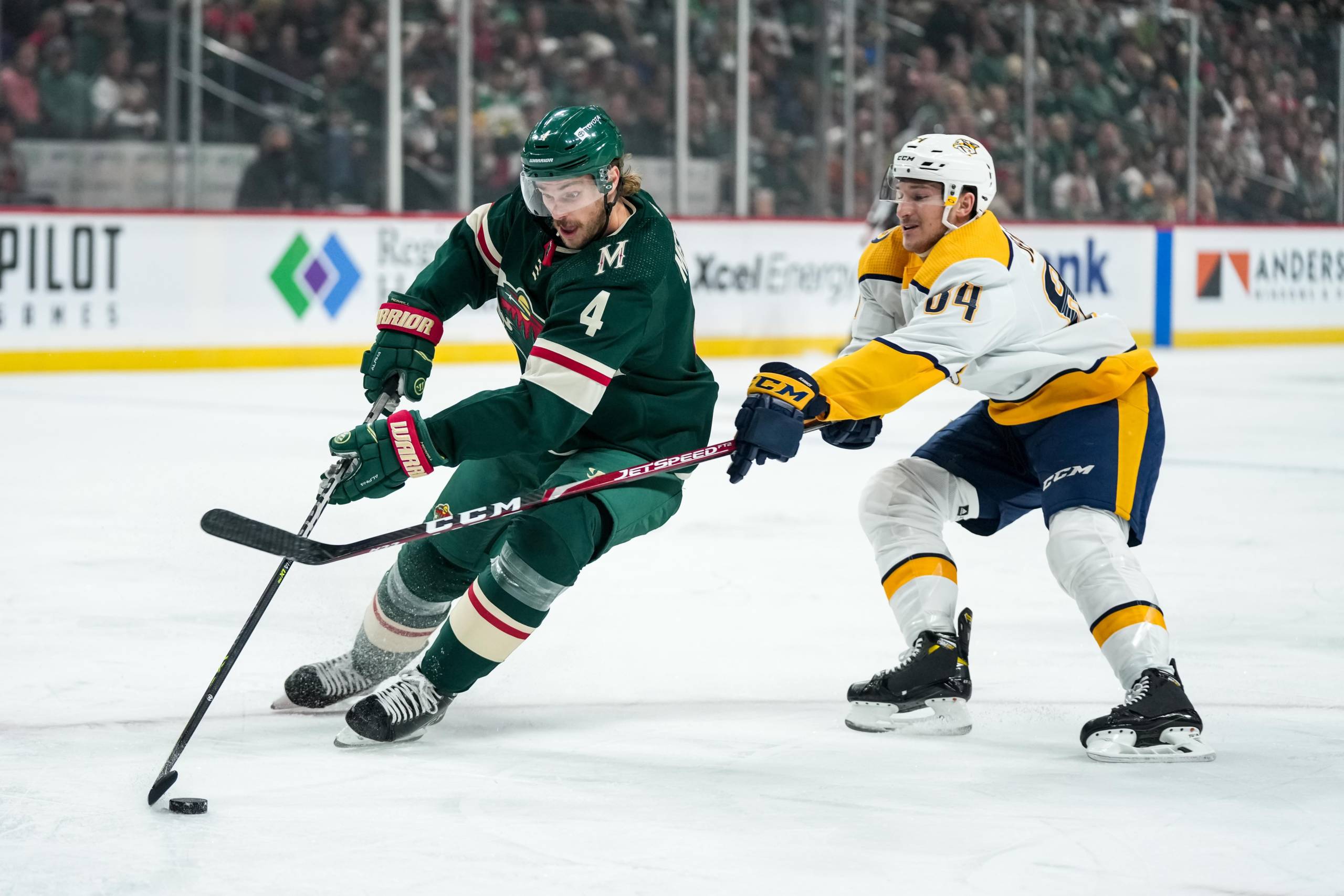 The biggest concern surrounding the Minnesota Wild entering the season was their revamped defense, particularly their depth. Many wondered if a team dependent on high-end defensemen for years could maintain their strong play with so much turnover. On the way out were the proven and dependable Ryan Suter, Carson Soucy, and Ian Cole. In came Alex Goligoski, Jon Merrill, and Dmitry Kulikov. The last two were the biggest uncertainties.
Goligoski was seen as a natural replacement for Suter as Jared Spurgeon's partner. His ability to play a fast and offensive style left few people worried about that transition. Conversely, it was an open question whether Merrill and Kulikov could replace Soucy and Cole as the third defensive pairing. However, they have alleviated those concerns through the first eight games of the season.
Defensive pairings are challenging to evaluate. Last season, the eye test indicated that Soucy and Cole were a dependable third pair. They were able to play in all situations, a luxury most NHL teams don't have. Team executives seemingly agreed. The Seattle Kraken plucked Soucy in this summer's expansion draft, and the Carolina Hurricanes offered Cole a one-year contract at just under $3 million – a number the cap-strapped Wild couldn't match.
But can Merrill and Kulikov match Soucy and Cole's results from last year? Luckily, we don't have to rely on the eye test solely. Thanks to the advanced stat revolution in hockey, we have the tools to measure their impact accurately. There isn't a significant difference between how Kulikov and Merrill and Cole and Soucy this season.
Corsi is used as an overall barometer for how much a team possesses the puck. It can be a good indicator of if a defenseman is spending time hemmed in their defensive zone or if their team is generating the majority of shots. If a defenseman's team is putting the puck on net, it usually means they are effectively transitioning the puck up the ice to their forwards.
Last season, Cole posted the lowest Corsi For (CF) percentage of his career. The Wild only generated 42.1% of the attempted shots on goal when he was on the ice at even strength. Naturally, his linemate Soucy, 27, also recorded the worst CF% of his career at 42.4%. If Cole and Soucy were on the ice for far fewer attempted shots than their opponents, why were they heralded as such a force on the blue line?
While Corsi has universally been accepted as a more helpful tool for measuring individual and team impacts, it still has a few limitations. We can pair it with other analytics to paint a clearer picture. For instance, their PDO (shooting percentage + save percentage) sheds light on why they seemingly had solid years last season, despite their dismal Corsi ratings.
Both defenders were above the league average of 100% last season, with Soucy at 108.4% and Cole at 106.2%. Both benefitted from a stellar on-ice save percentage of 93.5%, which defenders can't do much to influence. So while the pair experienced lopsided results in generating shots, their goalies did a phenomenal job of keeping the puck out of the net. As with most situations in hockey, goaltending plays a significant role in outcomes.
Fast-forward to this season, and Kulikov and Merrill are seemingly on the ice for more offensive possession. However, they're currently allowing goals at a higher pace than their counterparts from a year ago. Why? They simply aren't benefitting from the same stellar goaltending Soucy and Cole did. Both Kulikov and Merrill are above 55% in CF%, yet their on-ice 5v5 save percentage is below 90%, suggesting fairly bad luck.
Indeed, it's a small sample size. But the numbers suggest both Kulikov and Merrill are near the same, or even exceeding, the level in which last year's third pair impacted games. This year's version of the bottom pair may not be receiving the same recognition as Cole and Soucy did. Still, if they keep this up through November, it may be time to praise Minnesota for finding the cost-effective replacements they desperately needed.