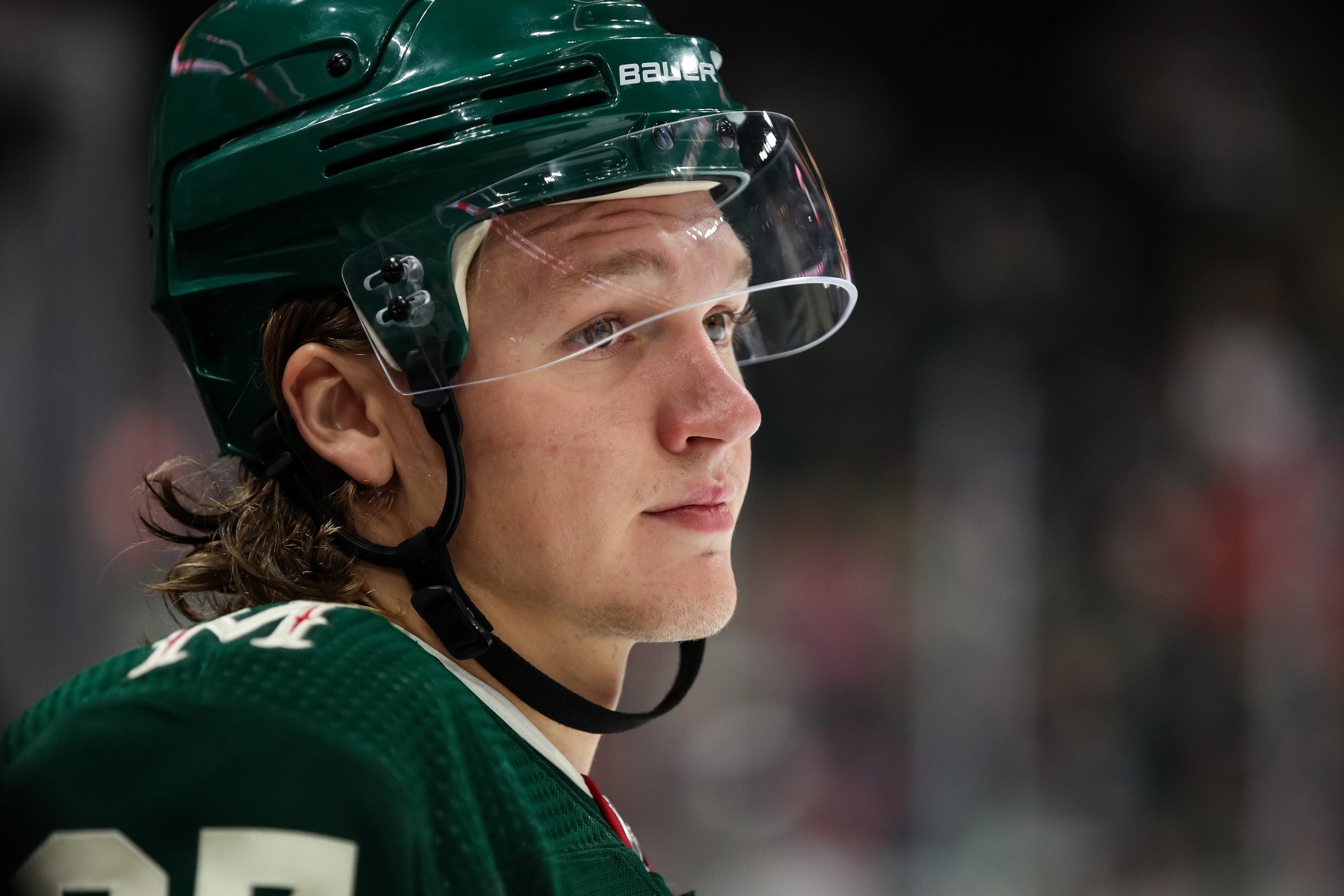 Last season, Kirill Kaprizov arrived with the weight of the Minnesota Wild's hopes on his shoulders. He delivered beyond anyone's wildest dreams, notching 27 goals in 55 games and winning the Calder Trophy. It's hard to think that expectations could get any higher for him after that.
They managed to do just that, though. After inking a five-year deal worth $45 million, those expectations are now stratospheric. The Wild paid a premium to keep him in Minnesota, to the point where anything less than stardom is negative value. And when the Wild are facing massive salary cap penalties, negative value may as well be a death sentence.
So the pressure's on for Kaprizov not just to replicate but surpass last season. But how could he, or anyone, improve on the start he had through his first two games this season? Kaprizov already had four points last weekend, and two of them came on overtime-winning goals. The only way to top that would be to somehow find a way to win the Cup in October.
But by the lofty standards he set last year, Kaprizov's start seems more sluggish than most hoped. He collected a couple of assists over the weekend against teams that he torched for seven goals and 17 points in 16 games last year. That production is decent, but fans probably want more. Kaprizov only registered four shots on goal and hasn't quite found his footing with his new-look line.
The good news for the State of Hockey is that this is a sign that Kaprizov is worth several times his weight in gold. In some ways, this is exactly why the Wild paid him superstar money.
In the last decade, the Wild had two players capable of having a big night on a fairly regular basis. Zach Parise had 18 three-point games during his time in St. Paul. Remarkably, Eric Staal had 16 in his four seasons in Minnesota, not too dissimilar to Kaprizov's rate (three in 57 games). On their best nights, they were untouchable.
So, what kept them from ascending from very good players to undeniable stars? It might be that they had quiet nights when they didn't have their A-Game working for them. Thirty-eight of every 82 Parise games in Minnesota were scoreless, and Staal averaged 36 scoreless games in his Wild tenure. Where does Kaprizov sit right now? Twenty scoreless games out of 57, or 29 of every 82.
He has some, but dramatically fewer than Parise and Staal, and more in line with young superstars like Elias Pettersson (31 per 82), Mitch Marner (29), and Mikko Rantanen (26). Kaprizov is showing that even if he isn't having his best night, he'll still probably notch at least one point.
That adds up to about an extra 10% of the season where Kaprizov is on the scoresheet over players like Parise and Staal. The big games and hot streaks are impressive, great, and necessary for attaining star status. No one doubts that. Combine that with scoring consistently between the big games, and that's how a player gets into the 80- to 90-point realm.
Let's not discount his two assists, either. Here's the one on Kevin Fiala's power-play goal in the Anaheim Ducks game:
Mats Zuccarello's brilliant pass gets the headlines here, but Kaprizov more than deserved the second assist he recorded. His gravitational pull drew Anaheim players to cheat towards him, giving Zuccarello and Fiala the space to make them pay. Kaprizov didn't do anything especially fancy or jaw-dropping; he smartly used his gravity as a scorer to create an easy goal. Who else in Wild history inspired such reactions from defenders?
The jaw-dropping element of his playmaking came on Saturday against the Los Angeles Kings.
That's Kaprizov posterizing Anze Kopitar, who's twice won the Selke Trophy as the best defensive forward in the league. The awareness to know Victor Rask was behind him and setting up in the slot, plus the edgework to stop on a dime and spin, and the accuracy of the pass are all breathtaking. Rask hits his target perfectly, but that can't happen if Kaprizov doesn't make a fantastic play.
These weren't inconsequential goals, either. Both games were decided by a goal, so there wasn't the ability to do stat-padding in a blowout. Kaprizov's assists were against engaged opponents and came at crucial times in two road victories. Fiala's goal against Anaheim tied the game up at one right before the second period expired. Rask's goal in LA broke a 1-1 deadlock, setting up Minnesota to end the third period with a 3-1 cushion.
Maybe you expected Kaprizov to pick up where he left off and buzzsaw those California teams. Perhaps you expected a goal or two from the $9 million man. You might be worried the feeling-out process between him and new center Joel Eriksson Ek will be a work-in-progress.
Even if you feel those things, though, you should still be encouraged by what you saw last weekend. Kaprizov was far from his most dominant -- he neither beat a goalie directly nor peppered the net as he did down the stretch last year. Nonetheless, he could find the scoresheet and impact the game, even when he wasn't at his best. In doing so, he proved that he is worth his massive, superstar-level salary.