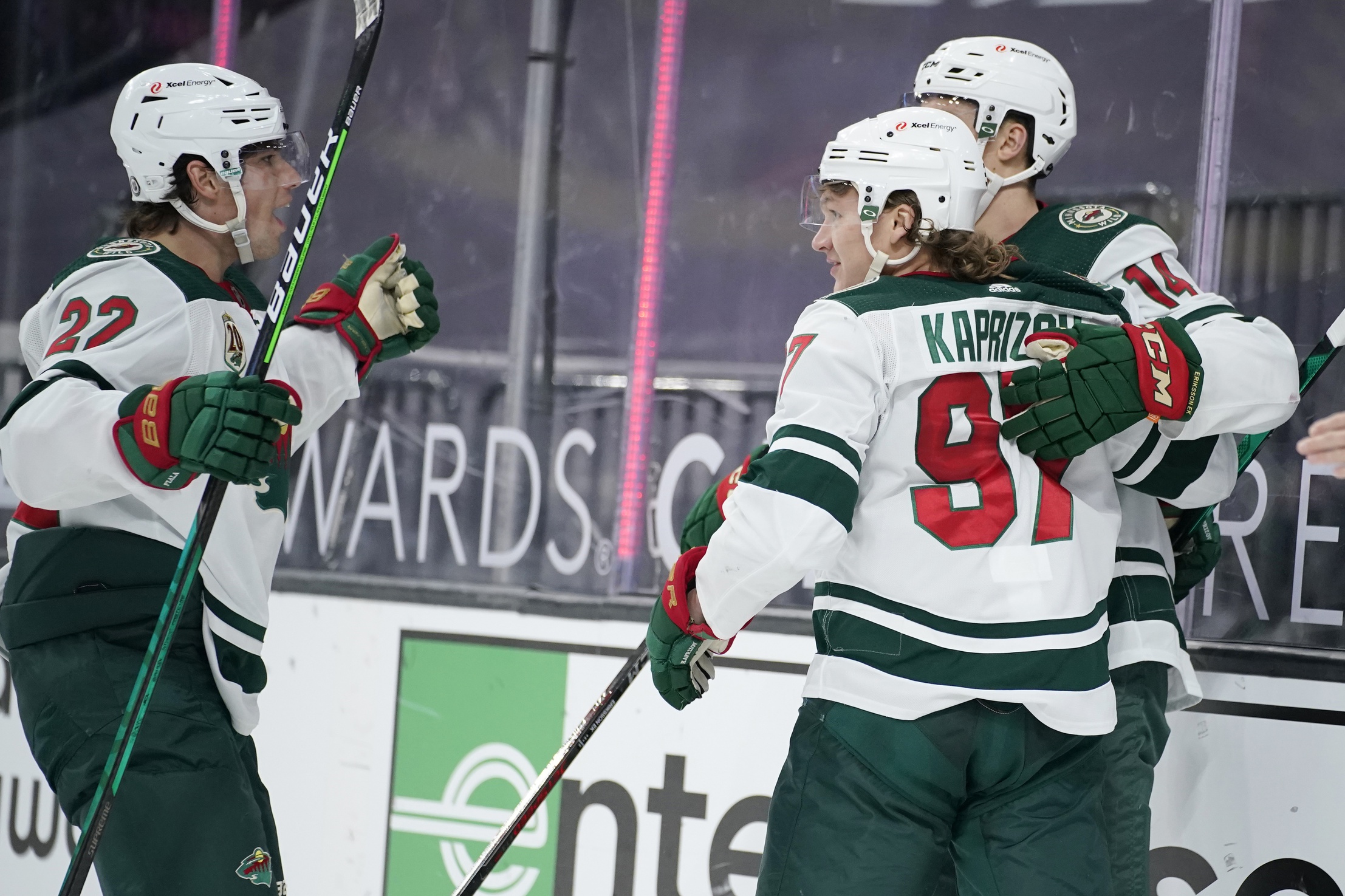 After dropping consecutive games on Monday and Wednesday in San Jose, the Minnesota Wild's prospects to break .500 on the four-game trip seemed bleak, especially with two games following on Thursday and Saturday in Las Vegas. Minnesota was 2-1-1 against the Vegas Golden Knights previously on the year, but taking both games at T-Mobile Arena seemed like a big ask for the reeling Wild.
Narrator: It was not a big ask at all.
A 3-2 shootout win on Thursday night followed by a 2-1 win on Saturday evening sent the Wild home with a .500 road trip and, more importantly, strengthened their lead in the Honda West Division.
What changed for the Wild in their games in Vegas to salvage the road trip? Here are some key factors that lead to their two-game sweep in Sin City.
"Calm" Talbot
In this sport, goaltending is the ultimate equalizer, and the Wild had incredible net-minding from Cam Talbot on both nights. Save after save was Talbot's M.O. during these games, with some of the stops coming in spectacular fashion.
The Knights sent wave after wave of attacks, but Talbot was able to hold Vegas to just three goals over 125 minutes. More impressively, he only allowed one high-danger goal on 18 chances. Talbot was, without a doubt, the reason the Wild were able to stay in these games and collect four points.
Per Evolving Hockey, he registered a goals saved above expectation (GSAx) of 2.21 and 2.16 in each game, respectively. Meaning, he saved two goals on each night that he should not have, which certainly would have sent the Wild to losses in both cases. Talbot was the star of stars on the Vegas strip both nights.
Success on the power play
A common complaint — or suggestion for improvement, if you will — about the Wild this year has been their power play. The team's power play has sat under 10% nearly all season, easily the worst in the National Hockey League.
But it came through in clutch spots in both games, scoring one goal each night — most impressively to tie the game in the third period.
Winning the special-teams battle has not been something they boast about often, these key power-play goals could give the Wild some added confidence moving forward.
Quality shots on goal
Getting scoring chances in San Jose was not an easy task, especially in Game 2. But they managed to crank up their effort against the Golden Knights. Minnesota went from a combined 36 even-strength total scoring chances in the games at San Jose to a combined 50 in the games in Vegas.


While the Knights had more scoring chances overall, the Wild ramping up their efforts and getting more pressures on the Knights net was a good sign.
The creation of the Greenway-Eriksson Ek-Kaprizov line
At long last, Joel Eriksson Ek was given a bump up in linemates, as coach Dean Evason put the line of him, Jordan Greenway, and Kirill Kaprizov together prior to the two-game set in Vegas.
That creation paid off big time for the head coach. The trio combined for seven points (three goals, four assists) and accounted for 75% of the goals scored in the pair of games (the shootout goal is not counted). While the Wild want to bring a balanced attack at all times, they need a line like this one to be able to go out there and score on any given shift.
It is also equally important to keep the supremely talented Eriksson Ek with Greenway and Kaprizov, as they certainly will bring out the absolute best from the Wild's former first-round pick.