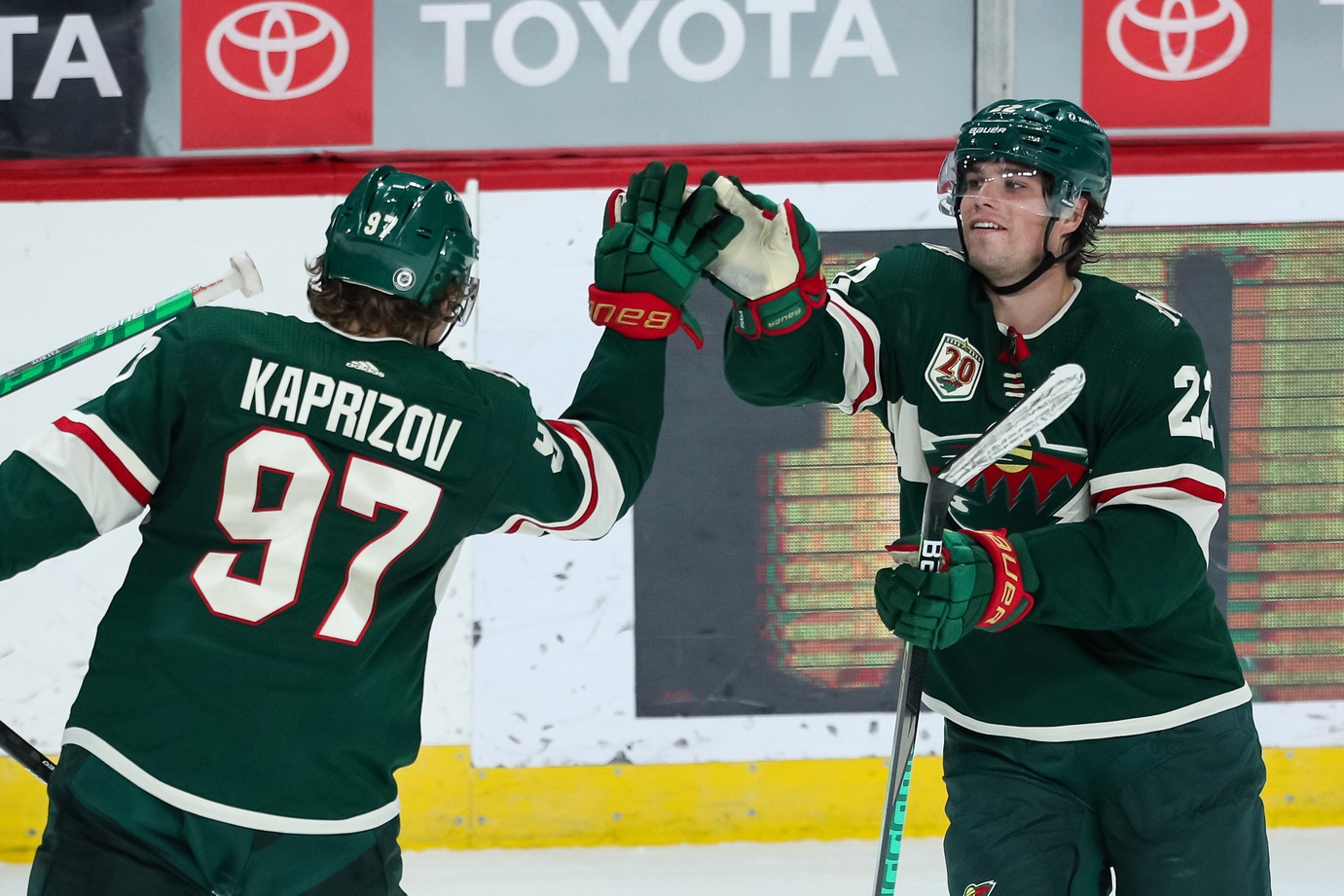 The Minnesota Wild entered the third period of Tuesday night's Game 2 trailing the Vegas Golden Knights 2-1. It was a familiar spot for Minnesota, as seven of their wins this season involved third-period comebacks. Still, it's one thing to complete a comeback in the regular season. Could the Wild show that same magic when the stakes are this high?
And yes, the stakes were high. Minnesota claimed de facto home-ice advantage with a road victory in Game 1, but it was hardly house money. The result of Game 2 had a chance to swing the series wildly in or out of Minnesota's favor.
According to Hockey Reference's historical data, road teams that sweep Games 1 and 2 go on to win a seven-game series 80.4% of the time. When the series is tied at one game apiece, the road team has just a 46.1% success rate. History says either the Wild would throw the knockout punch, or get demoted back to underdog status.
There was only one thing that would give Minnesota a shot at going up 2-0 in the series: a goal.
Easier said than done when the opposing goalie is as hot as Marc-Andre Fleury was through 40 minutes. The Wild fired point-blank chance after chance, racking up 3.24 expected goals in the first two periods. They might as well have been shooting from center ice, as Fleury only conceded a Matt Dumba point shot.
To make matters worse, two key players were struggling to break through, albeit in different ways. Vegas once again focused their defensive game plan around bottling up Kirill Kaprizov, and they found success in Game 2. Kaprizov had just three unblocked shot attempts, all three from outside the "home plate" area in front of the net, and two of them from 55-plus feet away.
Focusing on Kaprizov opened up opportunities for Ryan Hartman, whose nine shots rank second on the Wild this series. But for Vegas, that's a feature, not a bug. Hartman has a motor and willingness to shoot, but he's an average finisher at best. The Golden Knights will roll the dice on Hartman getting a wide-open look at Fleury over Kaprizov getting a half-decent chance any day.
Kaprizov appeared to get frustrated into the third period, registering no shots on goal, shooting into Golden Knights, and taking a tripping penalty that effectively ended Minnesota's comeback bid.
On the other hand, Kevin Fiala played inspired hockey. Fiala knows what it's like to be Kaprizov — he got the same attention against the Vancouver Canucks last year, with mixed results. Freed from that burden, Fiala was a force, pouring eight shots on net and setting up Victor Rask for a potential go-ahead goal.
Yet nothing went in. On a night when Fiala took his game to another level, he found very little support from his linemates. Looking at his shots, most of them involve Fiala taking a low-danger pass and trying to score by himself. Watch how neither Rask nor Marcus Johansson are able to find Fiala in the scoring areas.
https://twitter.com/OhHiTony/status/1395087316620775425
So Minnesota had three problems entering the third period: Vegas suffocated their best player, their second-best scorer had no help, and the team desperately needed to score a goal in 20 minutes.
Playing Kaprizov and Fiala together stood out as a simple, elegant solution to these issues. Vegas bottling Kaprizov up? Replace Mats Zuccarello, whose utility to Kaprizov is as a set-up man, not a shooter, with Fiala. Vegas sagged off Zuccarello and Hartman, letting the latter get as many looks at Fleury as he wanted.
Would the Knights be as willing to cheat towards Kaprizov knowing Fiala's there to get those chances? Whatever decision they made, it'd be a positive outcome for the Wild. Either Kaprizov gets more breathing room, allowing Fiala to play off him, or Fiala gets way more space to operate. Win-win.
Instead of loading up his two best playmakers on a line in crunch time, coach Dean Evason opted to do nothing. Aside from a 49-second attempt at double-shifting Kaprizov on the fourth line, Evason rigidly stuck with his lines, the same ones that had cracked Fleury just twice in over 100 minutes.
Kaprizov and Fiala played 8:12 and 6:39 even-strength minutes in the third period, respectively. They spent a grand total of 0:00 of it together. Only with 1:53 left did Evason deploy his two best players, putting Fiala on as the extra attacker. That lasted all of 23 seconds, after which Kaprizov went to the box.
That's it. Evason had 20 minutes to take his best shot at beating Fleury, and all he got was 23 seconds.
Evason's developed some very strong tendencies, the strongest of which is his fanatical devotion to a balanced offensive attack. Kaprizov and Fiala played just 48 5-on-5 minutes together all season. Despite both of them lacking a suitable center, neither spent more than 130 minutes with Joel Eriksson Ek.
He also loathes making adjustments to lines that he believes to be working. Once he finds a combination he likes, he'll keep them together until injuries or a very prolonged slump mandate change. He's especially reluctant to make such changes in-game.
One can see the logic in these strategies. Split up your three best players and you maximize the time one of them is on the ice. In a long season, where it's rare for a particular game's stakes to be high, riding out slumps makes sense.
But this is the playoffs. The difference between winning and losing Game 2 was a 34% drop-off in Minnesota's odds of advancing. And seven games isn't nearly enough time to ride out a hot goalie — ask the holdovers from the 2016-17 team that faced Jake Allen how that works out.
Evason needed to read the moment and adjust accordingly. Going forward, he can't stay the course when things go wrong and pray the Hockey Gods grant the Wild better puck luck. He's got to be proactive, and that includes trying things like "Put your two best playmakers together in crunch time."
He'll get his chance to make adjustments tonight. Back at home, Evason will have the option of last change, giving him much more control over matchups. He even has the option to supplement his lack of offense with star prospect Matt Boldy. Can Evason get creative and find ways to give Kaprizov space and Fiala help? The answer to that may well determine whether he advances, or upholds Mike Yeo and Bruce Boudreau's legacy of early playoff exits.