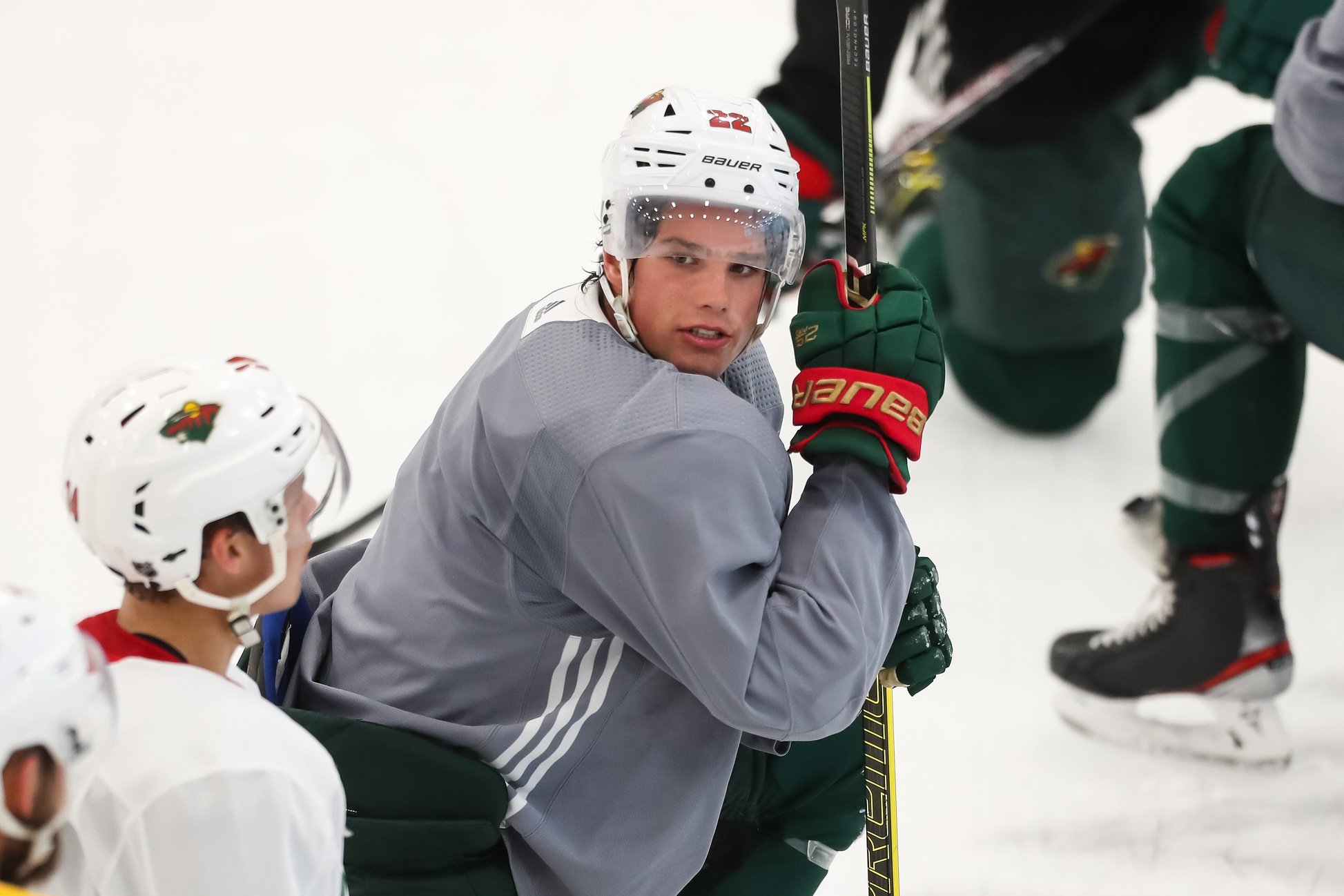 It's hard to overstate how much brighter the Minnesota Wild's future looks now compared to the start of the season.
The Wild entered October a franchise in disarray. Owner Craig Leipold ended the disastrous Paul Fenton Era 14 months into his reign. Bill Guerin was hired as general manager, making him the third person to hold that title since April 2018.
Minnesota finished the previous year outside of the playoffs with little hope going forward. Their young players showed little growth and their prospect pool was generally seen as thin. Their best prospect was in Russia with little guarantee he'd ever cross the ocean. A 4-9-1 start prompted fans to look forward to the Draft Lottery in November.
This feels like an eternity ago.
Minnesota finished the year strong, going 12-5-1 in their last 18 games before the season shut down. That left them in position to make the expanded 24-team playoff. Despite a roster featuring many of the veterans from years past, something about this team felt new, fresh and fun.
Players like Joel Eriksson Ek, Jordan Greenway and Luke Kunin started claiming bigger roles. Marcus Foligno transformed into a true fan favorite. Brad Hunt and Carson Soucy were surprisingly solid and fun to watch on the blueline. Fans even got treated to a taste of the future when Kaapo Kahkonen got six starts in net.
But let's not kid ourselves: The biggest reason for the growing buzz in St. Paul are two arrivals. One of them was Kirill Kaprizov signing with Minnesota on Monday. The other was Kevin Fiala's breakthrough performance down the stretch.
The twin stars are bursting onto the scene at the perfect time for the State of Hockey. And each other.
How Kaprizov Helps Fiala
We all know Fiala's story at this point. He is a soul-destroying machine on skates. His 26 points in his final 18 games put him on the map in the greater hockey world.
With that recognition will come more responsibility. Dean Evason already started to build his offense and power play around him. Now he's the full-time head coach, with a whole offseason to concoct ways to use Fiala more.
Fiala won't be a secret next year. Even in this year's playoffs, you'll see that Vancouver will throw everything they have at him. The skill gap between Fiala and the rest of the Wild forwards means the Canucks can focus on stopping him without worrying too much about someone else burning them.
This wouldn't be the case if Kaprizov was allowed to play this postseason (Thanks, NHL!). Kaprizov would be another dynamic talent who can make opponents pay should they focus solely on shutting down Fiala.
Kaprizov also seems to complement Fiala's skill set very well. Fiala had great chemistry with Parise this season. Fiala would dangle through opponents on the perimeter, looking for opportune moments to attack the net. Parise stayed near the crease, looking for rebounds, tip-ins or any other loose pucks.
Could Parise repeat that performance next year? He turns 36 at the end of the season, has had back issues and was almost traded at the deadline.
Luckily, Kaprizov can fill that Parise role, as Kaprizov thrives by finding the soft spots around the net. But unlike Parise, Kaprizov has the speed to keep up with a player like Fiala on the rush. It's hard to know exactly how two players will co-exist with each other before they play together. But all indications are, this partnership should work.
How Fiala Helps Kaprizov
We talked on Monday about the immense pressure Kaprizov will face coming to Minnesota. Expectations will be sky-high for the two-time KHL leader in goals. Wild fans watched his highlights for years, which give no indication that Kaprizov is anything less than the dynamic player the franchise has yearned for.
But turning around an NHL team single-handedly is a tough thing to do. No matter how good you are, there are another 22 players on your team. Look at Connor McDavid, who turned in MVP-caliber seasons only to see his Edmonton Oilers miss the playoffs.
Forget just winning — it's also incredibly hard to score goals all by yourself. It's a rare player like McDavid or Artemi Panarin who can succeed offensively without much help whatsoever. Most scorers, even elite ones, need someone to give them the puck.
It was unclear who was going to be the playmaker to Kaprizov's sniper last year. Mikael Granlund, the team's best passer, was traded at the 2019 deadline. The team traded for Fiala, who struggled mightily upon arrival. Then in the summer, they signed 32-year-old Mats Zuccarello. No one other forward had a reputation as a great playmaker.
Fiala's emergence solves that issue for Kaprizov. Fiala has a shoot-first mentality, but is a good, sometimes brilliant passer who can thread pucks through traffic. Fiala's shots also create plenty of opportunities to cash in on the loose pucks Kaprizov is so good at finding.
Fiala also will help somewhat with the attention Kaprizov will face on and off the ice. Fiala's presence means opponents can't hope to just key in on Kaprizov and shut down the Wild. And with Fiala around, Kaprizov will at least have another player to share the burden of being Minnesota's savior.
Best Duo in Team History?
The excitement is off the charts for these two to play in Minnesota this winter. One has to wonder, when was the last time the Wild had two players this good, this young?
The last time the Wild had a massive amount of hype for young players was around 2013. Minnesota had Granlund, Jason Zucker, Charlie Coyle, Nino Niederreiter, Jonas Brodin, and Matt Dumba in the organization. All of them turned into regular contributors.
But the hype fell flat, at least for a little while. That forward group wouldn't break out until 2016-17, when they were all in their age-24 year.
Both Fiala and Kaprizov have shown more in the way of results at a younger age. Fiala had 54 points in 64 games at the age of 23. Plus, he was consistently taking over games in a way that 2013 group never did. Kaprizov wasn't in the NHL, but he was a top-five player in (arguably) the world's second-best league for the past two years. He was just 21 and 22.

Let's compare Fiala and Kaprizov to the best seasons in Wild history by an under-24 player. We'll sort by points per game. NHL equivalency will be used to translate Kaprizov's KHL points to NHL points (One KHL point is about 0.75 points according to NHLe).
Fiala and Kaprizov are head and shoulders above that 2013 class, so long as you believe in Kaprizov's KHL production. They are well ahead of the best under-24 years from Granlund (0.65), Niederreiter (0.52), Zucker and Coyle (0.51 each).
The only time in Wild history where they had such a young, potent one-two punch was in 2005-06. Marian Gaborik was at the height of his powers, with Pierre-Marc Bouchard serving as Brian Rolston's set-up man. Gaborik would leave Minnesota a few years later, and concussions eventually ruined Bouchard's career. But that year was the beginning of the most exciting stretch of hockey the Wild experienced in their first decade.
Fiala's breakout or Kaprizov's arrival would be enough of a shot in the arm for this franchise on their own. To have both at the same time? It's the biggest ray of hope this team has had in a decade and a half. The two have an opportunity to help each other blossom into superstars. For the first time in forever, all eyes will be on the Wild to see if they do.