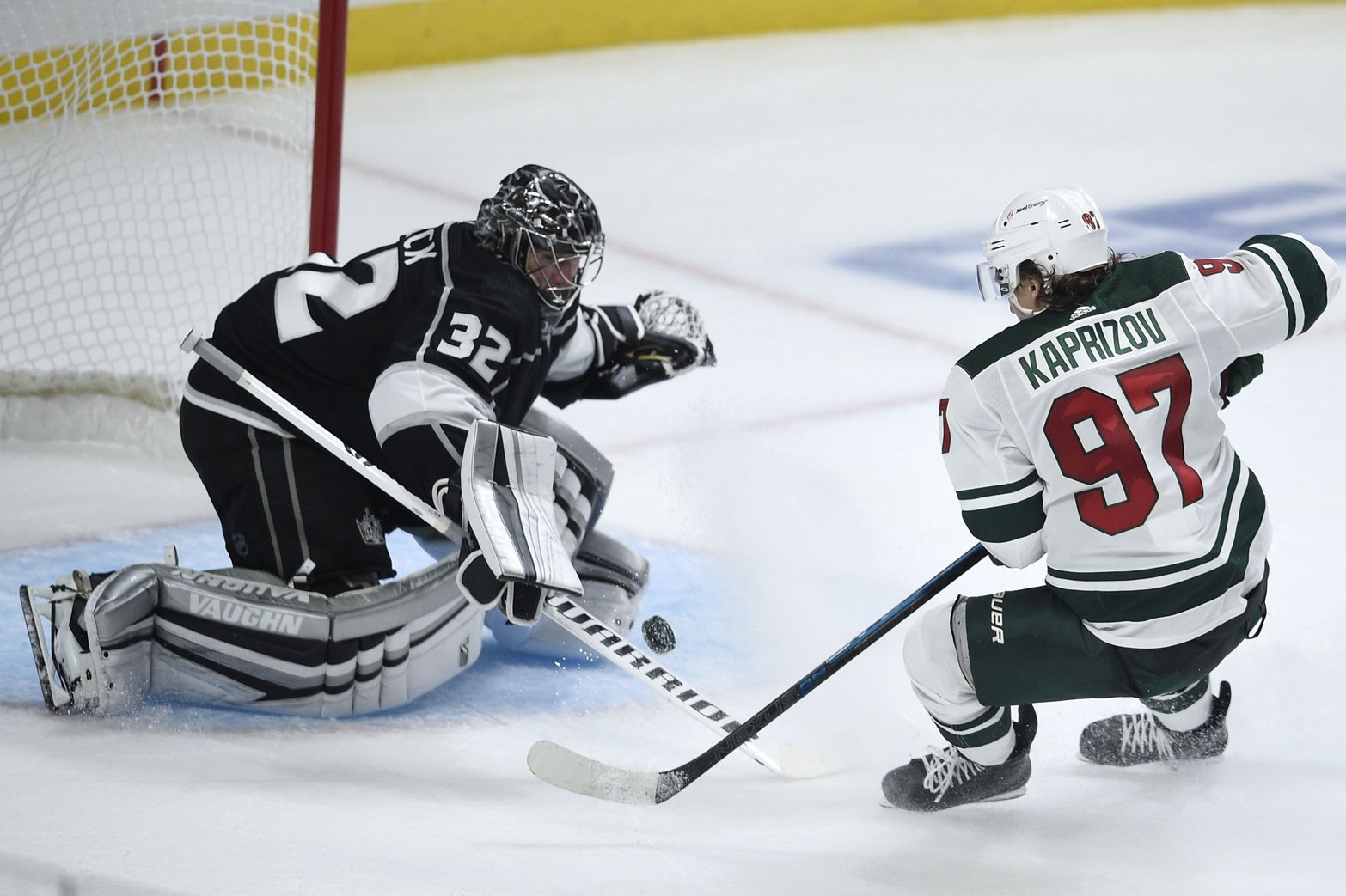 For Minnesota Wild fans who agonized for five years over when Kirill Kaprizov was going make his debut, Thursday night's 4-3 overtime win was about everything they could have hoped for.
He had two assists, and of course, the game-winning overtime goal, to kick off his NHL career. It was a dream start for Kaprizov and the Wild. "Yeah, he's something else," Matt Dumba told the media after the game Thursday. "He works so hard and so, he's very deserving of everything that came his way tonight."
If you paid attention to Kaprizov throughout the game on Thursday night, you saw that he was very hard working. It wasn't just offense either that the Russian winger was bringing to the table.
Here are a few video clips of what we saw from Kaprizov in his NHL debut:
Vision
It did not take long in this game to see that Kaprizov has tremendous vision and a knack for knowing where his teammates are going to be when he fires a pass. He first put this on display with a tremendous no-look pass to set up Jared Spurgeon for a quality shot on goal, while the Wild were trying to cut into the 3-1 deficit.
Then just a few minutes later, he was able to find Victor Rask for that second goal that cut the Kings lead to 3-2 before Marcus Foligno tied the game later in the period.
Shooting
We did not see a great shot hit the net for Kaprizov on Thursday night (the overtime winner was a bit off), but with the type of release he has, he is destined for many more goals in the NHL. Just take a look at this sequence from the game where he got two shots off rapidly.
How many Wild players over the years can you say have had a shot look like this?
Defense
Offensively dynamic players aren't exactly known for their work in the defensive area of the game, but we saw Kaprizov working hard in that area. Look at this play in the third period with the Wild down one goal. Kaprizov is defending the slot area, and when a Los Angeles Kings player comes through the slot, he immediately begins to tail and stops a shot from getting off after the pass was sent. Even better, Kaprizov starts a three-on-two rush up the ice for the Wild after forcing this turnover because of his defensive play.
[videopress q7C7I46A]
Speed
In today's NHL, you need some speed, and Kaprizov covers the ice pretty quickly. Whether it was the play above where he started the rush off the defensive turnover or the burst in overtime that resulted in the game winner, it was there. How many times have you thought "so close" on a play like this where the puck is almost intercepted by someone not as quick?
The answer is: Too much
Finishing
Again, the overtime winner was probably not meant to go off his skate into the net, but Kaprizov has a knack for finishing when given quality chances. We have seen it in the Olympics, KHL, etc. Wherever he goes, his finishing touch follows. With a guy who has the confidence to score goals like Kaprizov, you can surely expect to have more overtime winners in his future.
Quite the debut from a player who had a mountain of expectations on him from the fanbase.