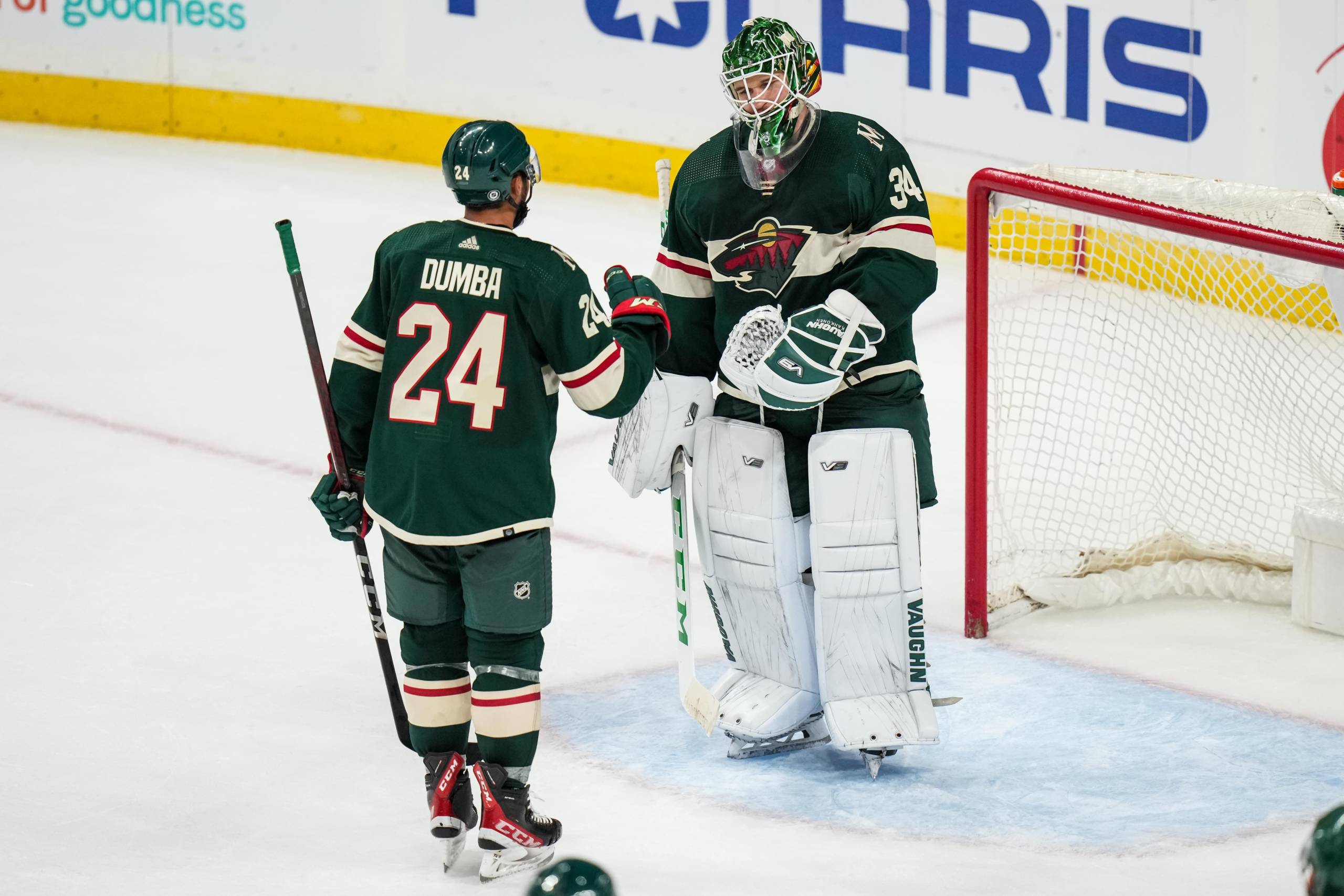 Kaapo Kähkönen resumed his backup netminding role with the Minnesota Wild after a streaky 2020-21 season. Last year, he rattled off a personal nine-game winning streak which included two shutouts, a 1.44 goals against average (GAA), and a .947 save percentage (SV%).
His run of elite-level goaltending seemingly disappeared as quickly as it arrived. He followed the win streak by losing three in a row, surrendering 19 goals. Kähkönen then again played well over a four-game span but ended the year with a loss against the St. Louis Blues, where he gave up seven goals on only 27 shots.
Kähkönen has been much more consistent this season. Before the Winter Classic, Kähkönen embraced the usual backup goalie responsibilities by lacing up against lesser opponents or on the second night of a back-to-back. But on New Year's Day, Minnesota's primary goalie, Cam Talbot, suffered an injury that would keep him out for at least the next three weeks. Suddenly, the Wild thrust the 2020 AHL Goalie of the Year winner into the starting role.
Over the next four games, Kähkönen kept the streaking Boston Bruins, Washington Capitals, and Anaheim Ducks all in check. On Monday afternoon, he went toe-to-toe against one of the league's hottest teams in the Colorado Avalanche. Ultimately, the Wild walked away with a point after losing in the shootout, but Kähkönen was lights out for most of the evening, stopping 35 of 38 shots on goal.
During this stretch of games, Kähkönen maintained a .932 SV% on 149 shots against (SA). That equates to roughly 37 SA per game, and he still managed an impressive 2.42 GAA. It should be noted, Kähkönen was this successful with half his defensive core absent. Jared Spurgeon, Jonas Brodin, and Alex Goligoski all missed game time due to injuries or COVID-related reasons.
In contrast to these last four games, Kähkönen was seeing around 23 shots per game with a rather lackluster .903 SV% in his seven starts before the Winter Classic. Kähkönen has been on another level since Talbot has been out.
Talbot has seen the lion's share of the workload this season, playing in 24 games with a 15-8-1 record. Talbot's GAA this season sits at 3.00 with a .909 SV%. Both of these numbers are substantially worse than his career average of 2.63 GAA and .915 SV%. With this in mind, it's somewhat mind-boggling that Talbot will represent the Wild in the 2022 All-Star game. Statistically speaking, Talbot may not even be the best goalie in this squad.
Goals Saved Above Expected (GSAx) is one of the fundamental statistics used to compare goalies. In short, this is the actual number of goals allowed by a netminder compared to the expected amount of goals they've faced. Since GSAx accounts for the quality of shots a goaltender sees, it levels the playing field for goalies regardless of the defenseman in front of them.
Per MoneyPuck, Kähkönen's GSAx is 2.0 (allowed 29 goals on 31 expected) in all situations this year. In his last four games, Kähkönen's GSAx is 1.03 in all situations and 0.13 when 5-on-5. In his 24 games, Talbot has a -0.2 GSAx value as he allowed 71 goals but was expected to concede 70.8 goals. This disparity widens at 5-on-5 play, where Kahkonen's GSAx is -0.8 and Talbot's is -5.4. Talbot has always been described as an average goalie that saves the shots he should, but not necessarily the ones he shouldn't. His GSAx this year would suggest he isn't saving all of the shots he usually should.
Another useful metric to compare the performance of goalies is Evolving Hockey's Standing Points Above Replacement (SPAR). For those unfamiliar, SPAR is an attempt to create an all-in-one unit of measurement that portrays how valuable a player is relative to a baseline (replacement level) player.
Talbot's SPAR is 0.3, while Kahkonen has 2.2 SPAR. Basically, Kähkönen accounts for roughly 2 more points in the standings compared to Talbot, in considerably fewer minutes.
Talbot is not only underperforming based on his track record, but he is also no longer the clear No. 1 option between the pipes for the Wild. So, even after Talbot returns from injury, why not call on Kähkönen to lace up and protect the crease?
The Wild have nothing to lose by going with the hot hand in Kähkönen. The young netminder would gain valuable experience and continue to sharpen his skills. Talbot can sub in as needed, maintain his health, and ease up his workload for the playoffs should Minnesota need him. He will have every opportunity to stay sharp in the last three months of the season since the Wild play 40 games in 77 days, including at least seven back-to-backs.
The argument isn't that Talbot doesn't deserve to play. Talbot is a fine goalie, and his career numbers back that up. What ultimately does matter is that Kähkönen has simply outperformed Talbot. The disparity in GSAx and SPAR between the two is evidence of that.
Kähkönen has earned the right to be the No. 1 option in net if he consistently plays at the level we have seen this season. Minnesota needs to see what Kähkönen can offer this team on a nightly basis because Talbot isn't the goalie of the future.