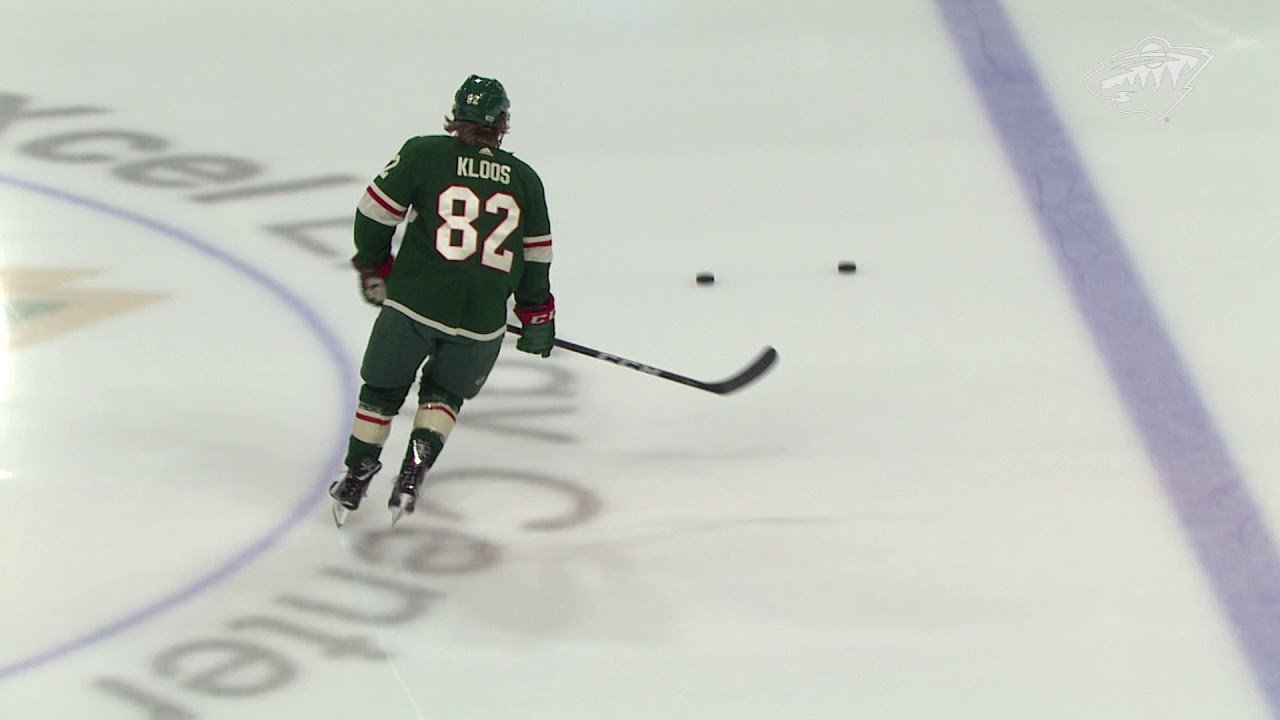 For just one day, Justin Kloos got to achieve a lifelong goal to be an NHL player.
On Oct. 24, with the Minnesota Wild roster suffering from injuries to several key players, Kloos -- the first-year pro out of the University of Minnesota and Lakeville native -- was recalled from Iowa for Minnesota's game that evening against Vancouver.
"I called dad and mom right away. I called my brother. They were very excited and happy for me," said Kloos on what he did after receiving the call from Minnesota. Texts blew up Kloos' phone all day, as lifelong friends, old coaches, and even teammates from his days with the Gophers reached out to him offering congratulations on the call-up.
"I received more texts that day than I probably have my whole life," said the 23-year-old Kloos.
However, because the call up for Kloos came the day of the game -- due to the salary cap restraints of Minnesota -- that meant he had next to no practice time with Minnesota, and that usually does not correlate to a ton of ice time. Kloos ended up playing a game-low 13 shifts and had 8:39 of time on ice that night, a 1-0 loss to the Canucks. He also took a slashing penalty in the first period and finished with one shot on goal with five total shot attempts.
"He was OK," said head coach Bruce Boudreau after Kloos' first game. "He didn't look out of place. He took a penalty, but it was a penalty of effort, it wasn't like a giveaway at the blue line. System-wise he was fine, he did a good job."
Despite the low amount of shifts/ice time, Kloos still reflected on the experience with positivity.
"The whole experience was awesome," he said. "You only get to play so much [when] you're up there for a day and the coach doesn't get to see you that much. It was kind of expected. I was right back down [in Iowa] and back to work the next night. That's the way it works. It was my first taste of going up and down in pro hockey. I look forward to working my way back up there [to Minnesota]."
Immediately following the game, Kloos was sent right back down to Iowa where he went on to play the following night against Rockford.
---
Following his senior season at the University of Minnesota, Kloos was an undrafted free agent looking to sign on with a team to continue his career. Following the Gophers' loss in the NCAA tournament last March to Notre Dame, Kloos was fielding offers from NHL teams as he was free to sign with whomever he chose.
The former Lakeville South Cougar finished his college career with 150 points (63 goals-87 assists) ranking him 28th all-time in Gopher history. Every season he tallied at least 30 points, and racked up high honors -- including the team's John Mariucci Most Valuable Player award his senior season -- along the way. While it was a tough finish for his collegiate career, Kloos was ready for the next step in hockey -- the professional ranks.
The Calgary Flames, San Jose Sharks and Vancouver Canucks all reportedly showed interest in Kloos following the end of his senior season, along with the Wild.
Just four days after the Gophers' season came to an end in Manchester, N.H., Kloos had made a decision on where he was signing.
After careful consideration, he was going to sign with the Minnesota Wild.
Kloos gave a little insight into the process that led him to sign with Minnesota. "I sat down with my agent, some advisors and people who care about my future and my best opportunities and we just felt like [Minnesota] was a good opportunity," he said. "It was a place to get good ice time and a good chance to work my way up in the system. It was ultimately the [best] opportunity for me and it being my hometown team just was an added bonus."
But there was no time to celebrate for Kloos. It was straight on to Iowa where he finished out the 2016-17 season. In the nine games Kloos played in Iowa, he tallied a lone goal in his first taste of pro hockey.
Iowa Wild head coach Derek Lalonde stressed that those nine games were important for Kloos, just for his growth into pro hockey. "Just the growth from him last year [to this year]," Lalone said. "It was so important for him to play those nine games at the end of last year and then he had a great summer. Just great from Traverse City to the main (training) camp."
---
It was a rough return to the AHL for Kloos following his brief stint in Minnesota, as he went scoreless in his first two games back with Iowa. He only registered a combined two shots on goal and was a minus-4 in those games, both Iowa losses. "I felt like I was playing pretty well the first six or seven games but nothing was really happening," Kloos said of the first month with Iowa this season.
Following those first two games back, Kloos went on a tear in which he became one of Iowa's best players. Kloos went on a five-game point streak, scoring two goals and four assists in that time. On what he doing during that time to get on a streak, Kloos said, "I've just been staying within my game and making simple plays. I've just been getting a couple more bounces these last couple weeks."
"Just bringing intensity each game," Kloos said when asked about what he's been working on of late. "Being hard in the o-zone (offensive zone), making it difficult to defend. Those are things I've been working on the past couple weeks and also being consistent."
Over this time, Kloos has earned the trust of his head coach. "He does a lot of things right," Lalonde said. "I'm very conscious about minutes, and spreading them out [among the team], as we are still a development league. We struggled early on; now I'm finding myself trying to win hockey games and gravitate towards him. [Whether it's] important faceoffs, important penalty kill, power play, put him on the wing to protect the lead late. I think it speaks volumes of him. I trust him a lot, he's a really good player."
Now as a trusted player in Lalonde's system, Kloos will continue on with Iowa while still having his sights set on returning to the NHL one day. "I want to be an NHLer. That's what everyone wants down here. We're still competing in the locker room [to get to the NHL], but we're supportive of each other."
"You just gotta focus on one day at a time down here and if you're fortunate to get back with Minnesota, it's great," Kloos said
With continued play like what has been seen from him in Novemeber, Kloos will no doubt will have a strong case to get another look at a call-up in the hopes of staying longer than one day.
---
Never Miss an Episode of Giles & The Goalie!