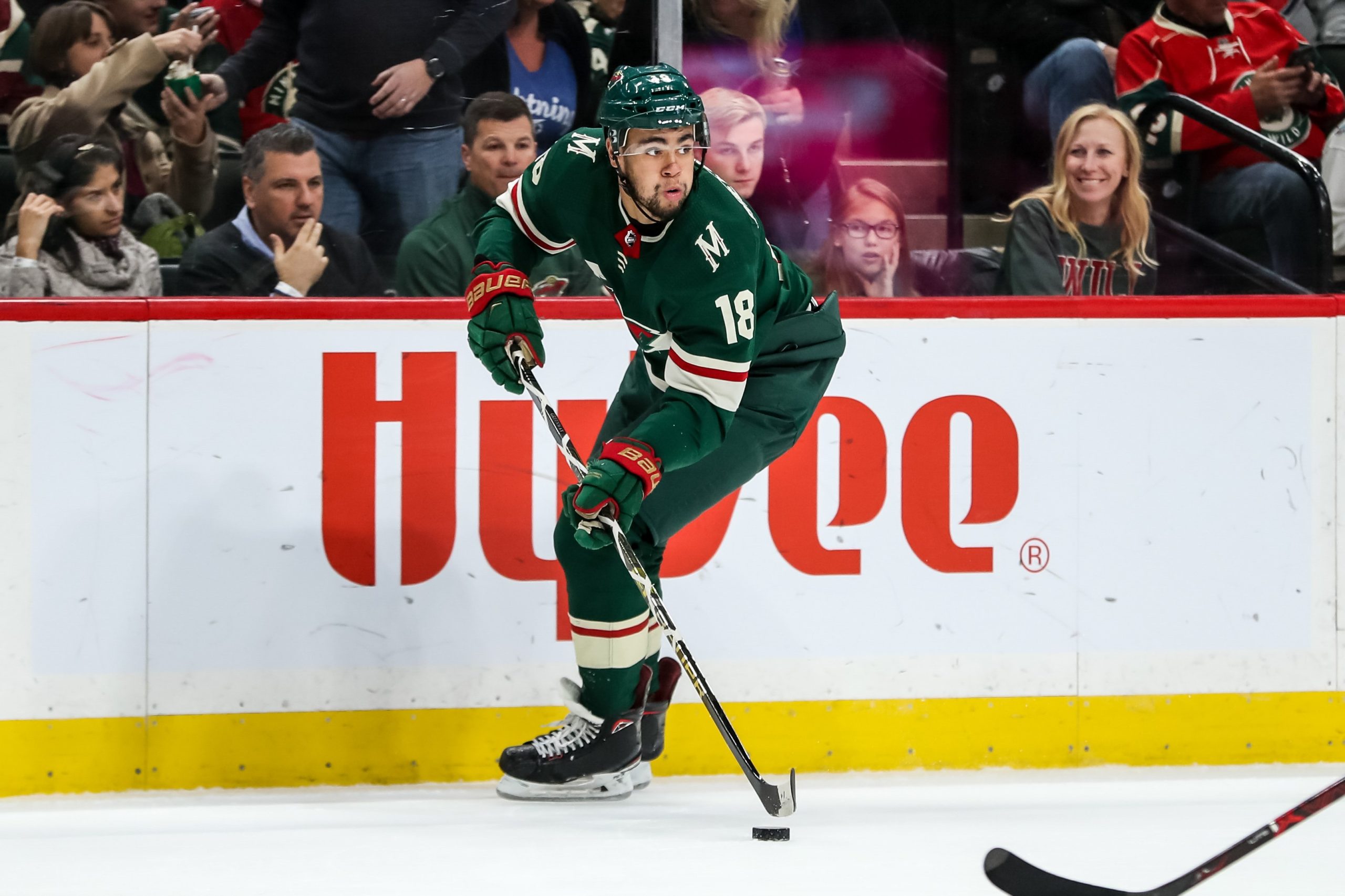 Just over a year ago, Bill Guerin expressed his disappointment with Jordan Greenway.
In an exit meeting with the young forward, Guerin told Greenway he needed to develop a better work ethic in the offseason and come back to camp in better shape. It should have been a major wake-up call with the Seattle Expansion Draft looming and the roster upheaval that had begun to take place.
Guerin meant business, and it felt like the Minnesota Wild were at a crossroads with the player they took 50th overall in the 2015 NHL Entry Draft. However, the 24-year-old power forward has shown immense potential, and he has all the tools to become a solid top-six contributor.
With the Seattle Expansion Draft set for the end of July, the Wild have a critical decision to make. When you break it down, it really comes down to Matt Dumba and Greenway, barring any trade beforehand.
Minnesota has two options on the table. The first is to protect the standard seven forwards, three defensemen, and a goaltender. This would be the avenue for the Wild if they want to bet on Greenway's potential. This would, however, expose Dumba because Ryan Suter, Jared Spurgeon, and Jonas Brodin hold no-move-clauses.
The second option is to protect eight skaters and a goaltender. This would be utilized if the Wild choose to keep their defensive core intact, which includes Dumba. This would leave Greenway exposed, with Zach Parise, Mats Zuccarello, Joel Eriksson Ek, and Kevin Fiala taking the final protection spots. This is assuming, of course, that Parise doesn't waive his no-move-clause.
So the question is: Did Greenway prove this season that he must be protected over Dumba?
On the surface level, he had a respectable season. He finished with six goals, 26 assists, and 32 points in a shortened 56-game campaign, and his average ice time per game rose from 14:10 to 15:48.
Greenway not only got more minutes, but he also played a hefty amount of time against tough competition. He faced "elite competition" 26.9 percent of the time. Granted, that number was a significant drop from last year's, but actually finished the highest on the Wild this season, which is surprising.
Greenway produced 7.59 individual expected goals, which ranked eighth on the team. However, his 5.43 shots per 60 just aren't good enough for a player who needs to prove that he has the ability to make a difference offensively.
The most concerning part of his game was his poor on-ice results at 5-on-5. The Wild controlled roughly 44 percent of shot attempts (Corsi) and roughly 48 percent of expected goals at 5-on-5 with Greenway on the ice. By both metrics, it is the second-worst on the team, which is a far cry from his point production that painted him as a respectable middle-six forward.
A huge reason behind his poor underlying numbers is his defensive game, which substantially changed. He was one of the Wild's strongest defensive forwards last season and was well above-average. According to Natural Stat Trick, Greenway's 2.13 expected goals against per 60 this season were around league average. Evolving-Hockey's RAPM expected goals against, however, painted him well below league-average. Either way, his defensive game was nowhere near as effective as it was in the 2019-20 campaign.
He often became a frustrating player to watch. He was lazy at times defensively, seemed hesitant to use his stature completely to his advantage, and found himself in the penalty box more than any other forward on the team.
According to Evolving-Hockey, Greenway provided zero wins above replacement, which was the third-worst behind Nick Bjugstad and Marcus Johansson. This is a sharp decline from his 1.3 wins last year. Compared to last season, his impact was significantly lower, concerning the importance of this year and considering his exit interview following last season.
The biggest reasons that would tilt the decision in protecting Greenway over Dumba are the cap situation the Wild find themselves in and the value a right-shot sharp-shooting defenseman holds. The new contracts for Kirill Kaprizov, Fiala, and Eriksson Ek will make the cap situation tight. With top defensive prospect Calen Addison waiting in the background, it could make sense to expose Dumba for the $6 million in cap space that could be allocated to different areas. If the Wild decide to acquire a top-six center, they could dangle Dumba, one of their biggest trade assets.
With this being said, Guerin hasn't strayed away from moving pieces he doesn't believe are part of the future. He wasn't hesitant to trade forwards Luke Kunin or Ryan Donato, who displayed real potential. That's why it is worth noting that Greenway needed to earn his roster spot for the future. However, I am unsure if he did enough to justify exposing Dumba, who has shown flashes of his elite offensive ability, which was cut short with his season-ending injury in his 12-goal, 22-point 2018-19 campaign.
Greenway has a ton of potential shown in flashes, but is it too late?
The Wild brass has a difficult decision ahead that will affect the future. They should not make the same mistake they did in the Vegas Expansion Draft as the aftermath of the that has come back to haunt them in the form of Alex Tuch. Either way, the Wild will lose a good player, and accepting that will be paramount.
All data Via Evolving-Hockey, Natural Stat Trick, PuckIQ & Hockey-Reference.