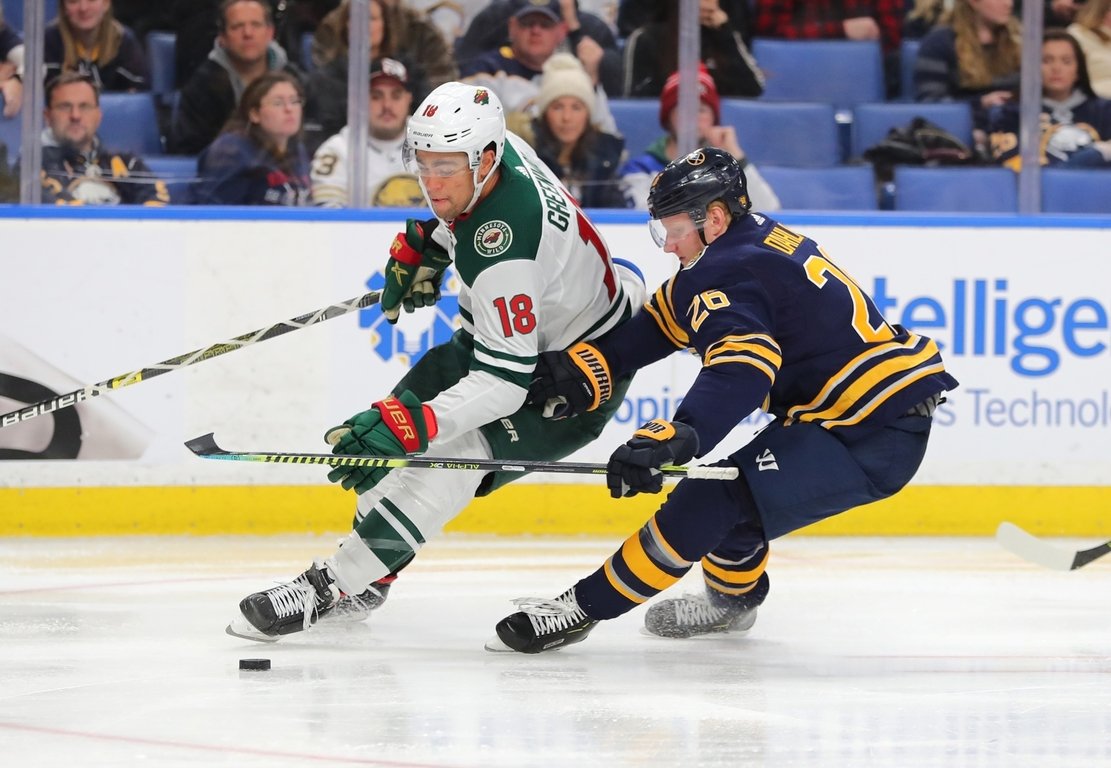 The Minnesota Wild were banking on Charlie Coyle becoming a fixture in their lineup for many years when he was acquired as part of the Brent Burns deal. At just 22 years old, Coyle showed lots of promise. He was big, skilled and found himself in top-six roles early on in his career. There were moments where the Massachusetts native took over a shift, morphing into a puck-possession beast to make the plays necessary for goals to be scored.
The problem with Coyle is that those beast-mode moments became fewer and farther between. While still a solid NHLer, he lacked the attitude on the ice to realize his full potential.
A lot of folks on the Wild Twittersphere are afraid that Jordan Greenway is going to be Charlie Coyle 2.0.
Greenway possesses skill and he's got great size. No one can question that. He's shown that part of his game both at Boston University and the World Junior Championships. The fear breeds from Coyle's lack of mean streak – that willingness to crash the net with all that size and skill. Greenway had issues showing that he had that ability to force the issue.
Coyle is a solid NHL player. He has surpassed 30 points per season aside from his abbreviated rookie season. Coyle even topped 50 (56) points in a season (2017-18) during that span. Ever versatile and always the team player, Coyle was subjected to flip-flopping from center to the wing and back up and down the lineup. Though one benefit awarded the now Boston Bruin is that he got to play top-six minutes with top players early and often.
Greenway, on the other hand, has been a bit slower in the point-production department. He's also been allowed to develop more slowly, playing mostly on a line with Joel Eriksson Ek and Luke Kunin, for whom points haven't come in droves, either. What that line has been able to do, especially with Greenway setting the physical tone, is create chances with extended zone time.
In four of the last five games, the line of Greenway-Eriksson Ek-Kunin, dubbed the 'GEEK Line,' has averaged 60 percent Corsi For. The outlier was a game in which that line wasn't united. In the Nov. 5 game against the Anaheim Ducks, something changed in him. "I felt like I needed to pick up my game and one way to do that ... they say is go get a hit, go do something. So I went out and used my body as much as I could," Greenway said in an interview with Wild.com.
He's been noticeably more physical on the ice. While the points have come slowly, Greenway has propelled himself to the top five on the Wild in Evolving-Hockey's GAR model.
Oh, and that comparison to Coyle? It's pretty spot-on thus far. Comparing Coyle's age 21 and 22 seasons to Greenway's, and the similarities are striking.
The goals per 60 is an identical 0.58. The assists per 60 for Greenway is down -- only slightly -- but that may have to do with his linemates not putting the puck in the net. Remember, Coyle got time with Mikko Koivu and Zach Parise early in his career, and other skilled players like Nino Niederreiter, Mikael Granlund and Erik Haula when he was not. However, Greenway's points per 60 is 1.37 to Coyle's 1.63 at the same age.
The numbers are similar as you go down the list. Those wondering about how his physicality and newfound crash-the-net mentality is affecting his offense can look at expected goals metric. Greenway has the slight advantage over Coyle, and a higher shooting percentage. Being that this is a relatively new revelation for Greenway, if he is able to sustain this level of play, and style, the expectations are that his numbers only go up. If he is able to gain more room on the ice, plays like the power move during the Carolina game should become more and more commonplace.
Is Greenway becoming Coyle 2.0? As long as this new model can put the points up by using his body, Greenway may have more success realizing his potential in the long run.