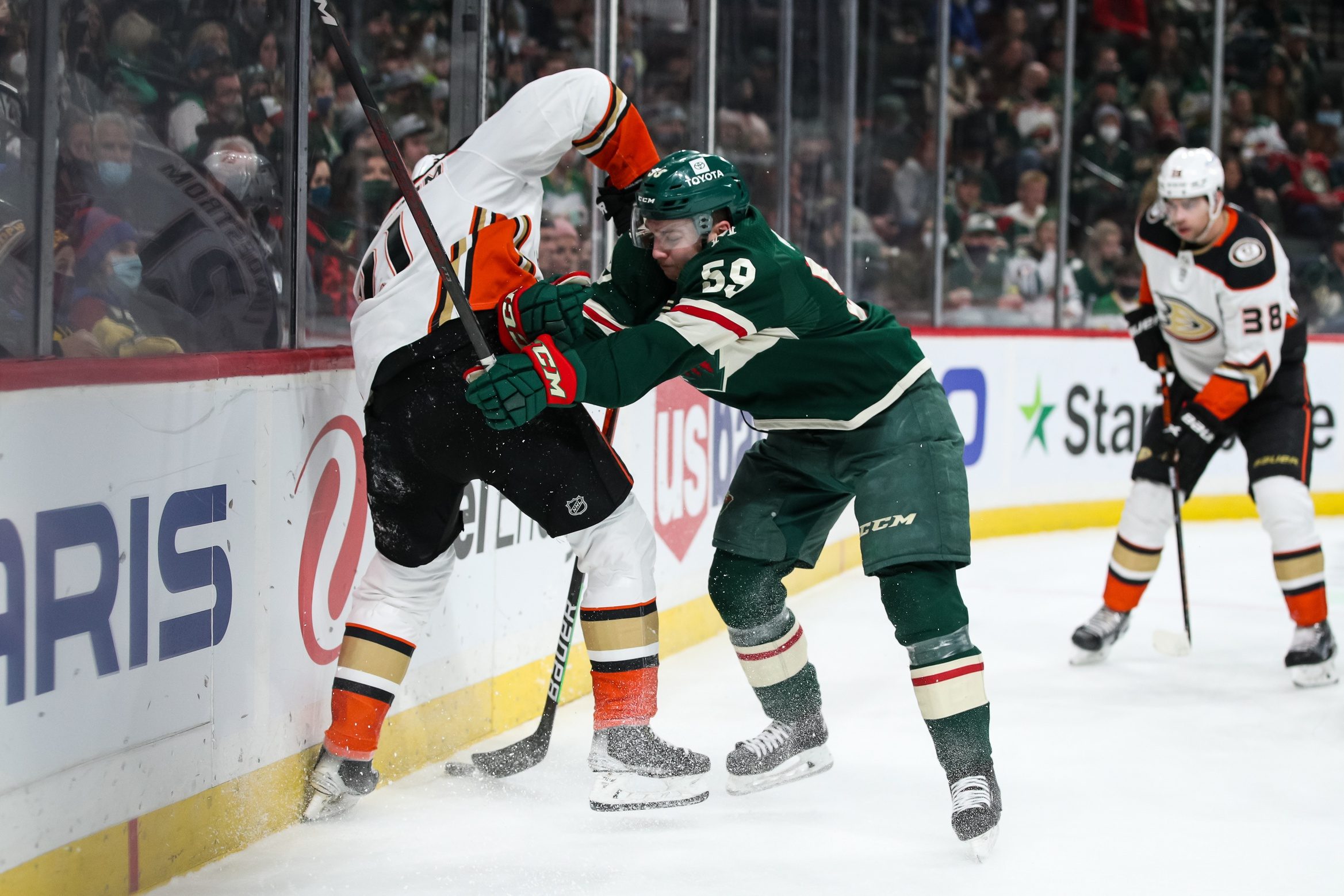 It might only be the middle of July, but the Minnesota Wild are already worried about injuries. Jordan Greenway and Jon Merrill had offseason surgery that is expected to linger into early October. It's another bump in the road for the Wild and Bill Guerin as the team expects to remain competitive next season. With just $4.3 million in cap space to fill three roster spots, finding replacements will be difficult.
Guerin said last week that he feels his team is "pretty set," indicating he's still looking outside the organization to fill one roster spot. "We're going to need one more body, so I feel we can afford to wait," he added when asked to describe his approach to free agency. But perhaps the best option for all three is internal.
Merrill's injury, in particular, could prove especially crucial for Calen Addison's quest to find a role. Addison is the most NHL-ready defenseman Minnesota currently has at its disposal. Furthermore, if it weren't for unnecessary signings during last summer's free agency period, Addison may have already been in the lineup on a more regular basis. But Guerin adding Merrill and Jordie Benn essentially forced Addison back to Iowa. However, Benn won't be back this year, and Merrill's injury at the beginning of the season leaves the door open for the 22-year-old to take the spot.
It's not always fair for a player to lose his position because of injury. Injuries are unavoidable, unexpected, and unforgiving. But it does happen, and it happens in every sport. Merrill was a serviceable defenseman in 2021-22. But looking at the numbers, Addison has proved he is the better option to take that spot for good.
Addison appeared in 15 games last year and scored two goals and had two assists. That's 15 games and less than 207 minutes in the NHL. To compare, Merrill played in 69 games and 1,180 minutes. Seeing that kind of significant contribution from Merrill, a veteran player picked up for a minimal price, would be considered a huge value return for some. For others, Addison showed he was the better option in far fewer minutes. 
The young rookie's rate stats eclipse Merrill's. Addison attempts more shots more frequently than Merrill, with many of those attempts winding up on goal. Addison not only can play on the power play but quarterback it. Minnesota set out to improve special teams for next season, so it makes sense to add that offense from the back end that Merrill cannot provide.
[caption id=attachment_129041" align="aligncenter" width="508]

Courtesy of HockeyViz.com[/caption]

The Wild needs to replace the 85 points it lost with Kevin Fiala's departure. Addison's offensive potential won't do it all. Still, better offensive instincts on the back end can only help the team push the offensive pace like it wants to do. 
But Merrill is a defensive defenseman, you may say. If he were an offensive defenseman, the Wild wouldn't have been able to afford last summer at $850k.
That's true. If Merrill were able to offer more on the offensive side, the Wild would have likely paid Alex Goligoski-type (in 2021, not 2022) money to acquire him. As it stands, he's a perfectly good depth defenseman. 
The thing is, though, Addison is still better defensively. The only knock on the numbers in favor of the Brandon, Man. native is the goals for percentage. That category takes a significant hit because the on-ice save percentage with him on the ice sheet was .867. That is far below the .921 from which Merrill benefitted. Having said that, Addison was better in expected goals against per hour, shot attempt percentage, and he saw the same kind of deployment as Merrill. We can probably chalk up that save percentage to small sample shenanigans. 
Addison's game is all about puck possession. Iowa Wild head coach Tim Army told 10K Rinks back in November that for his team to attack as a five-man, "you have to have the puck, and when [Addison] is on the ice, we have the puck." It helps him play on the offensive side of the puck, and in hockey, that's a good defense.
Merrill just can't play that style anymore. According to Corey Sznajder of AllThreeZones.com, Merrill had the third-worst amount of botched zone exits, behind Jacob Middleton and Benn. 
[caption id=attachment_129043" align="aligncenter" width="1238]

Courtesy of AllThreeZones.com[/caption]
Guerin might think that he needs another body on the team. However, last year's last-minute signings created pointless roadblocks for the younger, more talented rookies to prove they can stick in the NHL. It appears that Guerin has learned that carrying the extra weight of unnecessary contracts is taxing on the salary cap and bloating on the roster. Instead of making another mistake, he should let his target in the Jason Zucker trade make him look like a genius. Give Addison a proper chance to take the spot in which he is clearly the better choice.
When Merrill gets back to full health, he can take his time back into the lineup or be a seventh defenseman to spot start. Even at $1.2 million, he can still be the ideal depth defenseman by doing exactly that – providing depth while the most talented players do their thing in significant roles.
Stats courtesy of Evolving-Hockey.com