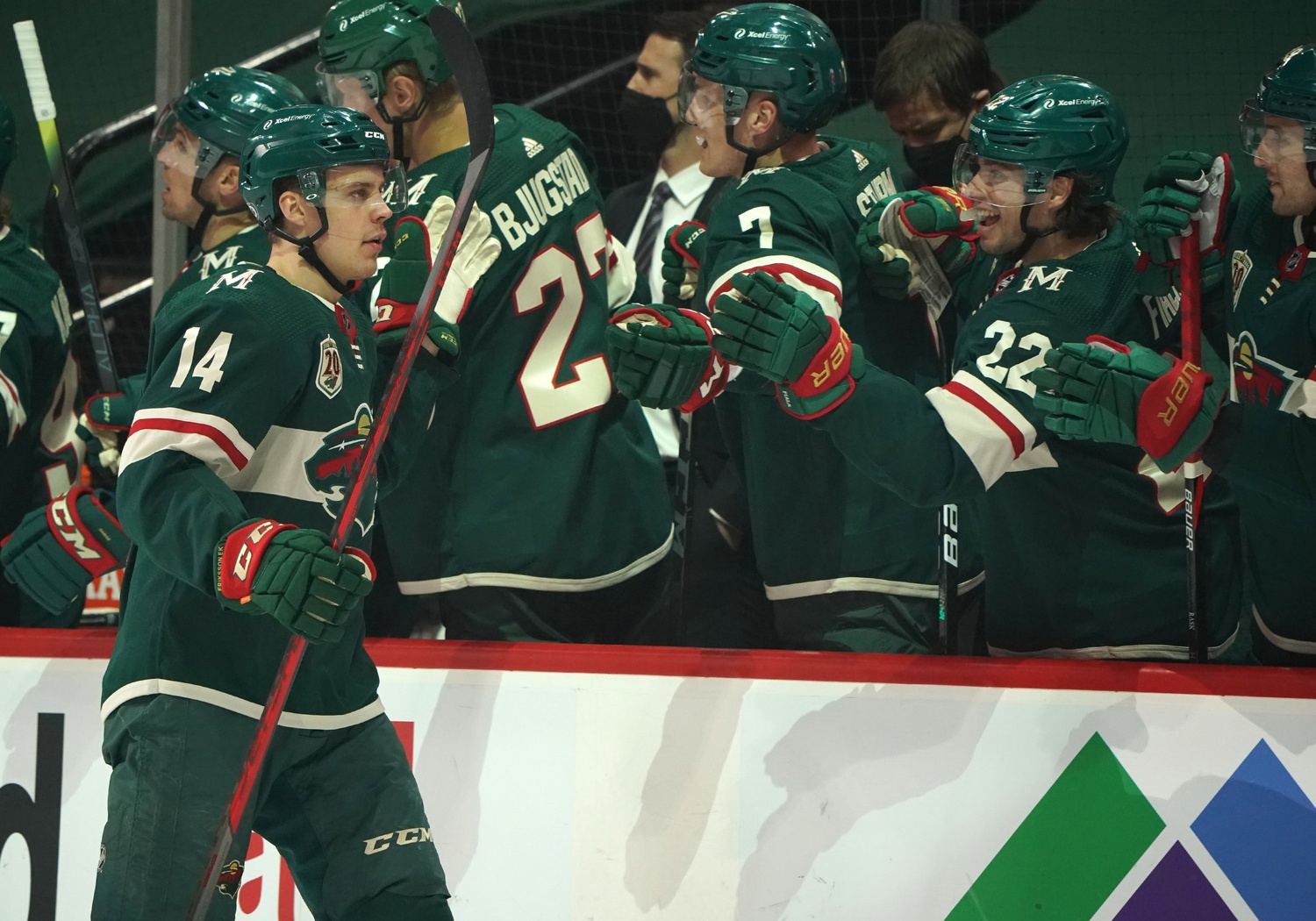 If someone told you before the season that Joel Eriksson Ek would finish third on the Minnesota Wild in goals, what would you have done? Would you have collapsed in despair, resigned to a long, dreary season? How hard would you have dove into researching the 2021 Draft Class?
Would you have bothered watching the Wild at all?
Okay, these reactions sound over the top, but that would've been dreadful news to drop on someone four months ago. Eriksson Ek entered this season having scored 24 goals. Not last season, mind you, in his entire 210-game career. His highest total in a single season came last year, where he got eight goals in 62 games.
So realistic expectations for Eriksson Ek in a 56-game season topped out in the high single-digits. If Eriksson Ek finished third on the team with, say, a career-high nine goals, Minnesota would join the moribund Anaheim Ducks as the only teams without three double-digit goal scorers.
Fortunately for Eriksson Ek, the Wild, and Minnesota fans, Eriksson Ek finishing third in goals isn't due to offensive ineptitude. It's come as a result of a breakout season.
On Monday night Eriksson Ek entered the zone, got ahead of Vegas Golden Knights' defense, and beat Robin Lehner to open the scoring. It was his 18th goal of the season, more than doubling his career-best. In fact, he's scored as many goals this season as he did in his first 174 NHL games. Were this an 82-game season, he'd be on pace for 29 goals — again, five more than his career total.
Most fans see a breakout like this and want to believe that it's the beginning of something great. As an analyst, though, one has to be skeptical when a player who couldn't score suddenly finds the Fountain of Goals. After all, Minnesota's seen players seemingly take a leap, only for their newfound scoring touch to vanish later.
Charlie Coyle's 2014-15 season saw him go from a career-high of 11 goals to 21. Mikael Granlund similarly found that scoring touch in 2016-17, doubling his career-best with a 26-goal campaign. Erik Haula had Wild fans cursing in 2017-18 when he scored 29 goals in Vegas out of nowhere. All three of them were unable to repeat that level of success.
What happened? They rode high fluctuations in shooting percentage.
Coyle shot 10.2% for his career before shooting 15% in 2014-15. Granlund shot 14.7% in his breakout year, almost double the 7.8% career rate he previously had. As an 11% shooter in Minnesota, Haula was better than those two, but his success was fueled by shooting 16.6%.
It's very fun when players get on runs like these, but it's important to never get fooled by good luck. If a player seems to go from an average finisher to a lights-out shooter, tread carefully. That goes doubly for a GM looking to sign that player. You don't want to pay a premium for something as fickle as puck luck.
This is a situation that Bill Guerin will find himself in shortly, with Eriksson Ek up for a new contract. A quick look at his shooting percentage jumps out as a massive red flag to navigate in this summer's negotiations. Eriksson Ek entered this season shooting just 6.8% throughout his career. He's more than doubled that this season, shooting 16.1% through 51 games.
That kind of spike in puck luck screams "Fluke!" and it has the potential to cause the Wild to overpay greatly. Evolving Hockey had Eriksson Ek's next contract projected at $2.4 million last season. That's for the defensively sound, but low-scoring version of him. This version that looks like a 25-goal scorer is projected to cost Minnesota $4.4 million this offseason. That projection doesn't even take into account the Wild's desperate need at center, which could drive his price up higher.
So Guerin's going to have to decide how legit this leap in offense is for Eriksson Ek. Is it another flash in the pan, or does his breakout suggest an actual growth in skill?
It sounds far-fetched, but it looks like the latter is the case with Eriksson Ek. What makes him different than, say, Coyle, Granlund or Haula? It's that their hot shooting didn't arise as a result of them doing anything differently, just luck and perhaps more power-play opportunities.
We can tell this by looking at their individual expected goals (that is, their total shots, adjusted by location to give a total a player "should" have scored) on a per-hour basis. Whether they were in their career years or not, those rates stayed very similar at 5-on-5. This is pretty common, as ixG rates aren't nearly as prone to massive fluctuations like shooting percentage. Rates stay pretty constant through most players' careers, with big spikes being an oddity.
This isn't the case with Eriksson Ek, as he's made a drastic improvement in his ixG rate. Entering this season, he's averaged 0.65 expected goals per hour at 5-on-5. Now he's third in the NHL with 1.15 expected goals per hour, behind only Brendan Gallagher and Auston Matthews.
10K Rinks noted a change in his shot profile back in January, seven games into the season. He took a Zach Parise-like approach to his game, shooting almost exclusively in the high-danger areas. Since then, Eriksson Ek's only continued to make his residence in the "home plate" area, where most goals are scored.

Thanks to this approach, Eriksson Ek racks up the xG even without Kirill Kaprizov's magic hands or Kevin Fiala's sniping. And as Parise could tell you, it's a reliable, if unglamorous, way to put pucks in the net.
It's worked for Eriksson Ek, as he has 18 goals on a team-leading 16.9 expected. Suddenly, that scoring outburst looks less like luck and more like hard work paying off. If Eriksson Ek only netted the goals he was "expected" to, he'd be shooting 15.1%. That's not much different than where he's at now.
It's possible Eriksson Ek is playing way above his talent. He spent his first 200-plus games as perhaps being the worst finisher in the league. Still, he's earning his opportunities, and the eye test with him seems to check out. His hand-eye coordination and reflexes around the net seem to be very good. His teammates say the puck comes off his stick faster than anyone else on the club.
And as he's become more comfortable stepping into an offensive role, he's grown confidence with the puck. His goal against the St. Louis Blues last Thursday saw him display some fancy handling before unleashing a laser past Ville Husso. He almost split Vegas penalty killers on Monday night for a scoring chance. It certainly looks like he's untapping an offensive game few thought would ever develop.
Perhaps a 29-goal season is an unrealistic baseline to expect of Eriksson Ek, but can he reliably score 20? He's certainly showing that he has the ability to do that, and his underlying numbers back it up. Pairing a legitimate scoring threat with his Selke-caliber defense will go a long way to staking his claim as one of the best two-way centers in the game.
If he can do that, Guerin's likely to get a steal for Eriksson Ek, regardless of how much he costs.
All data is from Evolving Hockey unless otherwise stated.