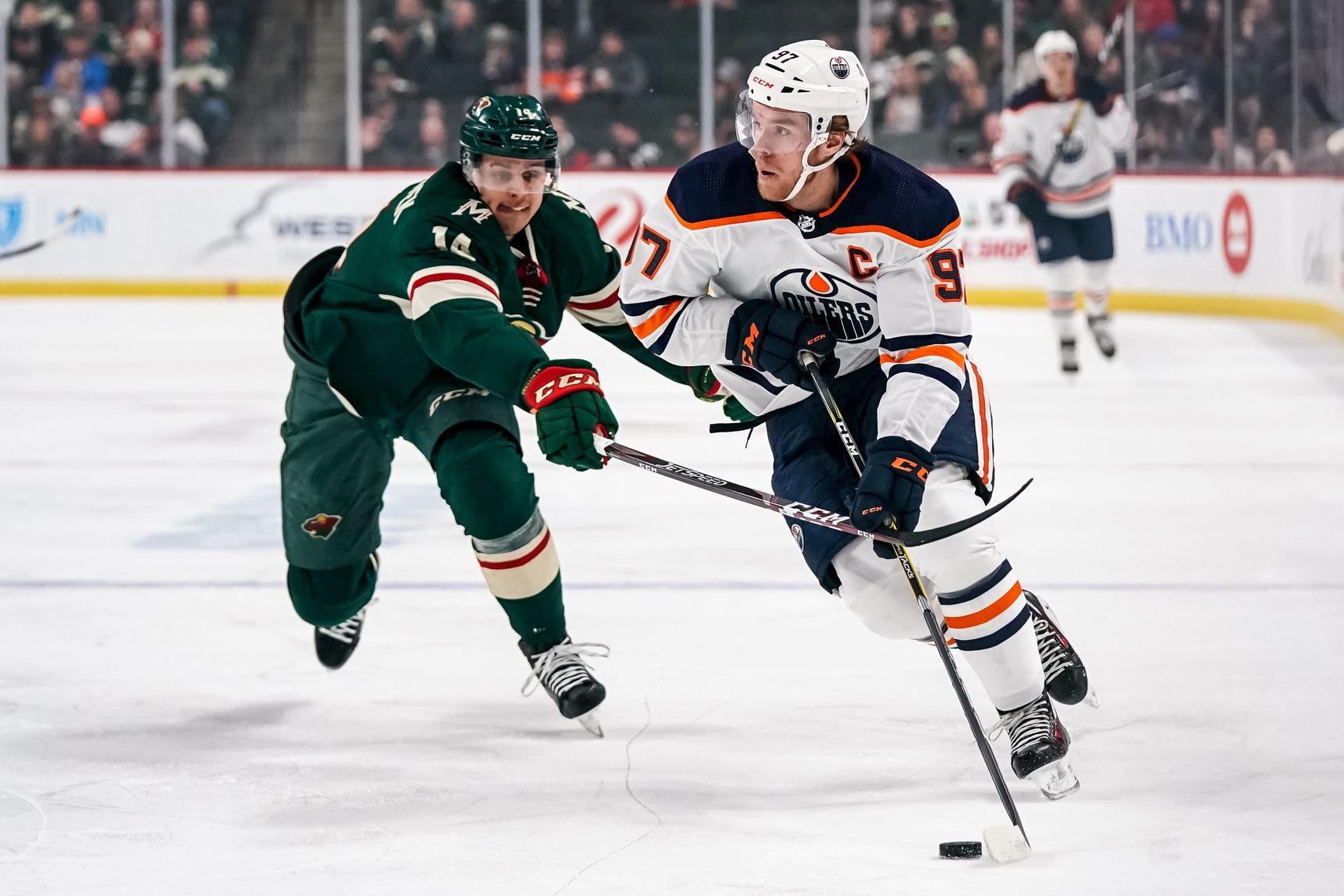 Tuesday's Minnesota Wild tilt against the Edmonton Oilers boasted an unreal amount of star power. On Edmonton's side skated the reigning two MVPs in Leon Draisaitl and Connor McDavid. Minnesota has a potential future MVP in Kirill Kaprizov. But when the game was over, neither No. 97 nor Draisaitl could claim to be the best player on the ice that night.
That was Joel Eriksson Ek, who played brilliantly to lift the Wild to an early lead, then helped defend it against the high-octane Oilers. When the night was over, Minnesota took the two points, thanks to Eriksson Ek contributing in all situations.
The first and probably most impactful was his power-play goal early in the first period. Within the first two minutes, he got Minnesota on the board, scoring a stereotypically Eriksson Ek-ian goal. While fighting for positioning around the net, he scooped up an errant Mats Zuccarello shot and stuffed it past Mikko Koskinen.
You can't overstate the importance of that goal. NHL.com has Edmonton converting 32% of their power plays into goals, more than double Minnesota's 14.8%. The Oilers entered the game with 23 goals on the man advantage in 23 games. In almost every game you enter against them, you have to assume you're down 1-0 automatically due to their power play might. Eriksson Ek's goal gave the Wild some insurance against Edmonton's deadly unit. His play allowed Minnesota a chance to let 5-on-5 play, their strength, decide the game.
Six minutes later, Eriksson Ek helped decide the game at 5-on-5. Other players got starring roles on Marcus Foligno's goal. In addition to finishing the play, Foligno had a nice drop-pass to Matt Dumba entering the zone. Dumba's feed down royal road landed perfectly on Foligno's tape. But Eriksson Ek does two crucial things to make this goal happen.
First, he makes an efficient breakout pass in transition to find Foligno to enable the entry. Then Eriksson Ek streaks to the net as Foligno moves from east to west to serve as a passing option for Dumba. Colton Sceviour has to move towards the net to contend with Eriksson Ek, leaving Dumba's passing lane to Foligno wide open.
This year, carrying the puck on zone entries is a new wrinkle to Eriksson Ek's game. According to Corey Sznajder's tracking data, Eriksson Ek controls the puck on 51.4% of his zone entries, easily a career-high. He dropped his frequency of attempts after a move to a crash-and-bang line with Foligno and Jordan Greenway, but he's still able to grab that from his bag of tricks. That added confidence paid off in a huge way on Foligno's goal.
It also proved instrumental in holding off McDavid and Co.'s comeback attempts, especially on the penalty kill. To no one's surprise, Eriksson Ek got the call often to stop McDavid's lethal power play. He showed that the best way to defend on the penalty kill is to not have to defend in the first place. When Jonas Brodin took the puck out of the defensive zone, Eriksson Ek went full-bore to test Koskinen shorthanded. It didn't result in a goal, but who cares? McDavid was about 160 feet away from Cam Talbot, which is all Minnesota needed.
That wasn't even Eriksson Ek's only carry-in on the penalty kill. Later that period, he won a board battle then immediately streaked up the ice, attempting a saucer pass to Foligno. The pass got ahead of Foligno and skidded harmlessly behind the net. But Eriksson Ek wasn't done after that great play. He went to the puck and tied up the Oilers behind the boards some more, wasting even more precious seconds of power play time. If you want to know why the mighty Edmonton power play went 0-4 Tuesday, it's because of plays like these.
And you read that Tweet right: That's Draisaitl that Eriksson Ek beats out for that puck. The same Draisaitl that has 52 goals and 127 points over his last 80 games. He wasn't the only star that Eriksson Ek frustrated throughout the game, either. McDavid also got a good dose of Eriksson Ek throughout the night and couldn't get much going aside from an assist. And for McDavid, who has 148 points in his past 80 games, getting only one assist is like going scoreless for two games.
McDavid is nearly always going to get his, but Minnesota worked hard to limit his damage. Eriksson Ek was also a big part of this at 5-on-5. Minnesota was on the road, so match-ups were largely up to Edmonton, but as the game grew more desperate and McDavid logged more time, Eriksson Ek started seeing more of the reigning MVP.
Early in the third period, the Oilers gathered a puck in the defensive zone and tried to send a breakout pass to McDavid. Often, that works, and McDavid goes through four or five people to score. But as McDavid starts turning on the jets, look at Eriksson Ek react and slide over to him. Eriksson Ek gets his stick into McDavid, preventing him from taking the puck in full stride. Maybe that's a goal if he doesn't have that defensive presence of mind.
Then with 11 minutes remaining, McDavid and Eriksson Ek go head-to-head again. This time, Eriksson Ek tries to shake Eriksson Ek off the boards and complete a pass in front of the net. McDavid's supreme agility should've given him some room to operate. But Eriksson Ek is able to change direction with McDavid, enough to break up his pass. Once again, he harasses McDavid, pushing him all the way to the defensive zone. Another shift well done.
If these teams meet in the playoffs, it's unlikely the Wild can bottle up McDavid and Draisaitl for seven whole games. Those two All-World players might well decide things in the postseason, or perhaps Kaprizov will have that honor. Eriksson Ek doesn't have any case to claim "Best Player In the World," unlike that trio. But the deciding factor in Minnesota's victory Tuesday was simple: They had Eriksson Ek, and Edmonton did not.