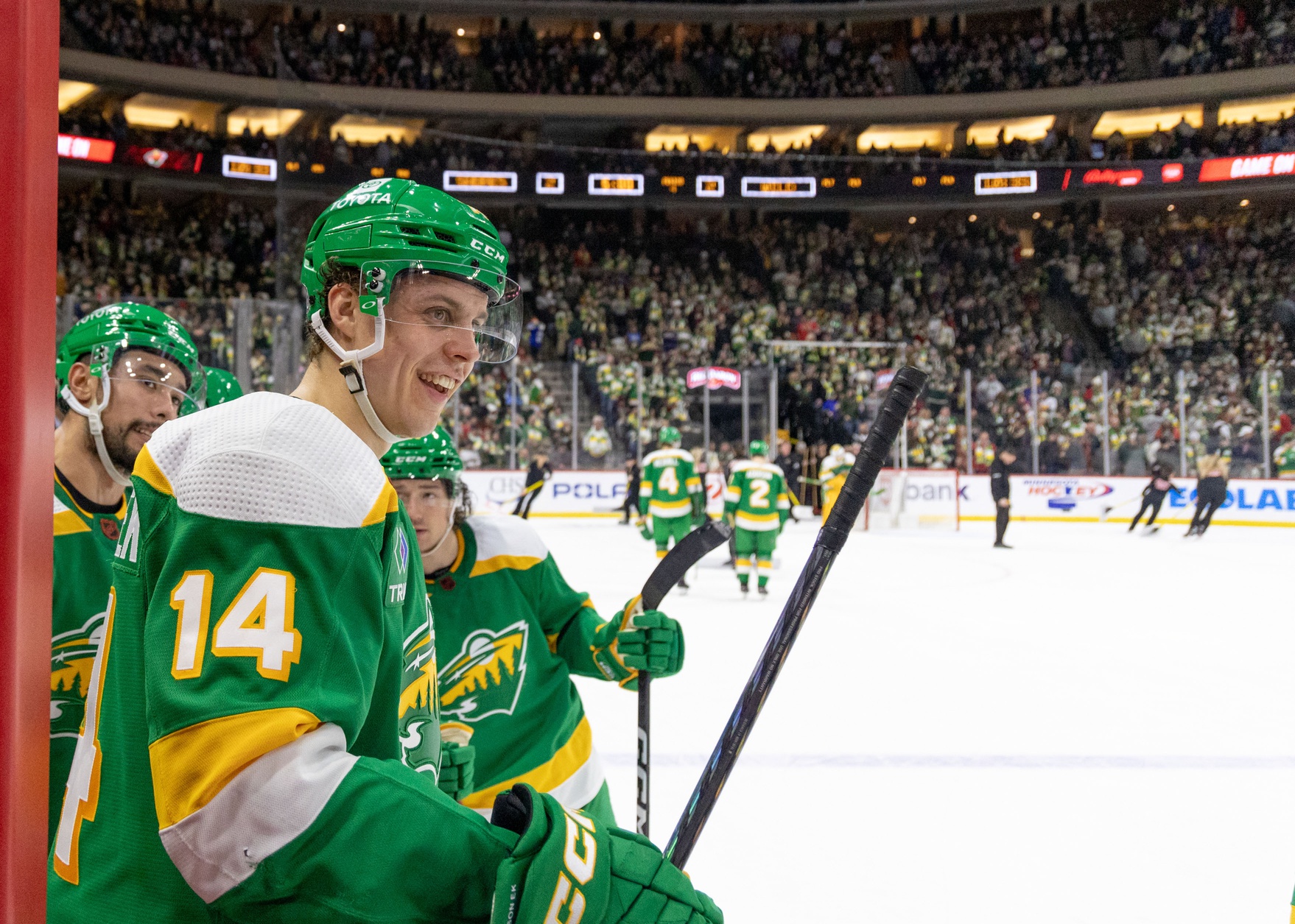 Image courtesy of Matt Blewett-USA Today Sports
Is there a luckier player in the NHL than Joel Eriksson Ek? It seems like every line he settles into is suddenly a contender for the title of The Best Line In Hockey. Minnesota Wild fans first saw this over the past several years with Eriksson Ek skating alongside Marcus Foligno and Jordan Greenway. From 2019-20 to 2021-22, they out-scored opponents 52-16 while owning 64.5% of the expected goal share at 5-on-5.
Put another way: They controlled the ice in a way only the best of the best lines in hockey do. Think the Patrice Bergeron-Brad Marchand-David Pastrnak line, or Auston Matthews-Mitch Marner-Michael Bunting. But instead of having multiple superstars, it was three bottom-six forwards. Their chemistry was so great, though, that they had the secret sauce to dominate together that couldn't be replicated with anyone else.
Or so we thought. 
Last year saw that line falter, and the Wild broke it up permanently. They traded Greenway to the Buffalo Sabres, then split up Eriksson Ek and Foligno, primarily pairing Eriksson Ek with Matt Boldy. With new linemates playing a much more skilled style, you'd think Eriksson Ek might have trouble adjusting to a new role, let alone coming close to matching his grind-line successes of old.
Nah. Instead of floundering without The Best Line In Hockey, The Best Line In Hockey just happened to appear whenever Eriksson Ek and Boldy took the ice.
For 376 glorious minutes, Eriksson Ek and Boldy absolutely devoured the rest of the league as if they were Joey Chestnut with a 12-pack of Hebrew Nationals. They out-scored opponents by a 21-6 margin. That's not only similar to what Eriksson Ek accomplished on his previous line, it was at the very top of the league.
There were 293 pairs of forwards who played 300 or more minutes together at 5-on-5 last year. Eriksson Ek and Boldy's 77.9% take of the goals share was first among those 293. Is that some kind of fluke?
To some extent, yes. Wild goaltenders had a .966 save percentage with those two on the ice. Both Eriksson Ek and Boldy are great defenders, but still, there's definitely some luck there. But in a big-picture sense, no. Their underlying numbers were nearly as sterling as their goal differential.
Their expected goal share -- which focuses only on the quality of chances they create, not whether they score or get scored on -- was 60.7% when they were on the ice together. Going back to those 293 forward pairings, and they rank 23rd in the NHL. They got lucky, but earned those fortunate breaks with incredible play.
Dean Evason's rigid adherence to sticking to lines once they've shown that they work can be frustrating, but there's a fortunate flip side in this case. At least we can be confident that we'll see Eriksson Ek and Boldy together again next year. For the first time, Eriksson Ek is in line to be a top-six center, playing with top-six talent. What can he do with that opportunity?
To look at what he can do next, we have to look at what's happened so far. He had a breakout season at age-24 and then built on that over the next two seasons. His first breakout season saw him score 30 points in 56 games (44 over an 82-game pace). The following year, he scored a career-high 26 goals and 49 points, following that up by racking up 61 points last season. 
Let's say that Boldy and Eriksson Ek wind up playing together as often as Kirill Kaprizov and Mats Zuccarello have been for the past couple of years. That works out to about 85% of their 5-on-5 minutes. If they both play 1100 5-on-5 minutes next year, we're looking at 935 minutes together. 
Eriksson Ek and Boldy both had 14 5-on-5 points in their time together last season, working out to 2.23 points per hour. Over 935 minutes, we're talking about 35 5-on-5 points for the both of them. Assuming Eriksson Ek hits about 1.75 points per hour over his remaining time (his three-year average, sans Boldy), we're up to 40 points at 5-on-5 alone. 
That level of 5-on-5 scoring wouldn't just be a career-high for Eriksson Ek, it'd put him on the fringes of the NHL's top-50 forwards. Trevor Zegras (41 5-on-5 points), Joe Pavelski (40), Matty Beniers (40), and Mika Zibanejad (40) were some centers who got that level of scoring last season.
Add that to the fact that Eriksson Ek is still the undisputed net-front presence on a power play that is bringing back Kaprizov, Boldy, Zuccarello, and Calen Addison. That very same role brought Eriksson Ek 12 goals in each of the past two seasons, and 23 points last year. With how good the power play was last season, he should have little trouble repeating that success. Add that to 40 points at 5-on-5 alongside Boldy, and we're up to a career-high 63 points for Eriksson Ek.
That's all good, but now let's ask: What if he can do that, and isn't plagued by bad shooting luck next year?
Last season might not stick out as an unlucky year for Eriksson Ek, as he shot 9.3% against a career 9.8%. But given the quality of his shots, Eriksson Ek left a lot on the table. In all situations, he posted 23 goals despite ranking 20th in the NHL with 34.9 expected goals. As great as his third breakout year was, he "should" have been rocking a 35-goal, 72-point season.
Now, there are players who typically put up much higher expected goal totals than their actual goal totals. Someone like Brady Tkachuk, for example, gets a lot of shots from in close, but he doesn't have the finishing talent to convert all of those chances into goals. It might be easy to think of Eriksson Ek being that, given how poor he was at shooting early in his career. Looking at his full career should dispel that notion, though. 

Once Eriksson Ek's game started maturing, he became a player whose actual and expected goals more or less matched each other. It'd seem that last year was a pretty substantial outlier, and a bounce-back in that department would easily push him over the 30-goal mark, and perhaps even higher.
Especially on a Best Line In Hockey contender, which we know is where Eriksson Ek is going to be. That will be partly due to Boldy's presence, but also because we can guarantee that Eriksson Ek will be on that line. History shows that Eriksson Ek's presence on a line is going to propel it to that status. Now, with a top-tier offensive talent riding shotgun alongside him, we should get to fully see what Eriksson Ek is capable of.
5