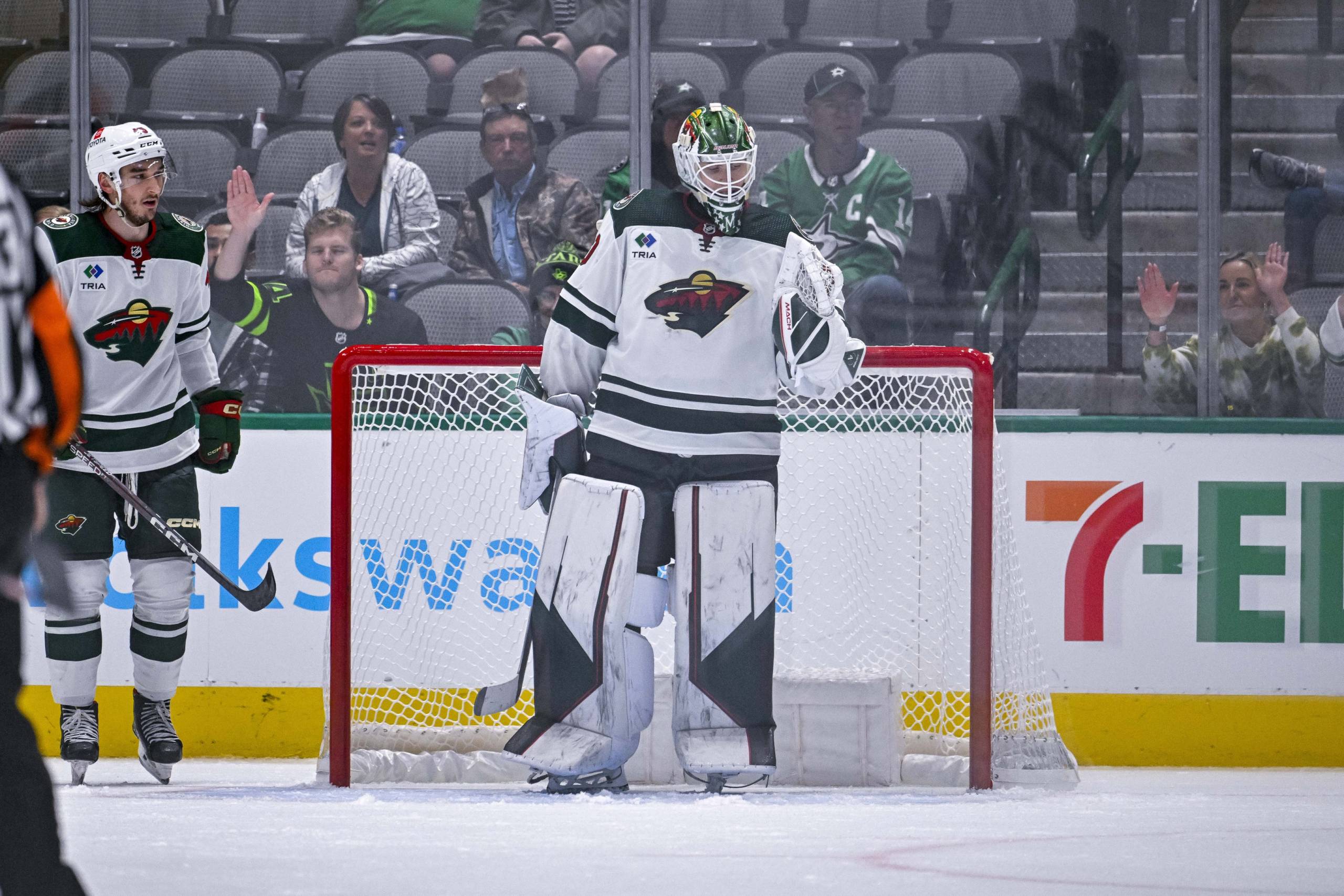 Before the 2021 NHL draft, the Minnesota Wild had never picked a goaltender higher than Josh Harding, who they took 38th overall in 2002. But two years ago, they took Jesper Wallstedt 20th overall, and he now is the best goaltending prospect the Wild have ever had.
Wallstedt deserves that title, too. With as many accolades as he has at age 20, including three bronze, two silver, and one gold medal for international tournaments representing Sweden, Wild fans should be excited about the future. Not to mention, the goalie not only just recently picked up his first professional win, but he also scored an empty-net goal for the Iowa Wild.
It took a bit of time for Wallstedt to adjust to the North American ice and style of play. He lost his first three starts, all in overtime. Wallstedt's numbers are fine and to be expected from a rookie goaltender in his first pro season. He has a 3.12 GAA and a .899 save percentage.
We shouldn't be surprised. Wallstedt had a great couple of weeks in the Minnesota training camps before the season started. He looked sharp and ready to go. In a recent interview with KFAN, he talked about how much fun the camps were and his early struggles for Iowa.
"It felt like both rookie camp and training camp went really well for my side," he said. "I had a couple of really good performances in the games I played. It was such a nice time being around all the NHL players and also my new teammates on the AHL team, and also the prospects in the pool. That time was great. Now I'm down here in Des Moines."
Wallstedt is still going through the adjustment period. "It takes some time to adjust to everything," he told KFAN. "Getting settled, it feels like every piece of the puzzle is falling into place. I'm getting better and better every day. I feel like I'm developing. I felt the first starts maybe didn't go my way, a couple of bad goals. As it goes on, this last week or so, it's been feeling really good, taking it step by step every day."
After three overtime losses and inconsistent playing time due to injury, Wallstedt finally got his first pro win, and he topped it off in style with an empty-net goal. He became the first Iowa goalie to score a goal and the youngest in AHL history at 19 years old.
But that wasn't the first time he scored an empty-net goal.
"I scored when I was 14 in the Swedish league," he said. "It was around five years ago, so I'm joking with my friends that if I can score one goal every five years, that would be fun. It's something not everyone ends up doing. For me to have scored two goals in my short career, it's for sure been surreal."
Everyone gets a kick out of a goalie goal, and Wallstedt's tally made the rounds on social media. It was No. 7 on the Sports Center's top ten plays of the night. The NHL was all over it, as was the popular hockey podcast Spittin Chiclets.
The fans are clearly all over it as well, and Wallstedt is relishing it.
"I still have a big smile on my face, very surreal feeling," he told KFAN, "still a very exciting moment. It was a great night. It felt like the game went our way; I had a solid performance. To top it off with a goal, there was probably something I'm probably going to probably wait a long while again to do, or never again; you never know. It was great."
The celly was incredible as well. He got a big group hug on the ice and even went through the fist bump line at the bench. The guys were eating it up.
Goalie goals are not common in the NHL. Pekka Rinne most recently did it in January 2020. There have only been 12 goalies in the NHL who have scored a goal. If Wallstedt is ever in that perfect opportunity when he's with Minnesota, he's definitely going to aim for the net. With how seldom goalie goals are scored or even attempted, Wallstedt can be the next one to do it if he wants to.
When asked if he would go for another goal, possibly in the NHL, he said, "Probably. If I get a good chance, I'd go for it."
That chance has to be clear and obvious, though, Wallstedt says.
"I had the opportunity, a two-goal lead, and also playing on the PK," he said.
"I didn't feel like I had any pressure and thought the puck was at least going to end up in their zone, probably just a good clear. It ended up in the back of the net, I put some good steam on it. I think it landed on the faraway blue line, so I got some good height on it as well. I felt there was no pressure really on me, I just had to go for it. I had it in my glove, and I was just looking for the net on the other side."
The puck skills help as well.
"It's just something that happens in the moment," he told KFAN. "I've always enjoyed stick handling and shooting. I think that may have helped me a little bit. But when it comes to the game, it's just in the moment, trying to get the puck down there. Luckily for me, it ended up in the back of the net."
While we still don't know when Wallstedt will play in the NHL, it's clear he's having fun in Iowa. Goalie goals take confidence, and clearly, Wallstedt's got it. He has a long season in Des Moines ahead of him, but be on the lookout for more highlight reel plays from the Wild's top goalie prospect.