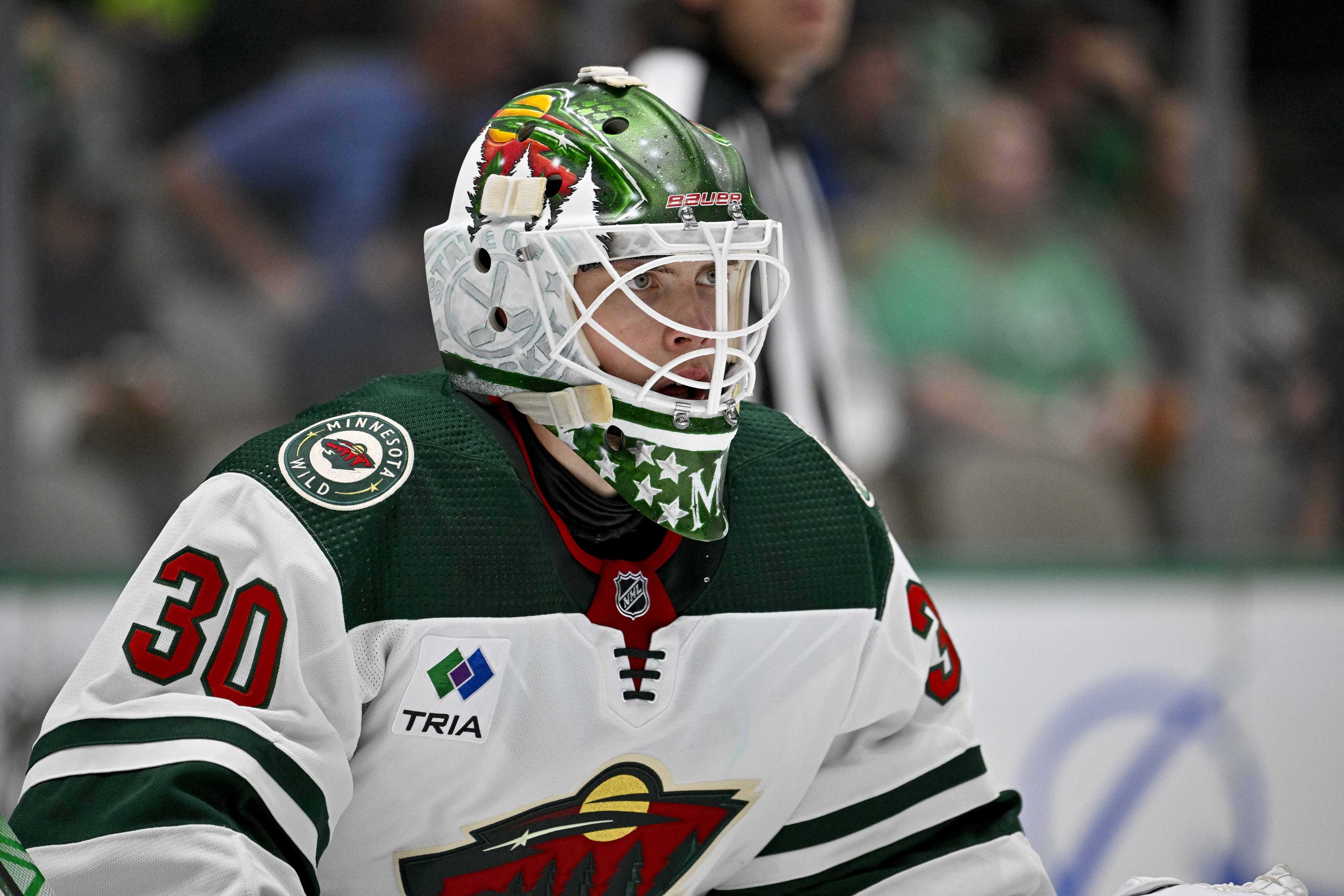 Image courtesy of © Jerome Miron-USA TODAY Sports
We're concluding our countdown of the Minnesota Wild's Top-10 Prospects by telling you everything you need to know about our No. 1 Prospect: Jesper Wallstedt.
Jesper Wallstedt is the complete package. He's personable. He's funny. And he happens to be the best goalie prospect in the league. Wallstedt is almost ready for his second season in North America and Minnesota Wild fans can't wait to see him. However, this 20-year-old Swede has bought into the Wild's vision for him and doesn't mind developing in Iowa. And that's a good thing! In his 2023 end-of-season Instagram post, he even talks about hoping to see Iowa again next season.
There is a school of thought that if the Wild have the best goalie prospect, they should immediately call him up and throw him in net. While it might put more people in the seats (not that selling tickets is an issue for the Wild), it isn't the right thing to do. Prospects at other positions might be able to handle being thrown right into the NHL. Goalies are different. Most require extra development time before taking on the pressure of playing at the highest level.
That's especially evident in Wallstedt's stats at the beginning of last year. While he ended the year on the AHL Top Prospects Team, he got off to a slow start. Coming from the SHL, Sweden's top professional league, Wallstedt had to adjust his play to an entirely new rink size. That might not seem like much, but while he could anticipate shot angles in Sweden, they didn't translate to the NHL rink. A large part of his development last year was adjusting his style of play to fit onto a new rink size. Ultimately, Wallstedt adapted his game to North America. He ended the year with a .908 save percentage, a 2.68 goals-against average, and one shutout, despite the rough start.
Even with his initial struggles, there shouldn't be any concern. As mentioned in the video clip below, Wallstedt was the youngest goalie in Sweden's U20 league history. At age 14, Wallstedt was living on his own and playing against far older players. During the 2020-21 SHL season, he tied for the most appearances for U20 goalies with 22 games. Speaking as a goalie scout for the NHL in the video below, Al Jensen hesitated to put the label "generational" on Wallstedt because of his young age. However, he admitted that Wallstedt already had NHL qualities in his game at such a young age. 
Wallstedt's goaltending style is similar to Filip Gustavsson's. They both rely on reading the play accurately and squaring up to the shot. Their presence in the net is calm and calculated. Unlike the dynamic style of Marc-Andre Fleury, Wallstedt and Gustavsson might be considered almost boring. But watch the clip below. Wallstedt makes save after save without getting flustered. He reads the play and makes slight adjustments. 
Let's move on to the fun stuff. Wallstedt hit North America and hadn't been afraid to let his personality shine. Who can forget the empty net goal seen 'round the world?
He also can get fancy with the puck in warm-ups: 
Here he is joining in on The Wave at the AHL All-Star Game:
He's also got some nice moves as he dances along to "Beat It" during a mid-game stoppage: 
Wallstedt is that rare hockey player who isn't afraid to do media and actually seems to relish the opportunity. It's refreshing to hear a professional athlete be so real. Below, Wallstedt is talking about some of his teammates/friends who annoy him:
There are even indications that Wallstedt could have a future in sports broadcasting. You know, after a long, successful goalie career, of course. Here he shows his personality as he's given the mic and a chance to interview Sammy Walker: 
It's hard to wait for such an amazing prospect to join the big club. But Jesper Wallstedt is the real deal. He deserves patience from fans while he prepares to compete at the highest level. Because once he is playing in Minnesota, it will be clear that the wait was worth it. 
2

3