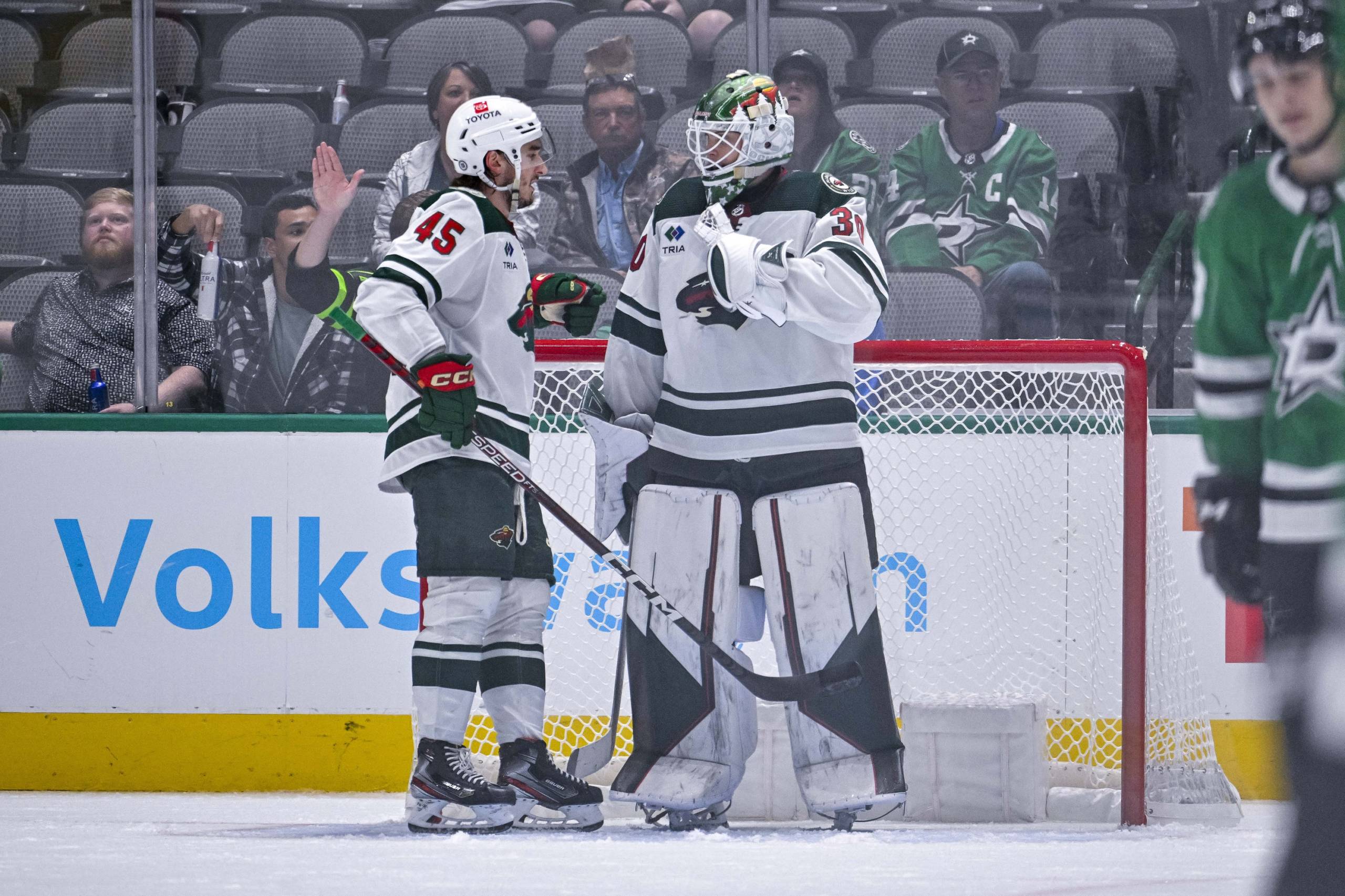 Through two weeks, the Minnesota Wild's goaltending has been about as chaotic as the Mall of America on Black Friday.
Seriously, it's a mess. Four games are a very small sample size, but questions are flying around. Those persist even after a quality start from Marc-Andre Fleury in Thursday night's first win of the season. How much longer can Bill Guerin afford to let the goaltending hold this team back? Is there another goalie to trade for? How soon until blue chip prospect Jesper Wallstedt is ready?
Hard stop.
It's only been four games. Has the goaltending been atrocious in 75% of those games? Well, sure, but there is just no way Fleury will cost the Wild two Goals Saved Above Expected (GSAx) all year. Nor will Filip Gustavsson continue to mishandle soft dump-ins toward the net for easy tap-in goals.
Even if they did, though, it'd still be a mistake if the Wild panic and call up their 19-year-old goaltender from Iowa. Wallstedt might be the Goalie of the Future, but throwing him into the fire would hurt his long-term prospects. History shows relying on a goaltender in their age-20 season (Wallstedt turns 20 next month) is a bad idea. Even worse, it can stunt their development in the short term.
Since the 2007-08 season, only five 20-year-old goalies have played more than 10 games.  Only one of them produced a GSAx above zero. That was Carey Price, who many regard as the best goalie of his generation. Wallstedt may be considered the top prospect in the world, but nobody is putting him on the same pedestal as Price.
The other four goalies ranged from having difficult age-20 seasons to merely hovering near the league average. However, for each of those goalies, the next few years proved disastrous.
Steve Mason debuted at 20 years old the year after Price. Mason didn't excel, but his season was about average, posting a very respectable -0.76 GSAx in 61(!!!) appearances. Then things turned south for him quickly. We're talking straight down I-35 all the way to Dallas kind of south. In his next three seasons, his GSAx average was -32.94, and Mason was ultimately out of the league before turning 30.
Andrei Vasilevskiy turned out to have a much more successful career than Mason. A Vezina and Conn Smythe Trophy don't lie. Still, he wasn't immune to early career struggles when the Tampa Bay Lightning pressed him into service at a young age. At age 20, Vasilevskiy only started 13 games and posted a respectable -0.64 GSAx.
Once Tampa Bay began to rely on him more, though, he struggled to keep up with the expectations. Over the next three seasons, he averaged -11.80 GSAx per season, very rough numbers. It wasn't until he turned 24 that the Vasilevskiy we know today began to reveal himself.
Most recently, blue-chip goaltending prospects Carter Hart (Philadelphia Flyers) and Spencer Knight (Florida Panthers) began their NHL careers at 20 years old. Surprisingly, Hart had decent seasons at 20 and 21, but in his following two seasons, he combined to allow -31.34 GSAx. It looked as though Hart's time as a promising young goalie was coming to an end. However, through three starts this year, he seems to finally be back on track at the age of 24.
Knight was below average last year as a 20-year-old, ranking 34th in GSAx among goalies with at least ten starts. It will be interesting to see whether he falls into the same rut in his development.
The common theme here is all of these goaltenders were top prospects, most of which were drafted in the first round. Each one of them was relied upon too early, and nearly all of them went on to have fairly rough starts to their careers.
And the ones who turned it around? Just two of the best goalies we've seen in the last 15 years. Is that Wallstedt? Maybe, but is it worth rolling the dice on giving him way too much too soon? He has exactly one start in North America, and he should do his development outside of the pressure cooker of having to save a team's season at 19.
For those reasons, it's crucial for the Wild not to panic and throw Wallstedt into the NHL ranks just yet. They must continue riding the roller coaster that is their current tandem.
In the summer, we highlighted how relying heavily upon an aging Fleury would be risky. While his history shows he's much better than this, it doesn't mean he will rebound to his former Vezina form. Truth is, he lies somewhere in the middle. Is it enough to help the Wild rise out of their early season slump and into Stanley Cup contention? Maybe. But maybe not.
If that's the case, the Wild may look for a goaltender to get them over that hump. However, that solution should not be Wallstedt.
All statistics courtesy of Evolving Hockey.