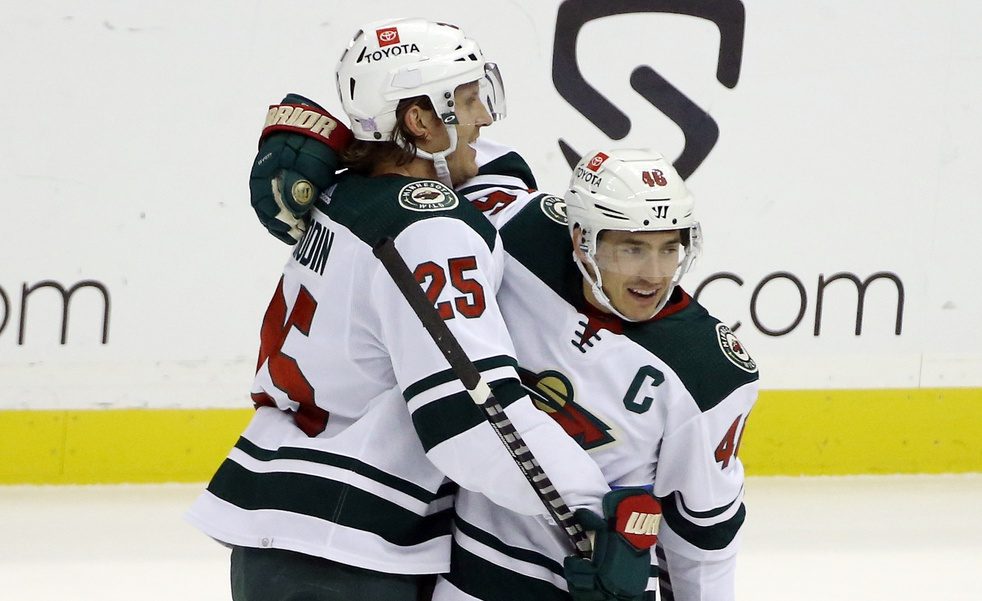 Buying out Ryan Suter was the scariest thing the Minnesota Wild did all offseason. There was not only the (somewhat unavoidable) salary cap nightmare to navigate in the future, but it threw the Wild's defense in flux. Minnesota had constant stability in their top two pairings for half a decade. What would a different defense look like? No one knew.
As big of a leap into the unknown as it was, the moment also contained possibility. Namely, for Jared Spurgeon. He was a fixture in the lineup alongside Suter, and the two enjoyed a years-long run of dominance as partners. They were both tremendous puck-moving defensemen who used their positioning and strength to keep opponents far from the net.
What could Spurgeon look like as the primary member of his pair, though? Playing with Suter had its benefits, but Suter's stature on the team also meant fewer touches for Spurgeon. As age and injury turned Suter into an offense-only player, Minnesota relied on Spurgeon hanging back to cover for his partner. Was there a point where Suter held Spurgeon back, at least from an individual numbers perspective? What does an unleashed Spurgeon look like?
Fifteen games into the season, the Wild are seeing what Spurgeon can do when given full control of the offense. Predictably, the perennial "Most Underrated Player in the NHL" is taking to the new responsibility and adding to his game.
Spurgeon is thriving by being aggressive in the offensive zone. Pinching to get in a good shooting position was always a weapon in his arsenal, but he's able to take it to another level now. Especially at 5-on-5, where he's shooting more than he's ever been, including several shot attempts down low.
He showed this off in the Wild's first game against the Seattle Kraken. Watch these two plays where he creeps into the offensive zone and gets in a position to take a pass for a scoring chance.
In fact, you might want to start calling that right half-wall area "Spurgeon's Office." He can and does operate from the point, but Spurgeon's at his most dangerous when jumping into the play. When he gets in that zone, his options — and the Wild's scoring chances — go up.
This is especially true of him as a playmaker, which is where he's seen the most growth. Spurgeon's had much more opportunities to pass without Suter, who was the Wild's primary distributor in the offensive zone. A Nov. 4 article by Shayna Goldman lists Spurgeon as 3rd in the NHL in Primary Shot Assists (the last pass before a shot attempt), according to SportlogIQ.

We can see Spurgeon working as a playmaker in his office on Kevin Fiala's goal against Arizona. Spurgeon takes the puck at the half-wall and finds Fiala, who's cutting towards the net. Fiala sends it back to Spurgeon, who lobs the puck at the net for Fiala to finish with a great play. It's a sequence that can only happen because Spurgeon doesn't have to hang back to cover on defense.
It also works because goalies have to respect Spurgeon's shot from that area. Matt Dumba's heavy slap shot (rightfully) gets a lot of ink, but Spurgeon's quietly a great goal-scorer himself. Since the 2014-15 season, he's scored 12 goals per 82 games. He arguably hasn't used his shot enough throughout his career, either. His 8.4% shooting percentage ranks fifth among defensemen over that span.
That's not a problem now, with Spurgeon free to dictate the offense. What might be most surprising of all (or least, given Spurgeon's responsible play throughout his career) is that he's been able to have this aggression without sacrificing defensively. Spurgeon controls 58.8% of expected goals at 5-on-5, eighth among NHL defensemen. He allows the fifth-fewest shots in the league.
You can see why in this dynamic shift against the Arizona Coyotes. Spurgeon is active in the offensive zone here, drifting into the left circle to try deflecting a puck in. It doesn't work, and Spurgeon smoothly drifts to the blue line to not only keep the puck in but set Joel Eriksson Ek up for another scoring chance. Seconds later (not shown), Spurgeon is back at the net, angling for another tipped shot.
Credit has to go to new partner Alex Goligoski. Like Suter, Goligoski is a long-time NHL veteran used to being the primary offensive catalyst for his team. But Goligoski is working perfectly in a support role for Spurgeon, taking the defensive burden when the latter gets aggressive while still picking spots to contribute on offense.
Granted, taking a back seat is much easier when on a one-year contract than dealing with the pressure of a 13-year deal. But it was necessary for Spurgeon to inherit the reins of the Wild offense. Minnesota took that big, scary plunge and is being rewarded with some of the best, most dynamic play they've seen from arguably the best defenseman in their franchise's history.
All data from Evolving Hockey unless otherwise stated. Special thanks to Corey Sznajder's All Three Zone Project.