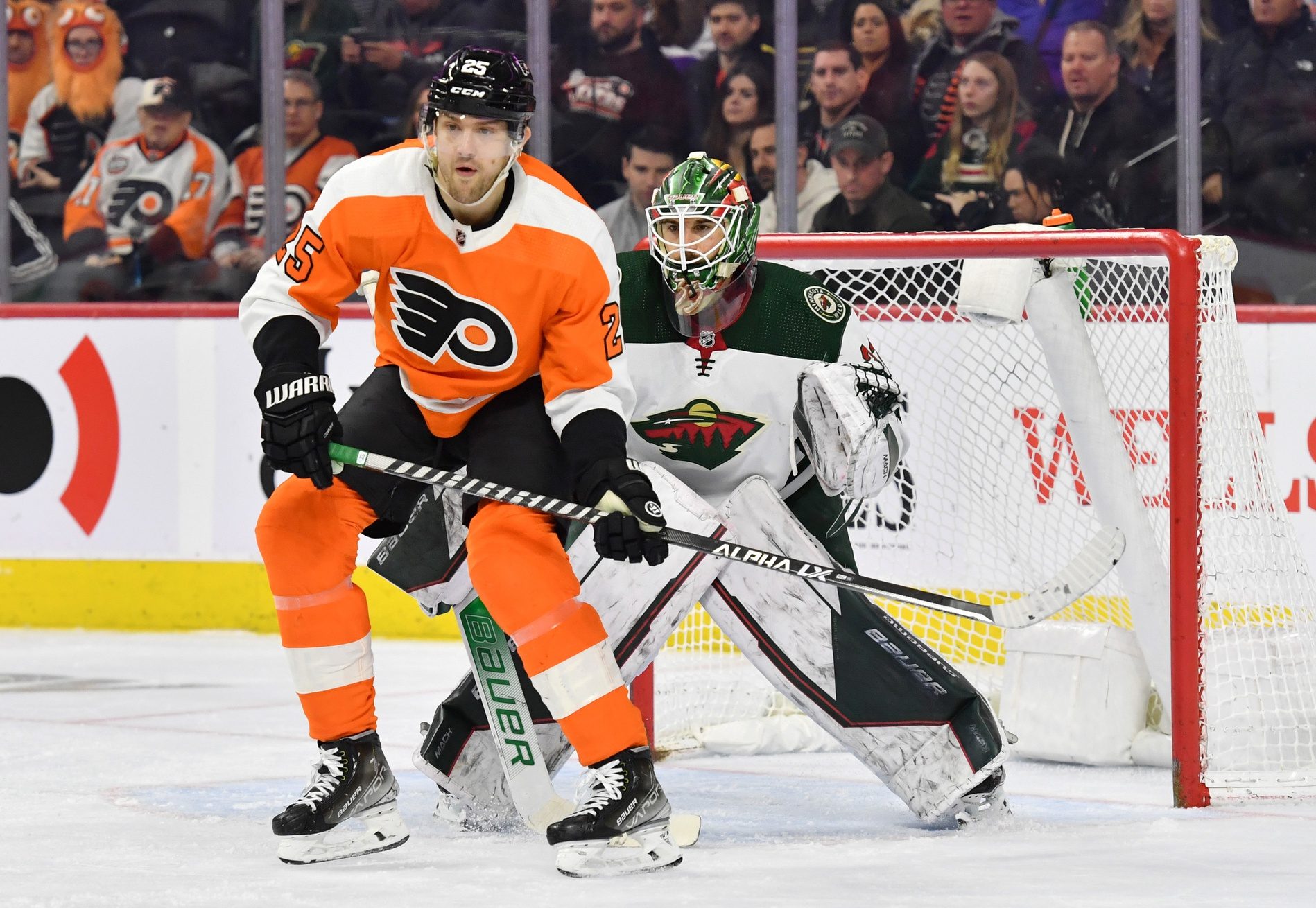 As the State of Hockey's premium conversation-starters, 10K Rinks is always glad when a topic we've broached goes mainstream. We've mentioned in passing that James van Riemsdyk would be a good fit for the Minnesota Wild a couple of times in the past few weeks. Now, Elliotte Friedman of SportsNet is on the bandwagon.
Here's Friedman in his latest "32 Thoughts" column:
Some fits that may make sense: James van Riemsdyk in Minnesota. The Wild are looking for scoring.
Okay, that's not necessarily a ton of smoke to the fire. He doesn't mention Bill Guerin as having called in on him or anything like that. It's just an educated guess. And the reason why he'd make that educated guess?
It's the same reason we pegged van Riemsdyk as a smart pick-up ahead of March 3's Trade Deadline. Minnesota needs what van Riemsdyk can provide. It's that simple.
We got a hefty amount of pushback from fans on Tuesday's column, which called for the Wild to be aggressive (and smart) at the deadline to boost this team's chances of making a playoff run. This resistance to going for it came despite having a superstar in his prime in Kirill Kaprizov, a secondary star on an entry-level contract in Matt Boldy, and a cast of still-productive but aging players like Jared Spurgeon and Mats Zuccarello.
It's an odd attitude for a fanbase that hasn't seen the Wild win a playoff series in almost a decade.
But as fatalistic as this logic is, one can see how people arrive at it. Why invest in a roster you don't trust can win? After all, if Minnesota's 113-point squad from last season couldn't fend off the St. Louis Blues, what chance does a team on the playoff bubble have?
Here's the thing, though: Crazy stuff happens in the NHL playoffs. An Ottawa Senators team comes within one game of going to a Cup Final, with Erik Karlsson carrying them on one good leg. An expansion Vegas Golden Knights team makes the Cup Final. A Montreal Canadiens team that lost eight more games than it won in the regular season takes out two Top-5 teams en route to a Cup Final.
Stranger stuff has happened than a solid team with a superstar making a run. And all of that can't happen if Minnesota sits outside the bubble. There's also no benefit to them missing the playoffs. The difference between, say, the 15th pick in the draft to 20th is negligible, and as we said on Tuesday, it doesn't do a great job of selling Kaprizov on a long-term future in St. Paul.
So, yes, buying at the deadline makes much more sense than not, regardless of your level of optimism.
That level of optimism would rise if Minnesota could fix their 5-on-5 scoring. For as down as folks are on the Wild, this is their only major issue. Their power play is 10th in the league, with Minnesota scoring 8.77 goals per 60 minutes with the man advantage. They're ninth in allowing goals at 5-on-5 (2.22/60) and even 14th in surrendering shorthanded goals (7.19/60)
But yeeeesh, that offense at 5-on-5. It currently sits 26th in the NHL (2.22 goals/60), with the sleeping giant Colorado Avalanche being the only worse playoff team. If they can just address that, though, this is a perfectly solid team to enter into a Western Conference playoff picture that's anyone's game.
Now here's where we get back to van Riemsdyk, who is very good at generating offense at 5-on-5. He's done it for just about every season in his career, and this year is no different.
[caption id=attachment_144075" align="alignnone" width="736]

Courtesy of Evolving Hockey[/caption]
The Philadelphia Flyers have scored 3.47 goals per 60 this year with van Riemsdyk on the ice at 5-on-5. That ties him with Matty Beniers as the 36th-best rate in hockey among 376 forwards who've played 300-plus minutes. Philly also shoots 32.1 times per 60 with him on the ice, which is 117th in the NHL.
Here's an important piece of context to go with all that: The Flyers stink at offense. John Tortorella's conservative style of play has Philly ranked 26th in goal scoring and 21st in shot generation at 5-on-5.
Yet, van Riemsdyk is pushing the pace and thriving. Know a team that could use someone like that on their squad?
Even better for the Wild, there's no downside to van Riemsdyk's game. He's not a defensive liability, which means his offensive gains wouldn't have a drawback offsetting it. The move would add coveted size to Minnesot's lineup, as van Riemsdyk stands 6'3", 208 lbs. Minnesota's also one of the few teams that can absorb his $7 million cap hit with room to spare.
For a rental player who's only expected to cost a mid-to-late-round draft pick, this is a dream fit for the Wild.
The version of the Wild that will hit the ice tonight is probably not going anywhere in the playoffs. But look at the kind of lineup they're capable of icing with van Riemsdyk in the fold.
Kaprizov - Marco Rossi - Zuccarello
van Riemsdyk - Joel Eriksson Ek - Boldy
Marcus Foligno - Ryan Hartman - Jordan Greenway
Brandon Duhaime - Connor Dewar/Freddy Gaudreau - Mason Shaw
van Riemsdyk (and Rossi) would push currently overmatched players into their proper roles, making for a formidable 5-on-5 team. Kaprizov's line brings the speed and chemistry between him and Zuccarello, bookended by their highest-upside center. But the real genius of adding a JVR is what it does everywhere else.
van Riemsdyk, Eriksson Ek, and Boldy would make a formidable two-way line where everyone stands 6'3", is tough as hell to knock off the puck, and has scoring touch. Foligno's line can provide the crash-and-bang element without carrying so much of the scoring load. Gaudreau could be a pure defensive specialist surrounded by young, fast forwards (or, more likely, Ryan Reaves).
With Minnesota's defense and (surprisingly good) goaltending, that feels like a team that is, as they say in hockey circles, built for the playoffs.
Is van Riemsdyk the kind of player who is going to single-handedly lift a franchise from mediocrity and make them great? No. But Minnesota doesn't need a Savior-level player to be saved. They just need someone who can shore up their weaknesses, bring a new element to their squad, and push people where they belong in the lineup.
van Riemsdyk can do that for the Wild, and watching him get a chance to elevate this team is a lot preferable to hugging a fourth-round pick while a year of Kaprizov's prime goes down the drain.
All stats via Evolving Hockey unless otherwise indicated.