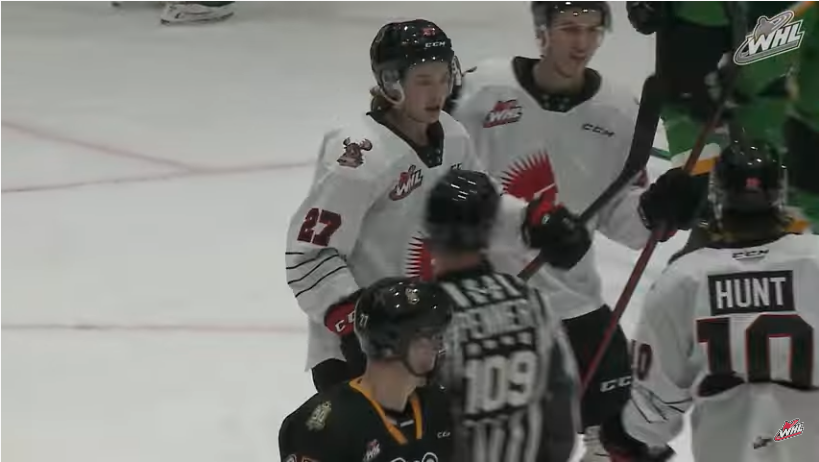 Until 2019 first-rounder Matt Boldy's rise to NHL rookie excellence, Cole Caufield was the one who got away to many fans. The Minnesota Wild desperately needed an exceptional goal-scorer, and Caufield was that exact type of talent. Caufield scored 72 goals for the US National Development Program, then 49 in 57 NCAA games, and now, 27 through his first 77 NHL contests.
Caufield is a pioneer of an archetype of player that's finally gaining respect in the NHL: the Small Goals Boy. He dropped to 15th overall in the draft, despite being far from the 15th-most talented player in his class. Based on his history of production on draft day, Byron Bader's Hockey Prospectus gave him a 66% chance to achieve stardom, third-best in 2019. But when you're 5'7", you're going to tumble down the board.
And Caufield was lucky to arrive in 2019. He may not have even gone in the first round three years ago. If that sounds ridiculous, look at Alex DeBrincat. He scored 50 goals and 100 points in back-to-back years in the OHL leading up to the 2016 Draft. Instead, he fell all the way to pick 40, where the Chicago Blackhawks got the 5'7" forward. Now, Chicago has a 40-goal scorer. But hey, at least Minnesota got Luke Kunin (15th overall) out of that draft.
However, if Wild fans are disappointed about striking out on those two Small Goal Boys: good news. With the 19th and 24th picks in this year's draft, the Wild have the ammunition to roll the dice on a Small Goals Boy of their own this year. Meet Jagger Firkus of the Moose Jaw Warriors.
Firkus may have sprouted up to 5'10". But make no mistake, the kid is a Small Goals Boy.
The reason why Firkus, again listed at a fairly-reasonable 5'10", is that he's not built like, say, 5'9" Kirill Kaprizov or Marco Rossi. Those players are short, yes, but they're also extremely built and can bulldoze opponents. Kaprizov is listed at 194 pounds, and Rossi at 185. They have 39 and 30 pounds on the 155-lb. Firkus.
You'd expect Firkus, then, to be a low-contact player, keeping things to the perimeter and scoring mainly on the rush. He can use his shot on the rush, but he also has what we at 10K Rinks like to call the Zach Parise Death Drive. Firkus will go to the middle of the ice, and he'll find the puck, and he will score. Look at all the shots he takes near the crease.
Can that style hold up for a slight player in the NHL? It took over a decade for it to take its toll on Parise, but he had an inch and 40 pounds on Firkus.
Unless you snagged a star like Boldy or Trevor Zegras, though, if similar concerns brought you down on Caufield, you probably regret it now. And in 2016, the only team that passed on DeBrincat that doesn't regret it is Calgary, who took Matthew Tkachuk at sixth overall with their only opportunity before pick 39.
Production is the knock on Firkus compared to Caufield and DeBrincat. Firkus had a pretty good season in the WHL, with his 36 goals and 80 points finishing 14th in the league. It just doesn't hit the absurd heights Caufield's 72 goals or DeBrincat's 100-point seasons did. Still, Hockey Prospecting puts his chances of stardom at 23%, making him a top-20 value in this Draft.
[caption id=attachment_128259" align="alignnone" width="801]

Courtesy of Hockey Prospecting[/caption]
There are also some mitigating factors for Firkus that perhaps skew this comparison. As a late April birthday, Firkus is about five to six months younger than Caufield and DeBrincat were at their drafts. He's got another half-year of development runway on them, especially after playing just a third of a season in the WHL during the COVID season.
Firkus also doesn't have an elite forward to play alongside. Caufield had Jack Hughes, one of the highest-scoring forward prospects in recent memory, feeding him passes. DeBrincat played with Dylan Strome, who didn't quite pan out in the NHL but was elite in juniors. The year before, in DeBrincat's Draft-minus-1 season, he played with both Strome and Connor McDavid. Denton Mateychuk and Daemon Hunt are strong defensive prospects, with Mateychuk likely to go in the first round. But Firkus is still the scoring leader on Moose Jaw.
His shot is where you can compare Firkus to the other Small Goals Boys. His shooting garners rave reviews from scouts. Elite Prospects ranks it as the best in the class, with The Athletic's Corey Pronman ranking it Top-5. FCHockey doesn't rank skills but calls his shot "slingshot-like," adding, "He's got an extremely deceptive release and is able to... change the angle of the shot and fool goaltenders."
https://twitter.com/blueonthecharts/status/1535812297343438848
Even an outlet that's not as high on his shot, McKeen's Hockey, is blown away by his offensive package. They rate his shot as a 50 on the 20-80 scale (that is, average), but his skating and hockey sense as a 60, and his puck skills as a 65. They rank him as the 10th-best playmaker, not scorer, in the draft.
McKeens says of him, "Firkus is also extremely posed with the puck and is the kind of player who can attack with pace, but also slow the game down. He will keep plays alive along the wall, take a hit to make a play, and shows great patience even under pressure." Controlling the game's tempo is an elite offensive skill, and Firkus can do that alongside filling the net.
For any team whose main engines, like Kaprizov, Jared Spurgeon, and (soon) Rossi, are shorter, there will always be concerns about whether they're too small to find success. That happened to the Wild after losing to the St. Louis Blues in Round 1 this year. It doesn't matter that 5'9" Kaprizov scored half their goals.
The questions will continue if the Wild draft Firkus. And if he doesn't make it, or simply doesn't become a star, his size will be the easy thing to point to as to why he didn't succeed. But Firkus is doing all he can to prove he's worth a shot at 19 or 24. Head scout Judd Brackett doesn't like to see electrifying talents get past him. If the Wild get their own Small Goals Boy on Thursday, everyone should be excited, not surprised.