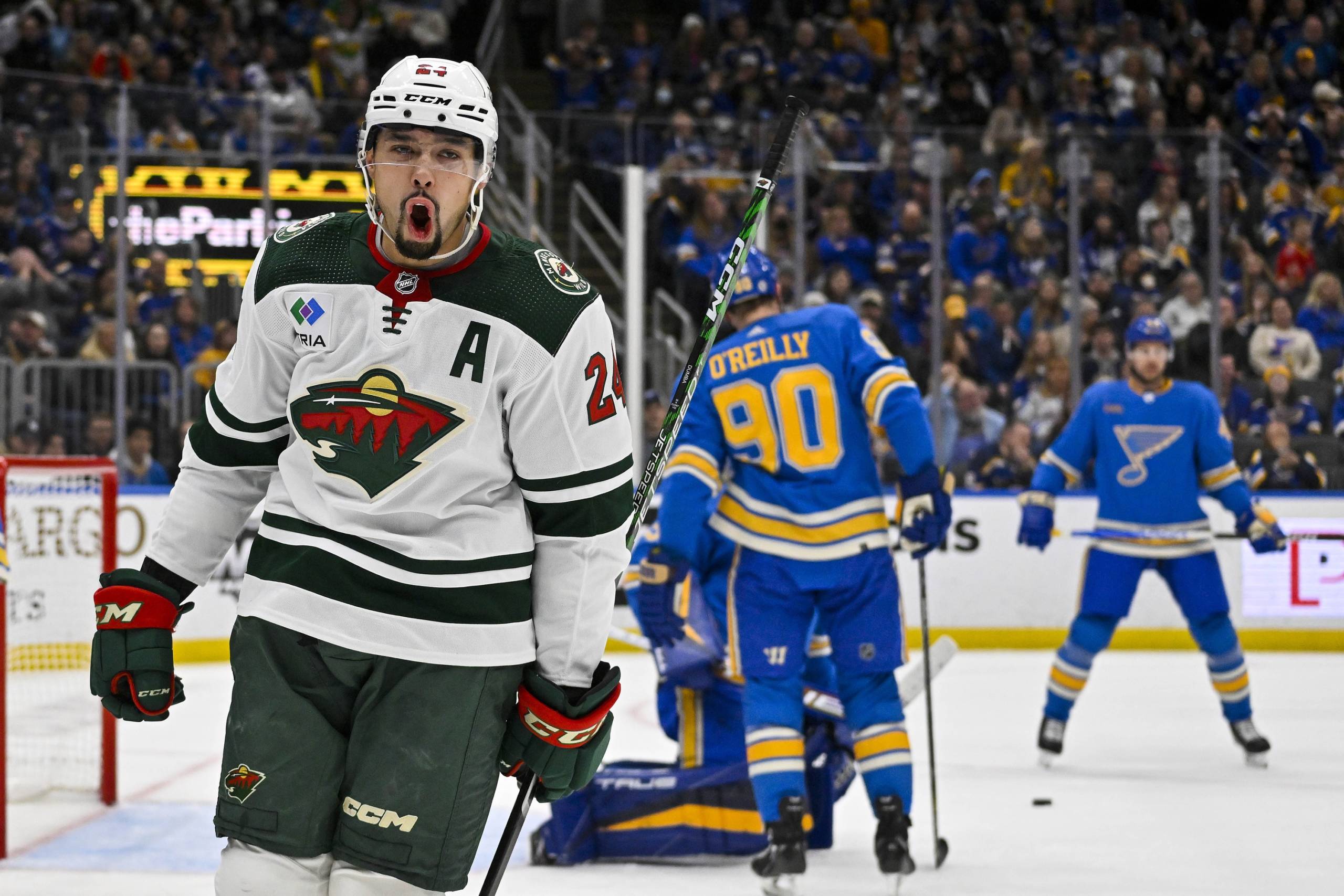 Matt Dumba is probably the most polarizing figure on the Minnesota Wild. I've been on the thumbs-down side of the debate for a long time. While social media has contributed to that, I have no one to blame but myself. But over this season, I've changed my tune. Now I see that Dumba is an essential figure on the ice, in the locker room, and in the community. With a few teams rumored to be sniffing around for a trade, it's too bad that the Wild can't afford to keep him around.
It's been evident for a long time that Dumba is vital to the team, but more often than not, he's only mentioned in a negative light on social media. People will highlight his giveaways while brushing aside his goals and assists as flukes. Fans go into games having already made up their minds that they aren't a fan of Dumba, which dictates how they see his play.
I've tried remaining neutral while watching him this year and realized that Dumba contributed both ways, as did almost every member of the team. For every giveaway he has, he'll have multiple times where he is instrumental in driving the puck to the net. His stats are usually in line with everyone else. There's no reason to single him out and focus on the giveaways. And as for me, I just can't stand that sort of negativity anymore.
The idea there is a "Dumba problem" is so prevalent that it feels very much like a self-fulfilling prophecy. The more fans focus on his bad plays, the more they notice his bad plays. With ultra-speedy Jonas Brodin as his partner, it's easy to attribute any good defensive play to Brodin and dismiss Dumba's role. But they seem to play better as a team with Dumba in the lineup. Brodin is almost always a good player, but he's even better when he's next to Dumba. It's the same idea as Mats Zuccarello and Kirill Kaprizov. They're both amazing players, but they're fantastic when they play together.
It's time Wild fans look at plays involving Dumba as a whole instead of hyper-focusing on any of the small things Dumba could've done whenever a play goes the wrong way. Everyone makes mistakes, but hockey is a team sport. Rarely is there a goal scored that is the fault of only one defensive player. Just like the goalie isn't always to blame for a goal, neither is any one player.
Trade rumors have surrounded Dumba for years, and they've only intensified as Dumba's contract ends after the 2022-23 season. With the Wild in the depths of salary cap hell, there are too many players the Wild need to extend and not enough room for Dumba's high salary. The fans know it, Dumba knows it, and Bill Guerin knows it. There is no surprise here.
Dumba's current cap hit is $6 million per year, and with teams always looking for defensemen, it will probably stay expensive in free agency. Minnesota also has eight other players who are pending free agents. If the Wild have $15 million in cap space, extending Dumba would take up a big chunk of the total. As finances currently stand, Matt Boldy, a legitimate up-and-coming star, will probably be signing a bridge deal rather than a long-term contract because of the weight of the dead cap space. If that is what it takes to secure the future of the Wild, every dollar counts. No matter what, it doesn't make financial sense to extend Dumba's contract.
The fact that Dumba is probably only here for a few more months means we need to appreciate him while he is here. On the ice, he is a tough defender who isn't afraid to drop the gloves if needed. He can also snipe a pretty goal, often when the team needs it the most. One thing the Wild pride themselves on is having defensemen who can jump up with the offense. Dumba is the epitome of that style of play.
Off of the ice, Dumba has been a driving factor in numerous community projects. In the past few years, there have been numerous initiatives to promote diversity at all levels of hockey. He is an inaugural Executive Board Member of the Hockey Diversity Alliance. A quick Google search turns up numerous community hockey groups that he supports. Dumba truly seems like an all-around good guy, and the Minnesota hockey community will miss him dearly when he is gone.
Hockey fans have mixed reviews on Dumba, but he is a big cog in the Wild's machine and has been for years. While he is most likely wrapping up his career in Minnesota, let's focus on the good things he brings to the team. He is a fierce defenseman with the ability to score. He strives to make everyone feel welcome in the locker room and brings that attitude into the community.
When the Wild trade Dumba or let him walk this offseason, let's all agree to let him go with only well wishes. He's played his heart out for Minnesota his entire NHL career. Despite the lack of cap space and Dumba's full awareness of that, he is still out there every night, giving his heart and soul to the Minnesota Wild. He deserves support from the State of Hockey.