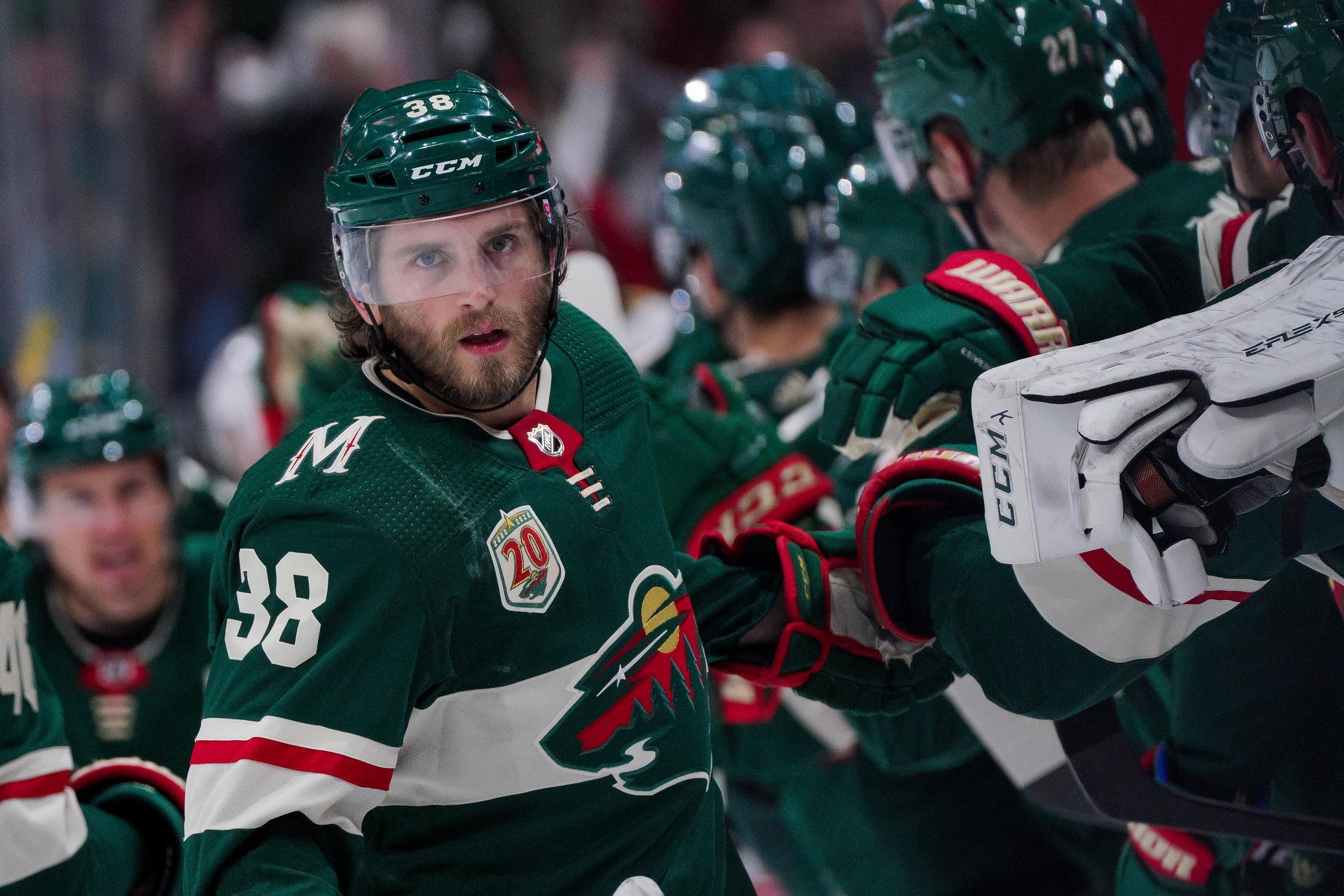 It was a breakout campaign for seemingly every member of Minnesota's top nine. Kirill Kaprizov eclipsed the 100-point mark for the first time in franchise history. Kevin Fiala's 85 points trail only Kaprizov in the Minnesota single-season record books. Mats Zuccarello had the most productive season of his career at age 34. Joel Eriksson Ek, Freddy Gaudreau, and Marcus Foligno also posted career-highs in points.
But perhaps the most shocking breakout campaign came from Ryan Hartman, who spent most of the season centering the incredible Kaprizov and Zuccarello wing tandem. His emergence came at just the right time for Minnesota, who entered this season with a lot of uncertainty at the center position. Eriksson Ek flourished in the shortened 2021 season, but Evason didn't seem to fancy separating him from the GREEF line. Marco Rossi wasn't quite ready to assume a role at the top of the depth chart and began the season in Iowa. Gaudreau was nothing more than a middle-six depth option. That left Hartman, who took a pay cut to remain in Minnesota through 2023-24, as the de facto top-line center.
Hartman took the opportunity to play alongside the electric Kaprizov and ran with it. He tallied 65 points (34-31-65), good for fourth on the team behind only his linemates and Fiala. Hartman averaged 29.4 points per 82 games in seven previous NHL seasons, an unexpected bump in production.
The question now becomes, is this level of production sustainable next season? And can Minnesota afford to have Hartman come back to earth?
Regarding his sustainability, the surface level numbers suggest it'll be a tough campaign to follow up for Hartman. His 34 goals outperformed his expected goal output by 7.62. His 14.2 shooting percentage was just the second time he shot over 10% in his career. Now, outperforming expected goals and shooting around 15% is standard protocol for most of the NHL's elite snipers, but Hartman doesn't have the career reputation to back sustainability.
Conversely, Hartman never played significant minutes with a player like Kaprizov before this season. Hartman often found himself on the receiving end of pretty passing plays by Kaprizov and Zuccarello.
And if he didn't score via those passing plays, he was collecting garbage goals around the net.

His hard-nosed, gritty style created a pleasant contrast with his ultra-skilled linemates. Hartman did the dirty work that made his wingers' lives that much easier, and vice versa. Kaprizov's speed and Zuccarello's creativity opened up space for Hartman to get to the danger areas. Together, they formed a formidable trio at the top of the Wild depth chart. There's little reason to suggest next season will be any different.
And yet, the sustainability of Hartman's play is still a genuine concern as Minnesota gears up for an eventful offseason. Fiala has one foot out the door, and the Wild will need to account for his production. Say Rossi steps in and tallies 50 points in his rookie season, there are still roughly 35 points that need to be replaced.
However, there's no guarantee that Foligno outperforms his expected goals by nearly 10 goals, either. Foligno shot at 23.2% this season, a feat that likely won't repeat next season.
Luckily for Minnesota, even if Hartman regresses back to earth, his contract is still a bargain. According to Dom Luszczyszyn's NHL player cards, Hartman provided a surplus value of $5.9 million this season. That trails only Matt Boldy ($6.4 million) for the highest surplus value on the team. It's never a bad thing to pay depth money for top of the lineup production.

Will Hartman continue his exceptional play next season? The numbers suggest he's in for at least some regression, even if he continues to center a 100-point winger. Wild fans will undoubtedly be hoping this season wasn't a fluke and that this version of Hartman is here to stay for at least the next two seasons.