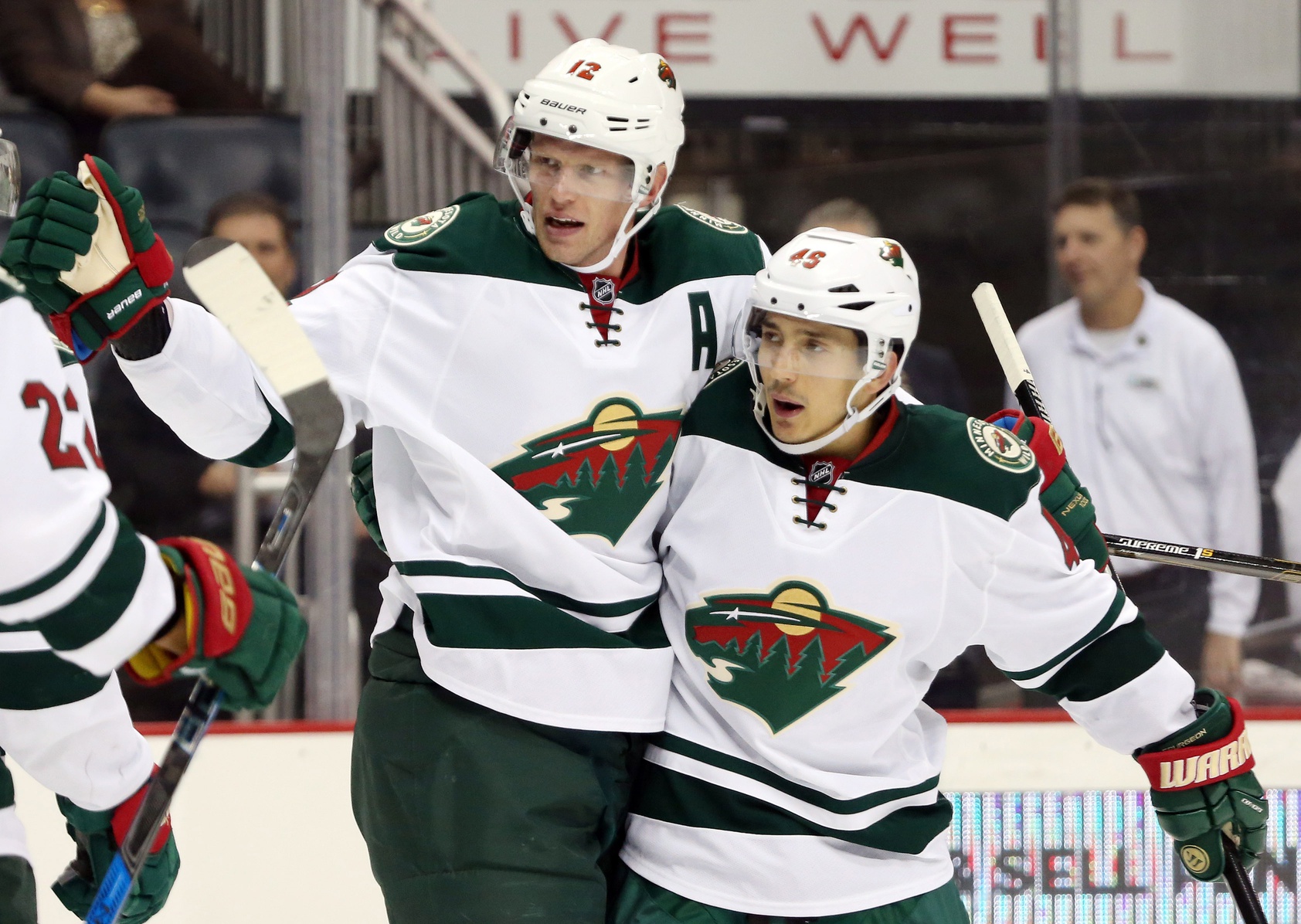 Image courtesy of Charles LeClaire-USA Today Sports
Looking at the Minnesota Wild after yet first-round exit in which their opponent physically dominated them, something stands out. The average heights and weights of the Dallas Stars and the NHL's Conference Finals teams tower over Minnesota's players. 
The Wild are 31st in average height (6'0") and 29th in average weight (193 lbs.) league-wide. Consequently, the Stars outhit and outmuscled Minnesota in their six-game charade. Dallas was the bigger team, and it showed. The Stars are 17th in average height and seventh in average weight in the NHL. All of Dallas's go-to guys except Joe Pavelski are big. Jason Robertson, Roope Hintz, Jamie Benn, Tyler Seguin, Wyatt Johnston, and Miro Heiskanen are all at least 6 '1''. 
The Wild have some offensive guys with some size. Joel Eriksson Ek, Matt Boldy, and Marcus Johansson are all 6'1" or above. Kirill Kaprizov plays a lot larger than his 5'9" frame suggests. But the Wild are lacking size on defense. 
Let's take a look at the defensive cores of the final four teams. 
Carolina Hurricanes
Jaccob Slavin, Brett Pesce, and Brady Skjei are 6'3" and 200-plus pounds. Brent Burns is a monster at 6'5", 230 lbs. Jalen Chatfield and Shayne Gostisbehere are both around 6'0" and roughly 185 lbs. 
Almost all of Carolina's defense is 6'0" or above. They are regarded as a top defensive unit, and it shows in their shots allowed. They let up the least amount of shots in the league, and the size and length of their D-core are among the reasons why.
Florida Panthers
The story of Florida's defensive core is that they have Aaron Ekblad and Marc Staal, who are both massive at 6'4". Radko Gudas is only 6'0" but plays like an absolute maniac. Josh Mahura and Gustav Forsling are two-way guys who don't really have a ton of size but are serviceable. And Brandon Montour is a reckless offensive defenseman. While they are the lightest team in the league overall, the Panthers still have big bodies guarding the blue line.
Vegas Golden Knights
Vegas' smallest defender is 6'1", 210-pound Alec Martinez. Shea Theodore and Zach Whitecloud are both 6'2" and around 200 pounds, while Alex Pietrangelo, Brayden McNabb, and Nic Hague are 6'3", 6'4", and 6'6", respectively. All three weigh at least 210 lbs. 
There is nothing small about the Golden Knights' defense except for the shots they allow per game. The Wild are familiar with the size of Vegas's defense; it stifled them in the playoffs two years ago. The Knights are also heavy up front, with the sixth-heaviest team in the league overall. 
Dallas Stars
Minnesota knows about Dallas's size on defense. The Stars also don't have anyone who comes in at anything less than 6'1", 190 lbs. Miro Heiskanen and Colin Miller both fit that bill. They also have monsters in Esa Lindell, Jani Hakanpaa and Thomas Harley, who are all 6'3" or above – Hakanpaa is 6'5". 
Ryan Suter is too slow to maximize his size anymore, but he's still 6'2" and did a good job physically imposing himself on Kaprizov. Heiskanen may be the smallest player on Dallas's defense, but he's their best defender. The Stars' incredibly-sized defense was bigger, nastier, and ultimately overwhelming for the Wild. 
Minnesota Wild
Obviously, we all know that Jared Spurgeon is small (5'9", 167 lbs.). Even putting him aside, the Wild do not really have any other guys who are big and have more than a purely defensive role. Jonas Brodin is great at what he does, but he's 6'1" and doesn't crack 200 pounds. Brock Faber is scheduled to replace Matt Dumba, but at 6'1", he's barely larger than Dumba, who's had durability issues. Maybe the extra inch and 10 pounds Faber carries helps, but maybe that's not enough. Calen Addison and Alex Goligoski are 5'11" or below, and neither weighs in above 185. 
Jake Middleton and Jon Merrill are both 6'3", and Middleton is the biggest guy on the Wild defense at 210 pounds. He's physical, but you don't often see him laying out big hits or being all that aggressive. He's occasionally physical, but not all that often. Merrill tries to, but he found himself in the press box watching the game instead of on the ice. Dumba will make a reckless hit here and there. However, that type of play generates the kind of penalties Marcus Foligno got on in the playoffs, and we all saw how that worked out. John Klingberg was only here for 21 games.
Middleton and Spurgeon block a lot of shots as a pair, and Brodin and Dumba's underlying numbers for Brodin and Dumba look great. Still, those have not translated in the playoffs over the past few years. Minnesota's defensive core is too small.
Minnesota's back end has not produced in the playoffs. Klingberg had four points in six games, but nobody else had more than two. Montour has six goals for Florida. Heiskanen has 12 in 17 and is the fifth-leading scorer for Dallas. Burns has nine in 15 while also being fifth in scoring. Pietrangelo has nine in 14 games for Vegas. 
All these teams are getting production from their top-end defenseman. Spurgeon had two points and Addison did not see the ice. Minnesota's penalty kill was dreadful. Dallas' bigger forwards routinely caved in and outmuscled Dallas's bigger forwards. It was a shameful spectacle of penalty killing.
Bill Guerin traded for two defensive prospects, Faber and Addison, who are 6'0" or less. He also acquired veterans in Middleton and Merrill, who are both 6'3". It was an interesting strategy. Guerin seems to invest in the smaller, more offensively-inclined prospects and save the physicality for the bigger, veteran players. 
The Wild have drafted guys with a bit of 'snarl.' Ryan O'Rourke throws his body around and is not afraid to get physical. Outside of O'Rourke, though, it's not looking too good for defensemen in Iowa who are going to bring that physical element. 
What about the other guys in the system who are coming up in a few years? 
Kyle Masters - 6'1", 175 lbs. 
Carson Lambos - 6'1", 197 lbs. 
David Spacek - 6'0", 174 lbs. 
Daemon Hunt - 6'0", 198 lbs. 
They all have promise but are not known for their physicality. Now, they will still probably add some weight as they fill out and get bigger over time. Still, it doesn't look like the next wave of prospects are going to be particularly beefy, either. Simon Johansson (6'2" and 170 lbs.) could maybe be an exception but as a 23-year-old fifth-round pick that has not sniffed the NHL, he's not a guarantee to make it to the show. 
Spurgeon still has four years left on his deal. Brodin's got five. And while Faber is stepping into the defense, he doesn't have a ton of size and will be around for the foreseeable future. The backbone of the Wild's defense are here for the long haul, but is that for the best?
Maybe the Wild have something to learn from the final four defenses. If Minnesota wants to stop getting pushed around, out-hit, and out-muscled, they may need to revamp the defensive core. But to get bigger and taller, they'll have to make some tough choices.
All stats and data via Elite Prospects and Evolving-Hockey.
1