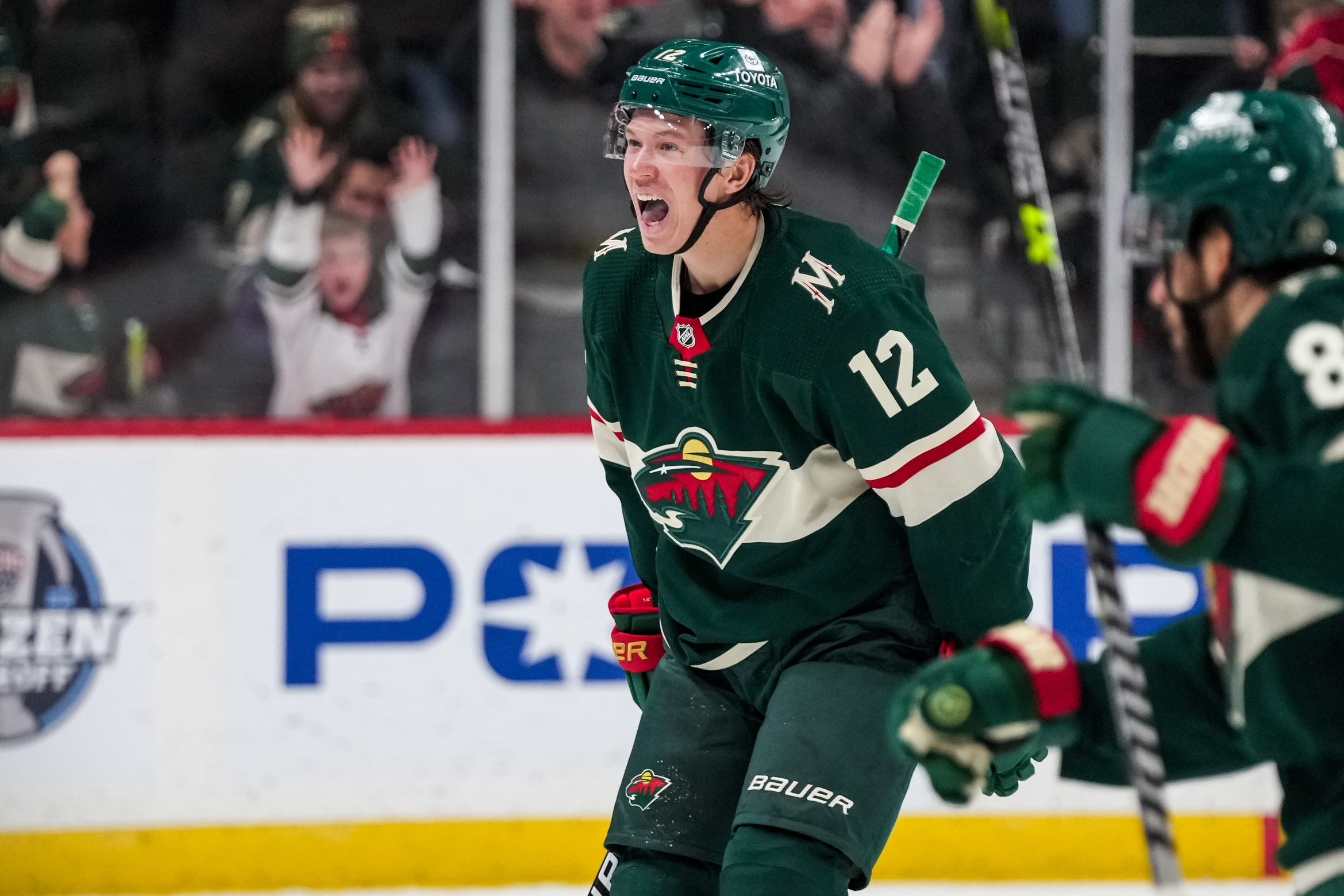 Image courtesy of Brace Hemmelgam-USA Today Sports
Speaking personally, I don't believe I harbor many ridiculous beliefs. I don't believe in the Illuminati, I fully subscribe to the "Globe Earth" theory, and I'm somewhere in the middle of the Dana Scully - Fox Mulder spectrum. The truth may or not be out there.
The one indulgence I've allowed myself in the past two years outside the realm of sensible, reasonable beliefs is, of course, in the world of the Minnesota Wild. Early on, I became convinced that Matt Boldy will become a better player than Kirill Kaprizov. Given that Kaprizov is a top-five winger in the league, it seems like a silly idea on its face. Kaprizov's scored 40 goals in two straight seasons and posted 234 points in just 203 games in his career. Forget Boldy, how much better can anyone get? 
And for much of last year, it looked like that early impression of Boldy was wrong. He struggled for four months to start the year, producing on the power play, but with nothing to speak of at 5-on-5. Then the calendar turned to March, and Boldy potted 15 goals and 23 points over his final 19 games. That pushed him to join Marian Gaborik as the only players in Wild history to crack the 30-goal mark before turning 24. Suddenly, my crank opinion has some life again. We're back, baby!
Minnesota's fortunes once again will fall largely on their younger players, which will include Boldy alongside less established players like Calen Addison, Brock Faber, and Marco Rossi. While the benchmark for the latter three is something like, establish yourselves as legit NHLers, it's different for Boldy. He already is that. Boldy's job is to prove that he can be a star for a full 82-game season. To make The Leap.
Maybe even challenge Kaprizov for the team scoring lead. Can he do it?
I already put my cards on the table earlier, so let's explain where my far-out-there belief comes from. The bedrock of the case for Boldy's future superstardom comes from the fact that his production already puts him in rarified air. In 128 games, Boldy has 46 goals and 102 points, which translates to a 30 goals and 65 points per 82 games.
Doing that between ages 20 and 21 is extremely rare. Since the 2007-08 season, only 17 players have scored at rates at or above those levels. What did they do to follow up at age-22? We'll remove all the point-per-game players at ages 20 to 21 (Connor McDavid, Jack Hughes, Steven Stamkos, and Auston Matthews), as those players had "arrived" right away.
Let's take a look at the rest:

As you can see, most of these players experienced an increase in overall per-game production. It's a good trend for Boldy. Brock Boeser and Elias Pettersson in a down season are the only players who took a step back. So what's the catch?
Just one of these guys, David Pastrnak, truly made The Leap, scoring at a 100-point pace, a feat he's accomplished twice in the four following seasons. Everyone else made steady improvements, but Anze Kopitar, Sasha Barkov, Jack Eichel, Jonathan Toews, and Taylor Hall all settled for an improvement of around 9-13%.
That's good. If Boldy duplicates that kind of increase, he'll probably flirt with the 75-point mark over 82 games. That's probably not going to be enough to keep serve with Kaprizov, who got to 75 points in just 67 games last year.
Look back at those players on the list, though, and you'll see some of the most dynamic offensive talents in the game. Most of them didn't make The Leap at 22, so when did they take things up to another level?
We know Pastrnak did that at 22. Injuries kept Boeser from taking The Leap ever. He's scored at a 62-point pace per 82 games since his age-22 year. You can probably lump Sebastian Aho, Kopitar, Tavares, Toews, and post-back-injury Eichel as "only" hovering around the point-per-game zone. Outside of Taylor Hall's Hart Trophy-winning year, he's also in that group. You could probably feel safe in assuming that's Boldy's downside, if healthy.
But what about his upside?
It didn't take Barkov too much longer to make The Leap. He posted his first massive season (96 points in 82 games) at age-23. From ages 23-27, he's averaged 35 goals and 94 points per 82 games. Elias Pettersson joined The Leap Club at 24, with the 39-goal, 102-point campaign he had last year. Matthew Tkachuk hit 100 points for the first time at age-24 and repeated the feat again last season.
So based on recent history, we're probably looking at around a one-in-ten shot at Boldy making The Leap next year, and about a two-in-five shot at Boldy ever making The Leap. If you're looking to maximize your chance at winning a bet, you'd probably wager against Boldy taking a huge jump and challenging Kaprizov to a scoring race in the near future.
But as for me? I'm glad to take that risk. Boldy's two-way performance has been too good in his first 128 games. His package of size and skill is so tantalizing. And his dominant stretch to close out the season feels so much like what Kevin Fiala did in 2019-20 -- a prelude to a his big jump. It might look silly, but I'm willing to go all-in on Boldy taking The Leap to Kaprizov-esque status in the very near future. As for this season? Let's not rule it out, is all I'm saying.
All data for this article comes courtesy of Stathead.com.
1

1