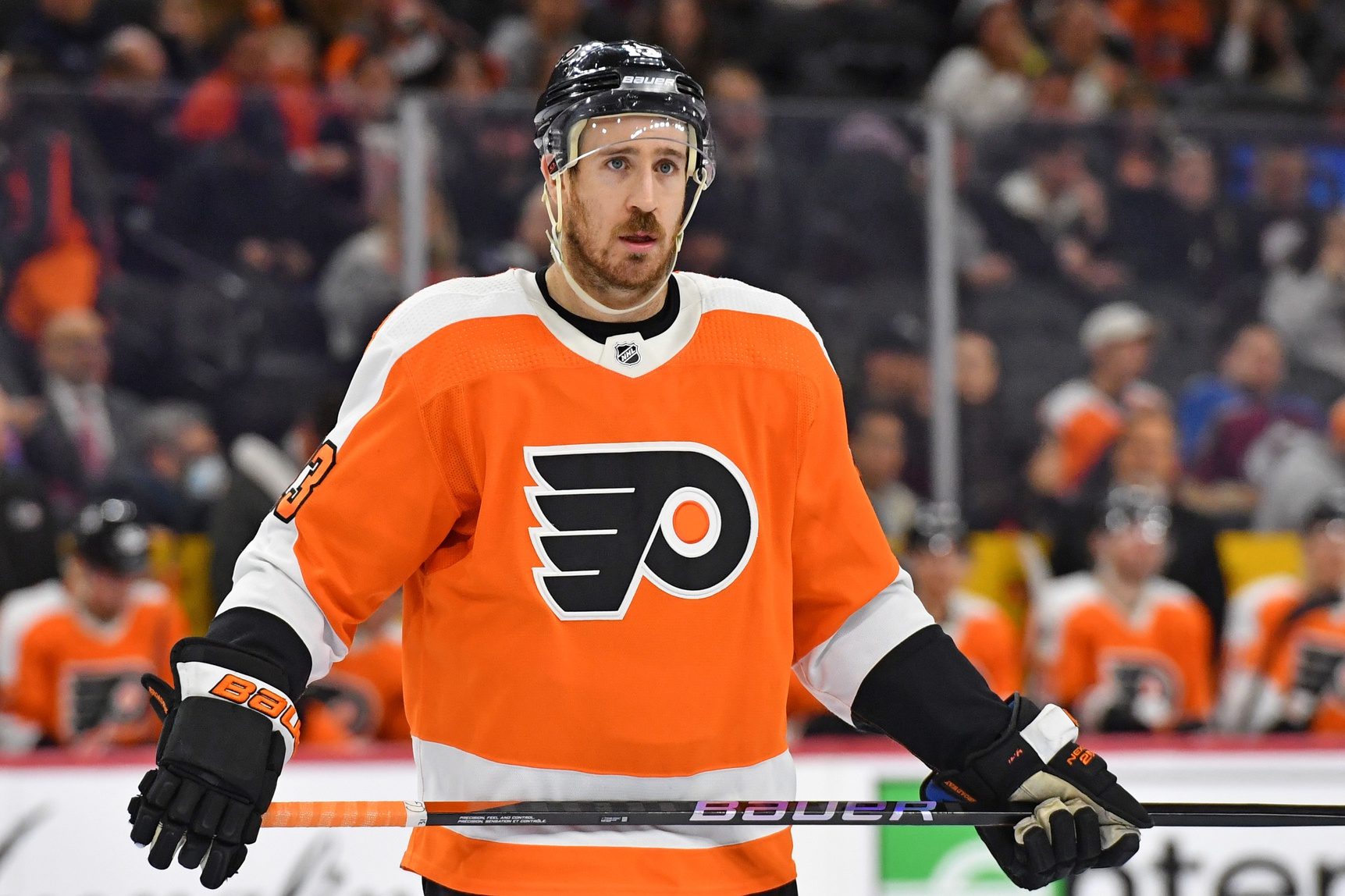 The Minnesota Wild are looking for a proven player at the center position. They're in win-now mode and need someone who isn't developing nor has shown mediocrity. Bill Guerin is looking to hit on his prospects, but it will take time before they make a significant difference in the NHL. So why not get a placeholder who can help improve Minnesota down the middle now and be a contender throughout the remaining two dead cap years?
Minnesota would be wise to stay competitive with a winning formula. They need to make superstar Kirill Kaprizov feel like Minnesota is no longer a pushover in the next three years before his deal expires. If they aren't ready to contend, then they're better off cutting ties with Kaprizov now, before he walks. He's ready to compete and win.
Meanwhile, Kevin Hayes is just sitting there with the Philadelphia Flyers, who should be desperate to move him. Is he someone the Wild should help take off their hands?
Wild fans might jump on some dealbreakers right away. His contract is too big, or he's too old, or he isn't a star. Don't worry, there are solutions to all those things. For one, there is such a thing as salary retention. There's also the fact that he's 30 and producing like he's in the middle of his prime. He's actually shown the ability to be a legitimate Top-6 caliber forward.
Hayes' biggest strength is that he is a versatile player. He can easily center Jordan Greenway and Marcus Foligno in case something happens to Joel Eriksson Ek. Or he can play on Eriksson Ek's wing if Greenway continues to battle injuries. Or he can move up to center Matt Boldy or even Kaprizov. He can play anywhere. But most importantly, he can play center.
The next three seasons are all Minnesota needs for him to still be at his best, just through age 33. Hayes also fits the Wild perfectly, as they're not only trying to improve in terms of size but skill as well. It's hard to get bigger and more skilled, but that's what Hayes brings to the table. And while he might not be a star, he has been pretty consistent throughout his career.
[caption id=attachment_141538" align="alignnone" width="963]

Courtesy of Hockey Prospecting[/caption]
He could be the perfect fit between Kaprizov and Mats Zuccarello due to his playmaking ability, and Hayes and Zuccarello played together with the New York Rangers. So the on-ice and locker room chemistry is already there. Speaking of chemistry, he seems to be the kind of teammate that fellow Boston College alum Guerin values.
Let's compare Hayes to Claude Giroux from last year. Their circumstances are different. Giroux is likely going into the Hall of Fame and was an unrestricted free agent. But they both were the Flyers' leading scorer at one point, which means they weren't long for Philly.
Chuck Fletcher would like to continue to rebuild his group. They'll be looking to get young talent and accumulate draft picks in the process. Guerin would likely avoid giving up any prospects for a rental, but Hayes is no rental, and he'll be an immediate upgrade over any of Minnesota's current centers. Besides, over the next three seasons, Judd Brackett can replace any talent Guerin lost. It's worth it to finally get Kaprizov a center who can maximize his potential.
Thinking about a potential trade is tricky, though. Minnesota won't want to end up overpaying, no matter how much help they need. With Hayes being one of the Flyers' best players, they should still be able to buy low because of his $7.1 million cap hit.
Still, it's hard to see a way that they wouldn't give up a 1st round pick, either in 2023 or 2024. Though, if you're in Guerin's shoes, would you rather trade forward prospects or picks? Would Philly appreciate any defensemen not named Calen Addison and Brock Faber?
Minnesota's second-tier defensemen prospects -- Carson Lambos, Ryan O'Rourke, Daemon Hunt, and Jack Peart -- aren't untouchable like Addison and Faber are. However, they're each a solid bet to become Top-4 defensemen. Would giving them Lambos sweeten the deal to avoid giving up next year's first-rounder?
Lambos might seem like too high a price, given that the Wild took him in the first round. While we currently want to be on the Lambos bandwagon because of his WHL career, we kind of need to pump the brakes.
He hasn't yet shown that he's a standout talent. Lambos hardly got any minutes with Team Canada in the 2022 World Juniors and got cut from the 2023 roster completely. That raises eyebrows. Ideally, a first-round pick is playing Top-4 minutes in a tournament like that. There's still time for Lambos to figure out his game, but Minnesota has a log jam on the left side, so they can afford to deal a defenseman.
Talking about sweeteners, is this a situation where Minnesota moves on from Sam Steel? While he's still someone you'd want to see succeed, you should see the difference between Steel and Hayes. Hayes is more powerful and is made for the heavy pace of the game Guerin and Dean Evason want the Wild to have. While Steel may be the more fleet-footed player, Hayes wins more puck battles. He is also more skilled than Steel, which is a big deal coming from someone listed at 6'5", 216 lbs.
Hayes is made for playoff action. He showed that in his last trip to the postseason when he scored four goals and 13 points as Philadelphia came one game short of making the Conference Finals. The Wild would be fully playoff prepared with him in the fold.
Last spring, Kaprizov was making history, and it went to waste. With Hayes in the picture, you will see Kaprizov with more open ice to work with. Guerin should look to invest in a big and heavy center who can play with Kaprizov to create space for Zuccarello to do major damage.
For the Wild to have a chance at locking up Boldy and Addison, Philadelphia needs to eat a big portion of Hayes' salary to make the trade work. The Flyers can retain half of his $7,142,857 cap hit, which would create a much more reasonable cap hit of $3.57 million until 2026-27.
That would increase the price of a trade, but Philly should still be motivated to do it. Fletcher should know that many teams are struggling with the salary cap and that Hayes, who has a 12-team no-trade list, won't go to a non-contender with cap space to take his entire contract. Not to mention, there's a distanced relationship forming between Hayes and new coach John Tortorella.
Hayes is ready to win a championship, and Minnesota's still missing a Top-6 center. He has a lot to play for, including his older brother Jimmy Hayes who passed away last August. He'll be nothing but motivated to play for Lord Stanley next spring. Lots of fans outside of Minnesota, not to mention the Wild locker room, will be on Kevin's side to win it all for his brother. The fit in Minnesota seems to be perfect.