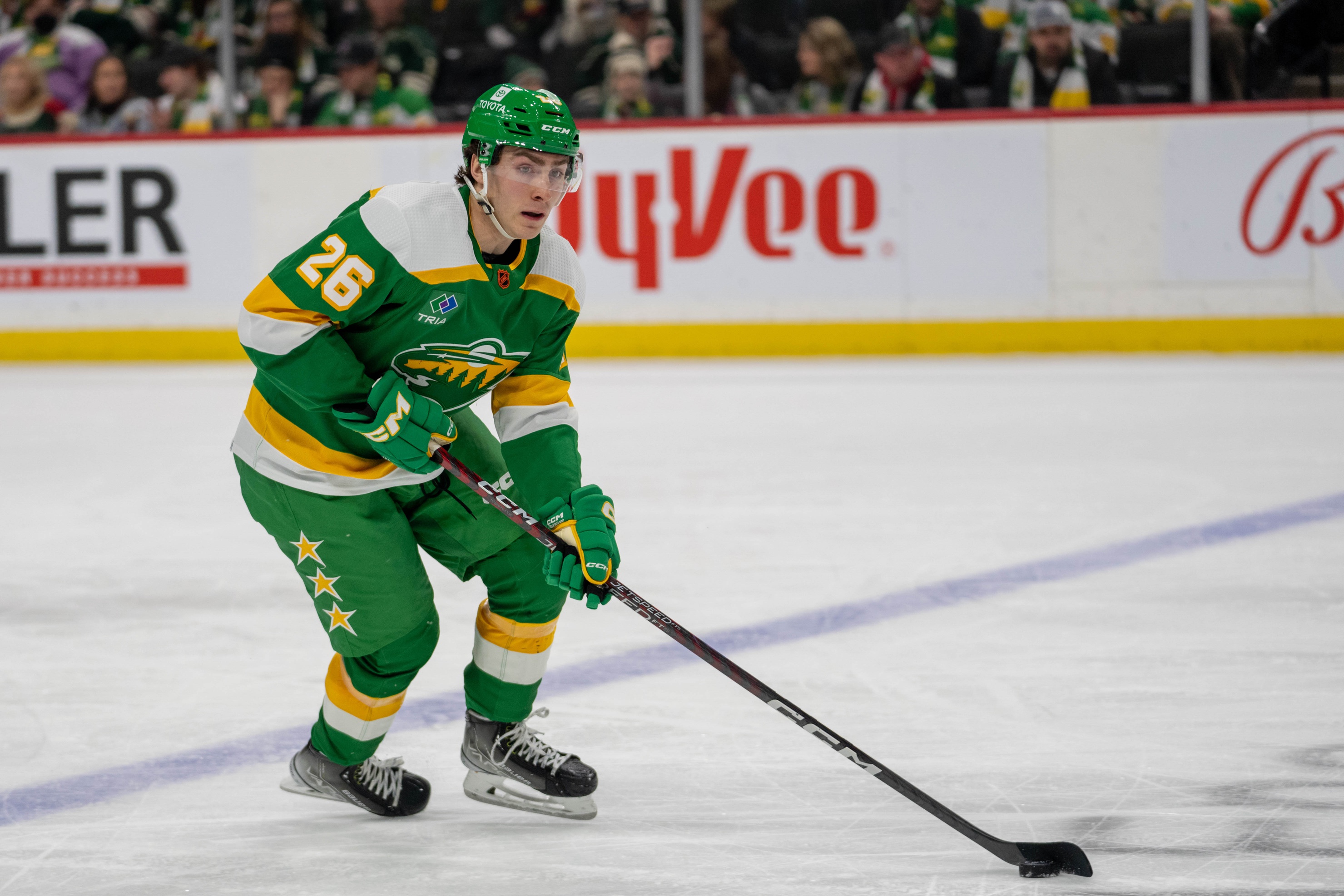 Image courtesy of © Matt Blewett - USA TODAY Sports
The Minnesota Wild are hoping that iron sharpens iron for their bottom six this season. The Wild have signed many depth players this offseason to fill out their roster and provide competition for some of the youngsters and veterans at camp. 
Re-signing Brandon Duhaime, bringing in guys like Patrick Maroon via trade, and signing players like Jujhar Khaira, Jacob Lucchini, and Vinni Lettieri to two-way deals have made the bottom-six competition fierce. Not to mention, youngsters like Sammy Walker, 24, and Adam Beckman, 22, will be fighting for spots. Dewar would have the advantage over these players because he already has an established roster spot. But how secure is it? 
Dewar, 24, has been a solid player for two seasons in Minnesota, recording 24 points in 118 NHL games. The Manitoba-born forward has also been valuable on the penalty kill and in the bottom six. He averaged 10.8 minutes of ice time in his young career. Dewar has a year left at $800k until he becomes a restricted free agent, similar to Duhaime's situation last season. 
Dewar has produced at almost all levels of hockey. Playing for the Everett Silvertips in the WHL, he captained the team and scored a point per game pace in his final two seasons. Dewar's time in the AHL was also similar. He started a little slow offensively but picked it up as he got more comfortable in the league. Dewar registered 17 points in 19 games with the Iowa Wild in 2021-22. His stat line earned him a promotion to the NHL, and Dewar hasn't looked back since. 
He can play center and has in the past. However, Dewar hasn't been very successful in the faceoff dot. The 2018 third-rounder is only winning 44.7% of his draws. 
According to Evolving-Hockey's database, Dewar has great defensive value. Standings value above replacement (SPAR) is a metric by Evolving Hockey that attempts to assign a total value to each player in one number. By that measurement, Dewar is 5.5 defensive points above replacement but -4.9 offensive points above replacement. His overall wins above replacement is 0.3, and his overall SPAR is 0.6. That means Dewar is just barely better than the average player. 
Dewar is third on the Wild in GF% when shorthanded (37.85). He's also second on the team in goals against per 60 minutes when shorthanded (3.25). Duhaime is the only penalty killer who has been better than Dewar. 
Duhaime and Dewar will probably stick together on Minnesota's fourth line this year. Patrick Maroon is the odds-on favorite for the other spot. The Wild expect the former Tampa Bay Lightning winger to fill some of the void Ryan Reaves's departure created. 
While Dewar has been really excellent on defense, his offensive stats are lagging. Dewar was last among the guys who played regularly in goals for per 60 minutes. He also only shot 5.45% last year. Those are dreadful numbers, but there are reasons for optimism. 
Dewar only played in 118 NHL games. Throughout his career, he's proven that it takes him some time to get acclimated to the offensive side of the game. It took him two seasons in the WHL and two seasons in the AHL before his offensive game started to take off. He will be entering his third season in the NHL this year. Will we see Dewar turn the corner offensively? There's a chance, but it's hard when you get so few minutes of ice time. 
Minnesota will almost certainly shoehorn Dewar into a fourth-line role. He excels in that capacity and gives the Wild exactly what they need from him. However, it may put a cap on his offensive ability. 
Marco Rossi is determined to be an NHL player. While the Wild have put him in some unfavorable situations in the past, it's unlikely Dean Evason will make him grind on the fourth line. Rossi's draft pedigree as a top-10 pick should grant him more opportunities. 
The Wild aren't going to assign Freddy Gaudreau and Marcus Foligno to fourth-line duties, either. There are not many open spots in the lineup that Dewar could take. Even when those spots were available due to injury last year, we saw Minnesota elevate Duhaime and Foligno. But not Dewar. 
While Minnesota has signed many depth guys and young players on the way, Dewar should feel confident in his roster spot this year. The Wild rely on his penalty-killing prowess and defensive ability. That may not be the case come this time next year. But for now, all Dewar can do is go out and play. 
All stats and data via HockeyDB and Evolving Hockey unless otherwise noted.
3