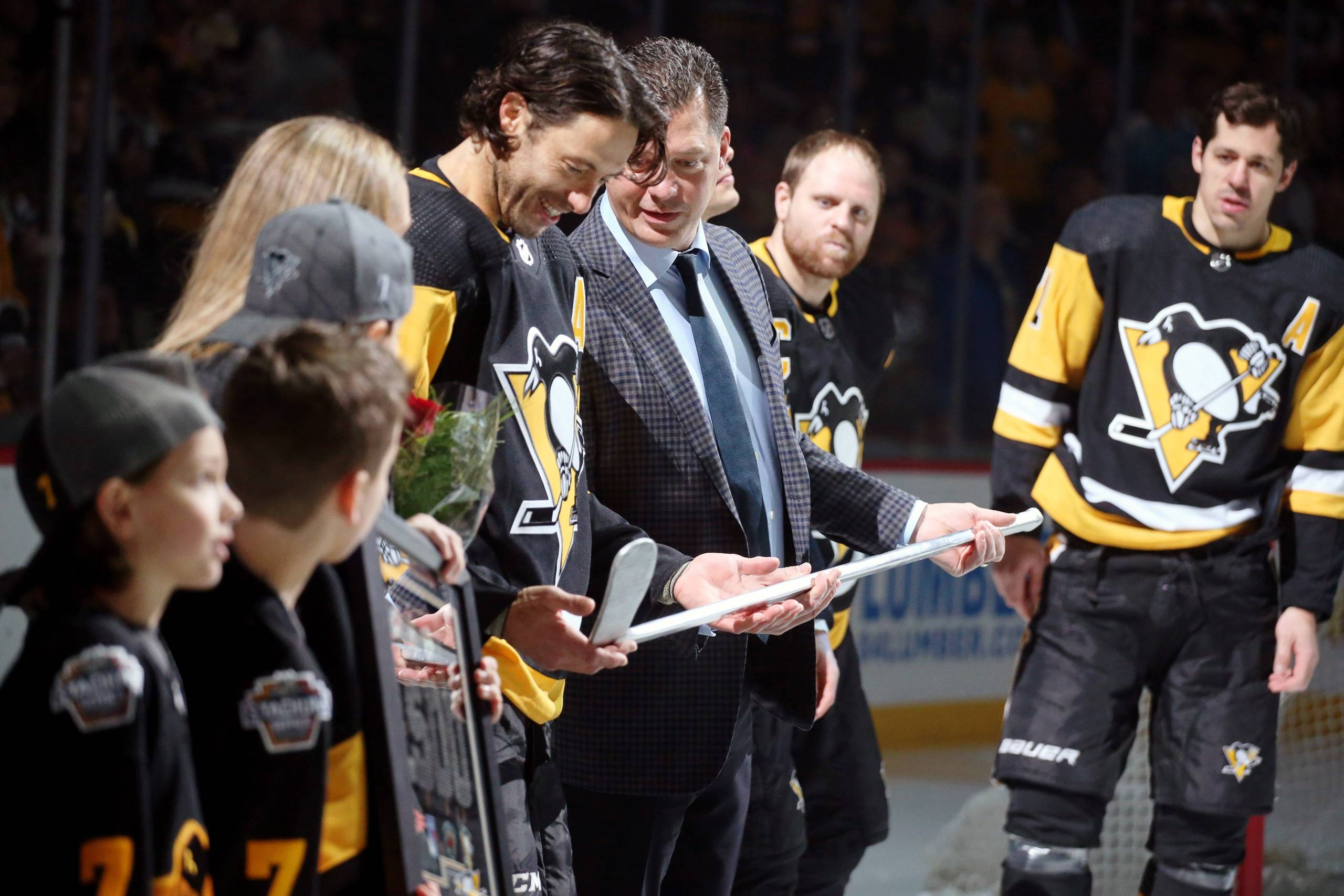 Look deep into Bill Guerin's eyes, and you'll see a restless soul searching desperately for solitude. Only bringing a Stanley Cup championship to the Twin Cities will end the turmoil brewing deep within his very being.
I kid, of course.
I've never stared deep into Guerin's eyes, nor is anyone allowed to now. Media is restricted to Zoom calls in order to avoid transmitting COVID-19, and the only thing you can tell by staring directly at someone over Zoom is whether their WiFi is working.
Or wait, maybe it's mine that's the issue.
Hold on, let me leave the meeting and rejoin. Just give me a sec.
The point is that he's taking over for Paul Fenton, who was definitely "bad crazy." Where Fenton emerged from his office out of breath and in a full sweat after trading for Kevin Fiala, his predecessor, Chuck Fletcher, was always composed when operating the Minnesota Wild.
Even after miserable playoff losses to the dynastic Chicago Blackhawks, Jake Allen and the Blues, and the former North Stars, Fletcher calmly sat at the podium and would maintain that the system worked and his team was one step away from breaking through.
Fenton? He would have been sweating like Ted Striker trying to land a jumbo jet.
What I mean by "bad crazy" is an executive who has an uncontrollable id. Someone who has trouble controlling their impulses. Someone who is too focused on winning today and loses sight of the big picture.
The coach is the person who is supposed to be focused on that day's game and doing whatever they can to win. The general manager needs to see how the team eventually becomes a contender.
That's not to say that you can't be "good crazy." A general manager needs to have some irrational confidence in himself. Very few teams actually become bona fide contenders, and it's harder to do so here when Minnesota isn't a free agent destination like New York, Los Angeles or Miami -- or Toronto and Montreal in hockey.
Rick Spielman appeared to be "good crazy" until he signed Kirk Cousins to an extension. "Trader Rick" is a term of endearment. Derek Falvey and Thad Levine appeared to be nuts when they fired local legend Paul Molitor and went all in on modern analytics, but the Minnesota Twins are a winning team now. People love Falvine.
Tom Thibodeau bringing back all his former Chicago Bulls players, however, when he was the coach and GM of the Minnesota Timberwolves? That's bad crazy. Playing all his starters 40 minutes a night? Bad crazy. Using his defense from 2010 in 2016? Say it with me: Bad. Crazy.
I get that I'm using a basketball reference in a hockey article, but bear with me. Thibodeau was good crazy, a borderline genius, in Chicago. He built a modern defense from scratch while with the Bulls, helped develop players like Derrick Rose, Jimmy Butler, Taj Gibson and Loul Deng into superstars and turned the Bulls into a winner for the first time since Micheal Jordan left in 1996.
Bringing all those guys back, most of them on the wrong side of 30, after he had played them absurd minutes in Chicago? That's nuts. It just is. It's not going to work.
So I get the hesitation when Bill Guerin dials up Pittsburgh Penguins GM Jim Rutherford. He was the assistant general manager in Pittsburgh before taking the Wild job, I get it. He knew they wanted Jason Zucker, has a good idea of what a healthy Nick Bjugstad can be and the veteran leadership Nick Bonino brings.
The Penguins are a great organization. Guerin needs to rebuild the Wild on the fly. Most GMs will probably start in a place where they are most familiar.
Hell, Fletcher was the assistant GM with Pittsburgh before coming here, and he had a good run with the Wild. The irony with him is his red phone must have crossed wires, because his dialed Buffalo, and Minnesota ended up with washed up ex-Sabres like Thomas Vanek, Jason Pominville and Matt Moulson under his watch.
Fenton had David Poile on speed dial, and while there's a hipster "pro-Fenton" crowd who loves him now that he's gone, his methods would have ultimately been destructive.
Dealing Mikael Granlund for Fiala straight up worked out, but it was highly risky. Most GMs would try to get a third-rounder in the deal as well. As talented as Fiala is, and he truly is a game-breaker, he was placed under a lot of pressure immediately and might have needed a change of scenery before breaking out.
The Wild got lucky.
Everyone thought that trade was reckless at the time. Don't second-guess yourself: Those kind of deals rarely work out. And for every edge of the roster type guy Fenton scooped up like Brad Hunt, there's an Anthony Bitetto. Ultimately, there are only so many good ex-players who are available for a GM to pick up on his former team.
I don't mean to focus too much on Fenton here. Nor am I suggesting that Guerin is just another Fenton -- he's not. His aggressive methods should be applauded. This team needs an overhaul, and they need to act fast in order to capitalize on potentially having three dynamic forwards -- Kirill Kaprizov, Marco Rossi and Fiala -- and one of the best defensive corps in the league.
If anything, Fletcher's fault is that he didn't show enough urgency when the Wild got Zach Parise and Ryan Suter in free agency. He should have hired a veteran coach, dealt some of his prized prospects for an impact player in his mid-20s and gone all-in right away when Parise and Suter were still in their prime.
But it's hard not to see all these ex-Penguins and think a bit about the TimberBulls. Or whatever the hell Fenton was doing here.
Trading for Victor Rask without scouting him is bad crazy. Getting value for Zucker, bringing Bjugstad home and otherwise shaking up a stale roster is perfectly rational. But Guerin is acting fast, and we're going to learn a lot about him and his methods quickly. There's no "tweaks" this time around.
Without the ability to peer deep into his soul, we'll just have to trust that he's the right kind of crazy to turn things around.