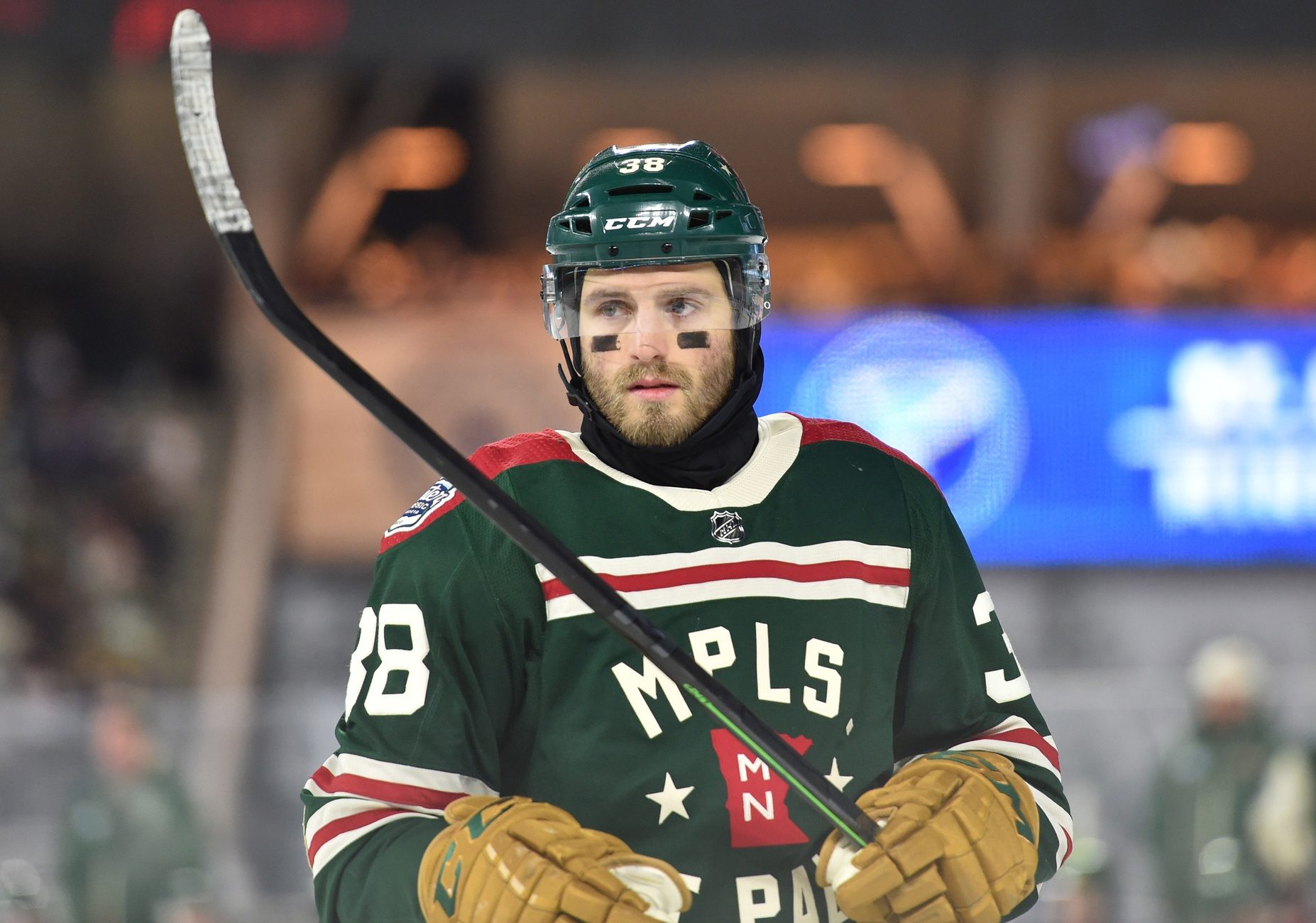 The Wild will have to make tough decisions shortly. The NHL salary cap won't be increasing anytime soon, and they already have the Zach Parise and Ryan Suter buyout penalties looming. Money is tight, so Bill Guerin will have to get creative as he navigates these roadblocks. However, the Guerin administration has given fans no reason to doubt his team-building abilities.
When he got the job in 2019, Guerin inherited an underperforming, veteran-heavy roster that seemed past its window of contention. Two-plus years into his tenure, the Wild are younger, tougher, and faster than ever. Guerin's ability to sign players to bargain contracts is one of the driving factors behind Minnesota's success.
This week, The Athletic's Dom Luszczyszyn published his 2021-22 GSVA player cards, combining traditional hockey cards and statistical analysis. GSVA stands for Game Score Value Added, or how many wins the player is worth throughout an 82 game season? Dom admitted that his model, like any other, isn't perfect. The player cards can still serve as a valuable tool to contextualize the Wild's successful start to the season.
Let's look at some of Minnesota's key contributors and how their actual values match their market values. (NOTE: Only players considered "starters" have cards, so no Matt Boldy, Jordie Benn, Rem Pitlick, Calen Addison, etc.)
Ryan Hartman
Let's start with Ryan Hartman. He signed a team-friendly three-year extension to stay in Minnesota late last season. Little did Guerin (and perhaps Hartman himself) know, the extension would become one of the best value contracts in the NHL the following season. Luszczyszyn's model estimates that Hartman's performance has a market value of $7.3 million, well above his actual annual value of $1.7 million.
Hartman leads the team in goals and is second in GSVA score behind Kirill Kaprizov. The model projects him to slow down a decent amount, eventually scoring 25 goals and 30 assists this season. But that's what projection models do: They should be skeptical of a player massively outperforming their previous seasons. Even if Hartman's numbers regress slightly, he's still worth much more than $1.7 million.
Kirill Kaprizov
Some thought $9 million was too much for Kirill Kaprizov when he signed his monster contract last offseason. They would be wrong. With an estimated market value of $12.6 million, Guerin's patience in contract negotiations this summer was entirely worth it. Despite a slow start to the season by his standards, Kaprizov is back on track and looking at a potential record-setting 100-point campaign. He impresses us by doing something only the exceptional players can do each night. Wild fans waited a while for a player of his caliber to come along. Kaprizov is proving to be worth the wait.
Joel Eriksson Ek
Minnesota inked Joel Eriksson Ek to an eight-year extension last summer, the first in franchise history. It's proving to be another masterful contract from Guerin. The shut-down Swede is as reliable as they come defensively. His offensive game has also grown by leaps and bounds in the last year and a half. Eriksson Ek's 82-game projection sits at 29 goals. His market value is sitting at $8 million right now, so a cool $5.3 million for the next seven seasons is an easy price to pay for a Selke-caliber player.
Marcus Foligno
Not only is Marcus Foligno an emotional leader and locker room presence for this team, but he's also an incredibly skilled player. Foligno may have been an afterthought on previous Wild teams, but not this season. He'll likely obliterate his previous career-high in points this year, needing only four more with more than half a season left.
Luszczyszyn's model is a believer, too, projecting him for a 29-goal, 26-assist season. He also is posting some fantastic defensive numbers, some of the best in the league among all forwards. Foligno is a symbol of what this Wild team is all about: passion, hard work, and integrity. Oh, and with a market value of $8.4 million against his $3.1 million salary, Luszczyszyn estimates him to be worth almost triple his annual value.
Who's not living up to their contract?
It can't all be sunshine and rainbows for the Wild, however. They have three players with an estimated market value below their actual value.

Victor Rask, who despite being serviceable when called upon this season, appears to be on his way out after this season.

Cam Talbot, whose early-season struggles are well-documented.

Matt Dumba, who may be the most likable personality in the entire organization.

With his $6 million contract (on $4.9 million market value) expiring at the end of next season, Dumba could likely be one casualty of the Suter and Parise buyouts. The buyouts will account for nearly $15 million against the salary cap beginning in 2023-24, making an extension that much more difficult. Dumba is an outstanding personality who has shown flashes of brilliance during his career. Losing him would be difficult to stomach for many fans, but it may be necessary to stay within the constraints of the salary cap.

 

Per Luszczyszyn's model, the Wild "starters" have a combined market value of $106.2 million, well above the league salary cap of $81.5 million. The model isn't the end-all, be-all, but it illustrates just how savvy most of Guerin's negotiations have been. He will need to continue finding similar value as he navigates the next three years of buyout-induced cap hell. At least so far, his track record suggests he can do precisely that as the Wild move into the future.