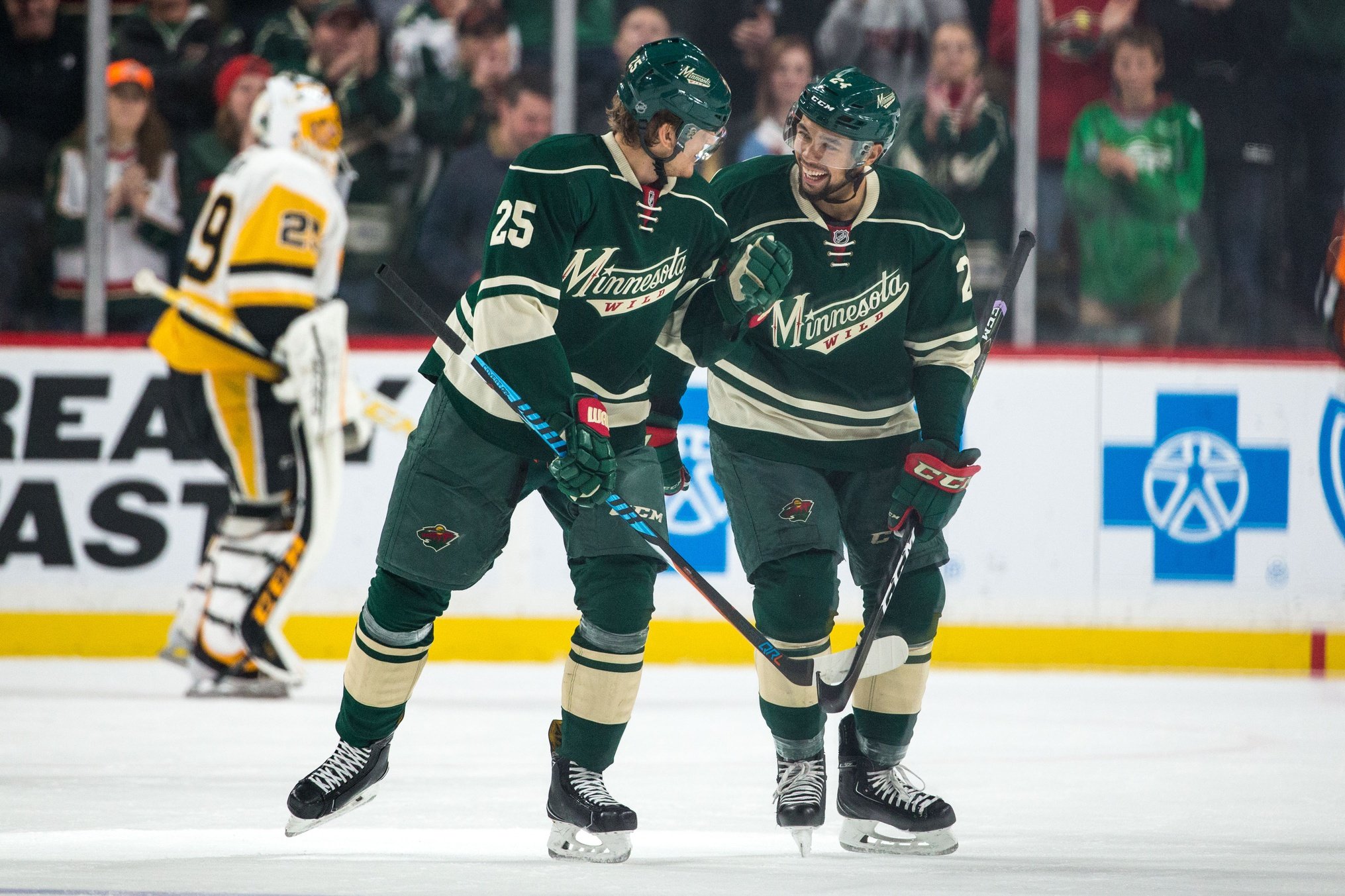 Trade rumors were loud across the league about the Minnesota Wild's Jonas Brodin and Matt Dumba this season. Prior to the deadline The Athletic mentioned Brodin's name as a player that could have been moved. Matt Dumba was reported by Michael Russo as garnering interest from the Carolina Hurricanes. The NHL trade deadline came and went without either player getting moved.
But when there's smoke, there's fire. Just ask Jason Zucker.
Trading one of Dumba or Brodin this offseason makes a lot of sense. Bill Guerin feels it necessary to acquire a first line center, and the two defensemen are arguably his best trade assets. And with the Seattle expansion draft threatening to take one of them anyway, the writing seems to be on the wall.
Regardless of which one gets traded, it will most assuredly leave a gaping hole in the Wild's defensive corps. The Wild currently boast a top four that resides within the top 31 of all defensemen in goals above replacement the last three seasons. Led by Jared Spurgeon at No. 6, Jonas Brodin comes in at No. 14, followed by Ryan Suter (26) and Dumba (31) according to Evolving-Hockey's GAR models for defensemen over that time span. The Wild certainly don't want to move either defenseman if they didn't feel that they could fetch a nice haul.
The question then becomes, "How do the Wild fill the void in the top four?"
The leading candidate in the clubhouse is Carson Soucy. Soucy had a breakout season in his own right in 2019-20. He played 55 games, scored seven goals and tallied seven assists. Seven goals doesn't jump off the page, but he did find ways to wrinkle the twine despite logging 15:38 per game. Soucy's points per hour ranks fifth on the team, right behind Jonas Brodin. His goals against per 60 was also best on the team among defensemen.
Soucy had a solid year where he added some offense and played strong defense. However, he's just shy of 26 years old and hasn't played a full season in the NHL. And there's a huge difference between playing 16 minutes a night on the third pair to playing 21 minutes on the second. Tasking him with replacing Dumba or Brodin is asking a lot from the former UMD Bulldog.
Also on the roster are veterans Brad Hunt and Greg Pateryn. Brad Hunt had a strong start to the season and found ways to impact the offense. Hunt rode that start for third on the team in points per hour, while firing a little under two shots per game. He was successful in a role that included his shot on the power play, and limited his 5-on-5 minutes.
For Pateryn, he didn't produce or drive offense. Now, that's acceptable if you're able to be solid defensively, but Pateryn was not. Pateryn was worth -0.9 GAR this season, the worst defenseman on the Wild, and second-worst on the team.
[caption id=attachment_66388" align="alignright" width="421]

Courtesy of Evolving-Hockey.com[/caption]
Past the players already on roster, the Wild would probably look at their options in the system.
Brennan Menell had a strong season in Iowa that saw him make the All-AHL team. He's been a producer for Iowa for the past two seasons, following a 44-point campaign with this year's 47. An undrafted free agent out of Woodbury, Minnesota, Menell has shown his ability to rack up points with good vision, and an ability to sneak in from the blue line to get an open shot. 
Menell has had a lot of success at a young age in the AHL. Just four other defensemen in the past five years have scored 47 or more points before their age-23 seasons: Jake Bean, Sami Niku, Christian Djoos and Brandon Montour. And Menell could have easily cracked 50 points if not for a five-game call-up and the season getting cancelled.
The right-shot Menell would make for a logical replacement if Dumba were to get traded. That's a lot to put on a 23-year-old rookie, but it's hard to say he wouldn't deserve that shot.
Louie Belpedio, also a right handed shot, is a good skater and smart defender. The points just haven't come like they have for his fellow Iowa Wild teammate. In his short call-ups with the Wild at the end of the 2017-18 and 2018-19 seasons, he played in only three games, where he tallied two assists. He was largely unnoticeable on the ice. It's good in the sense that he wasn't getting burned, but on the other hand, nothing jumped out other than his skating ability. He just hasn't done enough to differentiate himself from the pack.
Calen Addison is of the same mold of a Menell and a Belpedio in that they're undersized puck-moving defensemen. Though Addison has a much higher offensive upside with top four potential written all over him. It was exactly the kind of acquisition the Wild needed in the Jason Zucker trade to deepen the upper-tier defensive prospects within the organization. But Addison just turned 20 last month, which means he will need more development before handling a top four role in the NHL.
It's one thing to find a player who can fill the minutes once held by a departed Brodin or Dumba. It's another to truly replace one of them. Both are top pair quality defensemen. Guerin might decide that the best way to move Minnesota forward is to trade one of them, and he might be right. But even if his prospects pan out reasonably well, those are big shoes to fill. 
But the Wild do have options. They can go internally. Minnesota could fast-track a first round pick into the NHL like Arizona did with Jakob Chychrun a few years back. Or they could dip their toes into a free agent pool that has some depth to it. It would indeed be interesting to see how they went about this herculean task.
Stats courtesy of Evolving-Hockey.com and NaturalStatTrick.com.