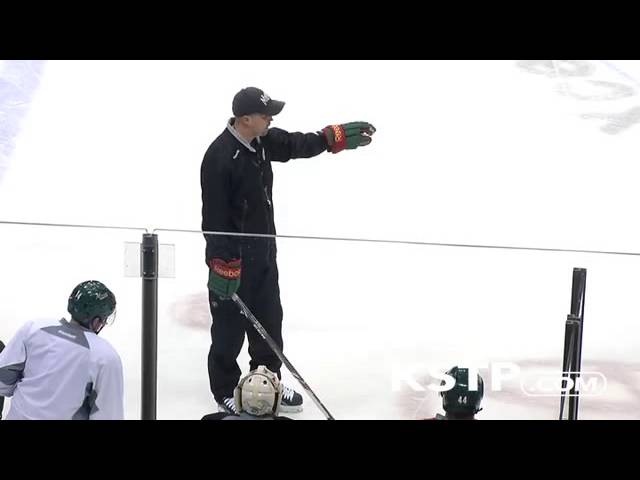 Let's put this to bed.
A year ago at this time, the debate was fast and furious. It was a raging cauldron of hot takes, allegiances and bad opinions on both sides. The Minnesota Wild were mired in a midseason slump, but this was no typical midseason slump. They were three losses into what became an eight-game losing streak, as well as in the middle of a stretch that saw them lose 13 of 14 games from January into February. After their historic finish to the 2014-15 season -- and the best first half in franchise history at the time -- the team was unraveling before our very eyes.
Many called for the job of Mike Yeo, citing the obvious signs that he had lost the locker room, the annual midseason slump during his tenure and the lack of any sustained success. I defended Yeo, saying that he was the man for the job and firing him was the white flag on the season. There weren't better options, and his successes here were enough evidence to let him right the ship.
I was wrong.
I defended Yeo out of nothing more than flawed logic and perceived valor. Like most sane human beings, the constant cycling of head coaches in sports somewhat disgusts me, and in the end, long-term stability benefits a franchise in immeasurable ways. I had heard from everyone who had met Yeo personally that he was the real deal; an exceptional man, an exceptional leader and more knowledgeable than his postgame sound bites would indicate. I bought in on Yeo, with nothing more to show for it than a few good months in early 2015.
Wild fans got to see this team without Yeo. We saw a freer version of this hockey team
The Wild fired Yeo on Feb. 13, and interim head coach John Torchetti ended up leading the Wild to the playoffs, only to fall to the Stars in six games. In the meantime, Wild fans got to see this team without Yeo. We saw a freer version of this hockey team; a liberated squad that used what speed it had, and the offensive talent started to shine through. Jason Pominville re-emerged, ironically enough, and thrived. Mikael Granlund was moved to the wing for the first time and showed immediately more promise there than he had in his years playing up the middle. The Wild may have backed into the playoffs and been knocked out instantly, but the signs were there. Yeo had been hurting this team.
Yeo had been hurting this team.
Before his firing, I defended Yeo and his system; the suffocating, Lemaire-like defense that kept scoring down and the punchless Wild in more games than they may have otherwise been in. I thought a team constructed with good defensemen and a slew of two-way forwards was a good fit for a defense-first type of system, and that what we were seeing offensively was as good as it got for those players. I was lulled into accepting mediocrity by Yeo and his ways.
Fast forward one calendar year and we're in a very different place. The Bruce Boudreau-led Wild are on top in the Western Conference, while Yeo is taking Ken Hitchcock's job behind the bench for the Blues after they've hit a horrific -- wait for it -- midseason slump.
Boudreau's arrival for the Wild has brought many things. Mostly notably, sustained success. But also, underlying numbers that tell you that not only is the success real, but the talent was there for this team all along, just waiting to be found. The Wild went from a boring and predictable team to a team that can play firewagon hockey with the best of them, and somehow still manage to come out on top at the end of the game.
Last season, the Wild finished 12th in the NHL in 5-on-5 Scoring Chances For Percentage, after finishing 23rd in Scoring Chances For and fifth in Scoring Chances For. Not a bad effort, finding the middle of road by being pretty good at something and pretty bad at something else.
This season it's a different story, as the Wild are 16th in Scoring Chances For, but first in Scoring chances against, and actually, it adds up to them being the best team in the NHL at Scoring Chances For Percentage at 5-on-5. What does that mean? Well, it means the Wild still have an incredibly talented defensive team and could afford to free them up offensively and still remain equally as effective, to the point where the whole picture benefits greatly.
Boudreau has unlocked some offense from players that had almost been given up on, and with the slight adjustment of essentially trading Thomas Vanek for Eric Staal, the resulting ripple effect has seemingly made everyone up and down the lineup better, by keeping Coyle and Granlund locked in as wingers.
Speaking of Coyle and Granlund, Boudreau seems to have unlocked the potential of not only them, but seemingly every other young player on the team this season.
Shortly after Yeo was fired, I wrote about how his inability to develop his youth was eventually a huge reason for his downfall. I took a look at the point production of the nucleus of young players the Wild boasted, and came up with some pretty sad results:

My argument was that the proof was right there in front of us; that Yeo wasn't great at developing talent, nurturing offense from young players. A half season into the Boudreau era, and let's see how the numbers shake out now:

That's pretty impressive. Now, small samples sizes are definitely at work here, but for an interesting exercise, compare the 2015-16 numbers posted above at the time of Yeo's firing, compared to their full-season counterparts below. Then also notice the improvement under Boudreau in 2016-17 as well.
Boudreau's offensive reputation is pretty accomplished, but it often goes overlooked how good his teams have been defensively. When you have Alex Ovechkin, Nicklas Backstrom and pretty shoddy goaltending and follow that by coaching Getzlaf, Perry and company with mostly shoddy goaltending, it's easy to see where those kind of misnomers come from. It's a phenomenon with Boudreau that I outlined this summer and something that smart Wild fans having been picking up on all season long.
Now these are the simplest of stats that I've cited here, and they shouldn't be the be-all, end-all for arguments concerning Boudreau's success here, as certainly Devan Dubnyk's season has had much to do with that as well. Also, drawing conclusions from a half a season of play is what got me into the mess of defending Yeo in the first place. But the numbers are, what the numbers are, and along with the that, there are several other factors that lead me to believe that not only is Boudreau perfect for this team now, but Yeo was wrong for this team then.
The most incriminating for Yeo might be this team's ability to come back after allowing a goal. In seasons past, the Wild were doomed to a loss upon allowing the game's first goal, seldom to come back to tie, let alone win, and comebacks from multi-goal deficits were very few and far between. Now, we see that the Wild lead the league in wins after allowing the first goal, and the difference in demeanor in the team after allowing that goal is very, very noticeable.
Yeo always seemed unsure of himself, not only in interviews and also in the coaching decisions that he made. It seems to me that lack of confidence reverberated with the team on many nights, and aside from Darcy Kuemper's own mental issues at the end of 2015 that have lingered, the team seems to have shaken that persona. Instead, the team does seem to have taken on Boudreau's personality when facing adversity, responding to goals with a shrug, a few choice words and immediately getting back to putting their nose back on the grindstone.
This may be an unfounded and false observation by me, but I think there's enough evidence there, statistical and otherwise, to back it up.
All of this has an added level of intrigue as Yeo was named the head coach of the Blues this week. Yeo has an uphill battle in front of him for sure, and hopefully for his sake, he learned a great deal from his mistakes with the Wild. I don't want this to be confused, I do not hate Yeo, and I don't wish ill of him. But after a full year after his departure, I feel very comfortable in saying that the Wild moving on from him was absolutely the right move made at the right time, and for the right reasons.
The Boudreau-led Wild have been a revelation so far this season for their fans, and I don't expect that to change overnight. While there's still a lot of hockey to be played, it's clear to everyone that this is a different hockey team, and that's an exciting thing. While I and many other may have been wrong about Yeo, Boudreau and the team have done a fine job of erasing those memories rather quickly, and that's a beautiful thing.