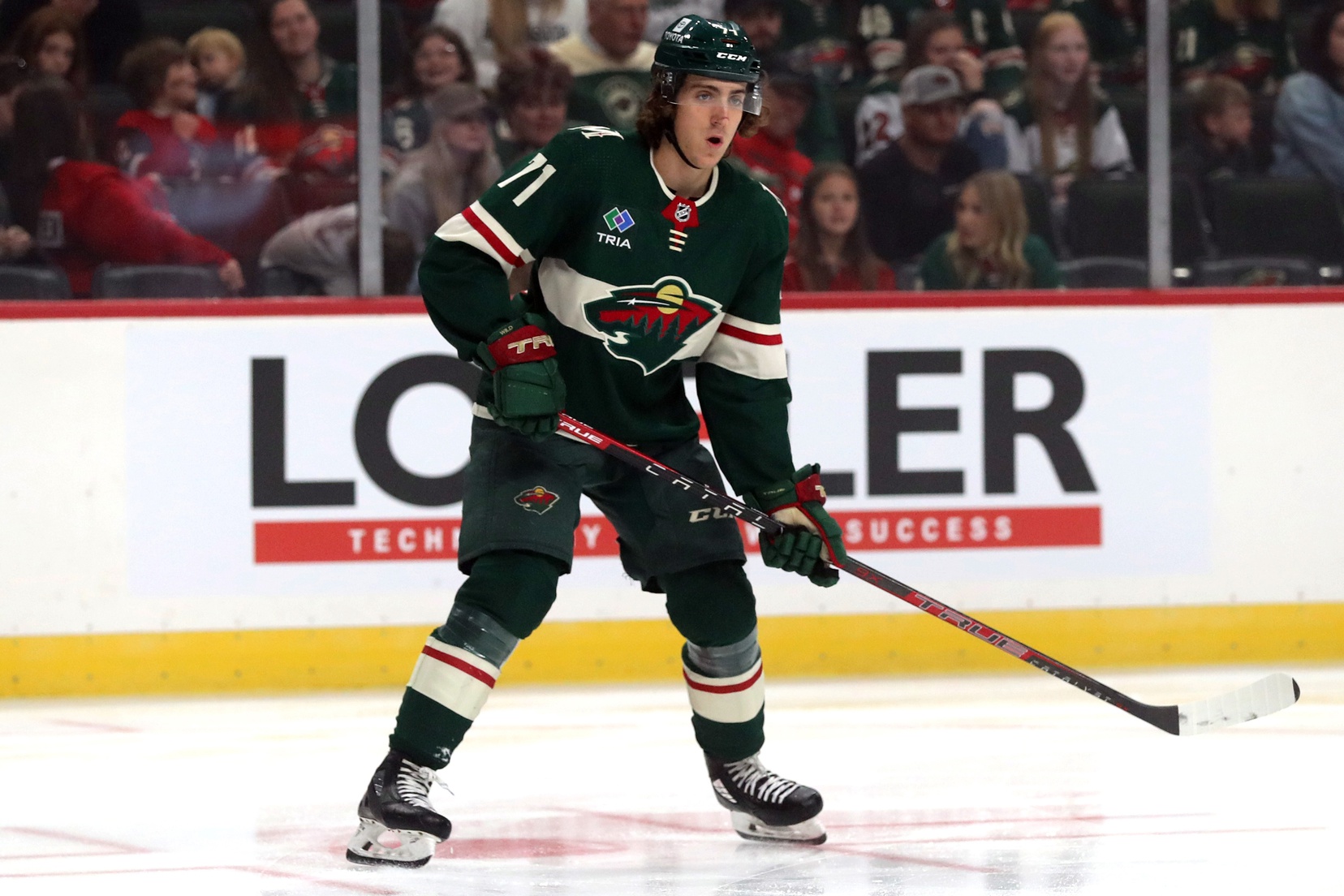 Image courtesy of © Bruce Fedyck - USA TODAY Sports
While there is a lot of focus on youngsters like Brock Faber and Calen Addison on the blue line, there is a bigger storm brewing down I-35. The Iowa Wild just hired a new head coach Brett McLean. Dean Evason's former assistant takes over behind the bench, replacing Tim Army. A new era of Iowa Wild hockey is upon us, and with that comes a defensive facelift. 
Last season, Joe Hicketts and Dakota Mermis were the two leading scorers with 48 and 26 points, respectively. Hicketts is off to Los Angeles, but Mermis is back on the team as an alternate captain. There was a trio of youngsters who complemented those veterans this past season. They helped lead a group that tied for 10th in goals against in the AHL last year.
Simon Johansson, 24, had 14 points in 62 games in his first season with Iowa. It was the defenseman's first season in North America, and his play was satisfying, if not solid. Ryan O'Rourke played in his first full season (67 games) with the Iowa Wild after captaining the Soo Greyhounds in the OHL. 
O'Rourke plays a physical game and doesn't offer much offensively. The Ontario native had zero goals and nine assists on the year. Daemon Hunt was another rookie in the AHL. Pundits have lauded Hunt for his skating ability and hockey IQ, and that showed. The big club is a big fan of his, and he'll look to refine his skills this season in Iowa.
That trio is more well-known for their physical games and is looked at as "defense-first" types of players. The trio that is arriving this season? 
Not so much.
Carson Lambos, David Spacek, and Kyle Masters are all offensive guys from the CHL who will look to translate their scoring touch to the AHL. 
Lambos landed at No. 7 in the Hockey Wilderness prospect rankings. His game is more balanced. He also has a superb defensive game. Lambos was Minnesota's first-round pick in exchange for Jason Zucker. 
Masters is coming off of injury, but he should be healthy by the time the season starts. Masters, who played for the Kamloops Blazers was injured in the Memorial Cup final and had to be stretched off the ice. When he was on the ice, Masters was a single point shy of being a point-per-game player (65 in 66). Spacek was a star in the international tournament for Czechnia and was also just a point shy of being a point-per-game player last season in the QMJHL. 
The Wild have signed all of the players above for the next two seasons except for Mermis and Johansson.

McLean is excited to work with all of these young players. "I know the way Bill Guerin and Dean Evason, and everybody wants our players to play," McLean said. "I've been in those meetings, and I really feel like that can help our players down there."
But exactly how will McLean deploy them? 
There is an odd man out here. There are seven guys, and potentially more, with other AHL signings and tryout guys, who all need a spot in the Top-6. Mermis, O'Rourke, Hunt, and Johansson all have experience and deserve playing time. Lambos, Spacek, and Masters add something that the defensive core lacks. 
You also have to consider handness. The Iowa Wild have three righties in Spacek, Johansson, and Masters. However, the other four shoot left-handed. That may not matter to the new head coach, but it's something that may affect how he deploys lineups. In a perfect world, you'd have three righties and three lefties. In the NHL, there are more lefties, that's why the right-shot defenseman is so valuable. 
It would be a long shot for any of these players to make the NHL roster. Mermis has 27 games under his belt in the NHL, and no other player has any. Lambos is the high pick and the most complete prospect. There are a lot of mouths to feed and limited spots on the ice. 
My prediction for how they will distribute playing time is as follows: 
Let Mermis and Hunt lead the defensive core as the top guys.

Play Johansson and O'Rourke because they have experience.

Play Lambos and Spacek in sheltered roles at first to allow them to warm up to the game.

Let Masters completely heal and have him fill in for injuries or poor play. 
A potential core with that plan: 
Hunt - Mermis 

Johansson - Lambos 

Spacek - O'Rourke
Let the experienced guys hold down the fort while the new guys get moved in. It seems logical to me. Only time will tell if that's the path they choose to follow. 
That may not be the plan that Iowa puts into place. But the Wild needs to develop their defense, and Spacek, Lambos, and Hunt are the three most important pieces. The Wild may want to go all-in on Lambos and give him premier minutes immediately. He's their prospect with the best shot to be a Top-4 defenseman. Those three guys all have legit NHL potential, and the Wild should do what they can to foster their development. 
Oh yeah, this core will also have the best goaltending prospect in the world, Jesper Wallstedt, between the pipes. That doesn't hurt. 
While the Iowa Wild defensive core got a lot younger last year, it got even younger this year. How will they fix the log jam on defense? We'll see. Armed with a new head coach, fresh faces, and a rising goalie, this team should be a lot of fun to watch this next season.
4