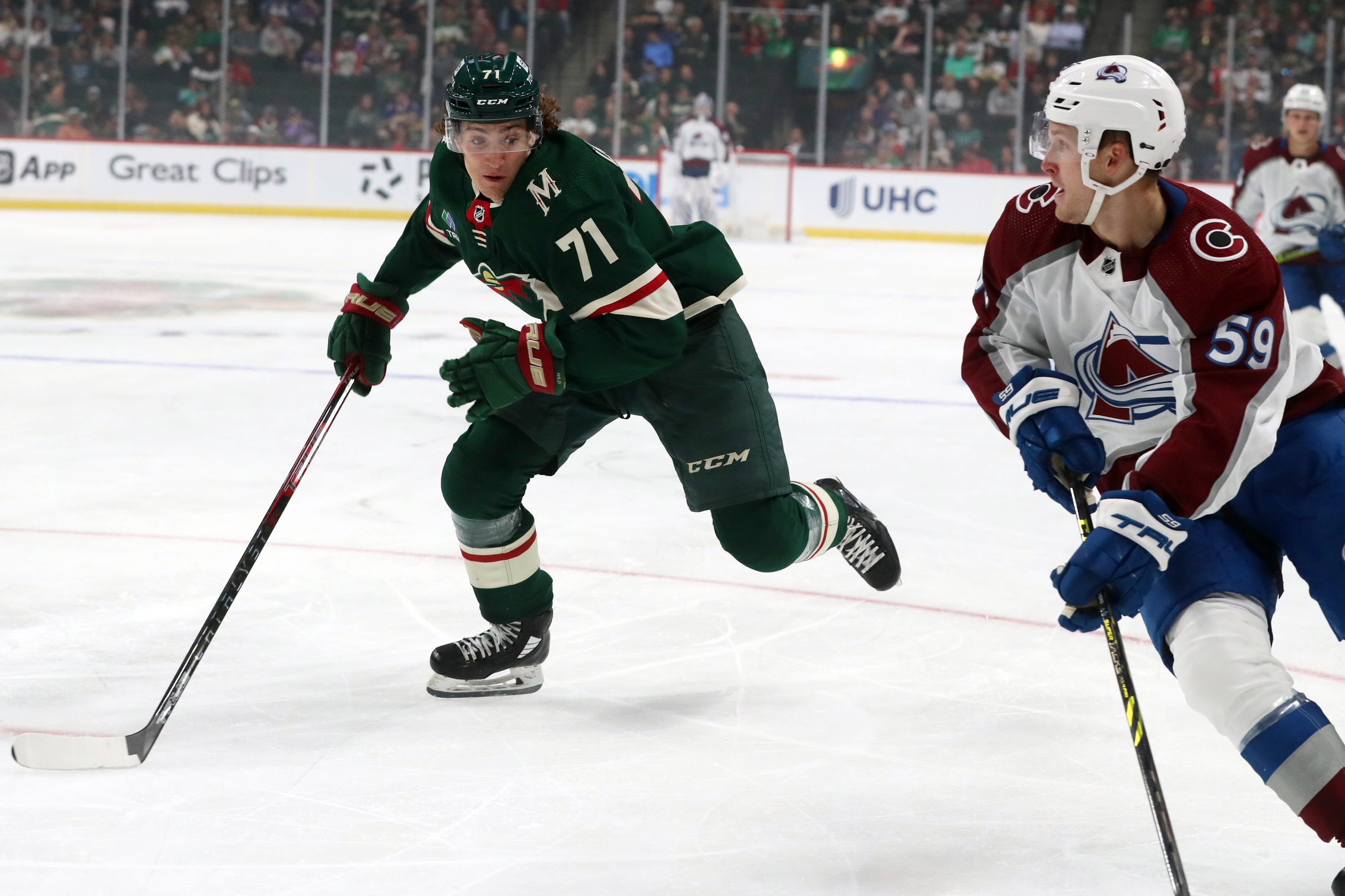 Image courtesy of © Bruce Fedyck - USA TODAY Sports
Hockey Wilderness is counting down the Minnesota Wild's Top-10 Prospects, as voted by our staff. Today, we give you everything you need to know about our No. 7 prospect, Carson Lambos.
It isn't a secret that the Minnesota Wild's blueline is undersized. It's also true that most Wild defensemen are also starting to age, even if they are still playing like they're in their prime. The good news is: their increasing age won't be a problem with defensive prospects like Carson Lambos coming down the pipeline.
Lambos has been able to battle back despite shortened seasons, injuries, and other health problems. Somehow, his setbacks haven't hampered his progress as a player. During training camp in 2022, many people expected the Wild to cut Lambos after the second preseason game. However, he impressed the coaches so much that they rewarded him with one more game before sending him back to the WHL's Winnipeg Ice. In an article in the Athletic, Dean Evason said they "liked the way that he's progressed, how aggressive he's played, how confidently he's played, so we (wanted) to see him again."
The Wild used their first-round pick on Carson Lambos in 2021, and it's easy to see why. Lambos is a shut-down defenseman who tries to model his style of play after Jonas Brodin. As Wild fans know, Brodin is a criminally underrated player. If Lambos can develop into any sort of Brodin-like player in the NHL, he'll be a great addition to the Wild. 
Hopefully, Lambos can get a bit more recognition than Brodin due to some of Lambos's flashier skills. One of those would be his ability to walk the blue line. It might not be equal to John Klingberg's blueline walk. But it's impressive, and he's got time to improve it even more.
Lambos has shown he can put up points while playing for the Winnipeg Ice for the past two seasons. During the 2021-22 season, he had 47 points (10 goals and 37 assists) in 51 games. In 2022-23, he came away with 48 points (12 goals and 36 assists) in 61 games. While the plus/minus rating is an imperfect stat, it is impressive to note that Lambos was +42 and +60 in the past two seasons with the Ice.
Two things are obvious watching some highlight clips of Lambos. The kid has a great set of hands and an uncanny ability to take the puck for a walk. While he doesn't score in the clip in the tweet below, it's still impressive. Lambos can carry the puck end to end, dancing through a gaggle of opponents waiting for him on the blue line. 
Here's another video from 2019 showing Lambos doing almost the same exact play but scoring at the end.
During the 2023 Wild Prospects camp, Lambos showed his ability to dance around opponents.
Lambos can put all of these skills into practice at the pro level in Des Moines this year. At 6-foot-1,197 lbs, Lambos is a similar size to Brodin. While he could push around plenty of opposing players in the WHL, Lambos will need to get used to the bigger size of professional players. 
Brett McLean will be coaching the Iowa Wild next season, and in an article in The Athletic, he talked about how calm Lambos was on the ice. He mentioned that Lambos has "got offensive gifts and instincts as well. He'll be an all-around, very solid defenseman. The fact he can play and handle all the best players is a real good quality."
Overall, Lambos will need time to develop in Iowa, but he's already a strong defenseman with an exciting future on the Wild blueline. His biggest hurdle to joining Minnesota might just be waiting for some of the other defensemen to either retire or sign with other teams. But once he's with the big club, he's got the potential to be a top-four NHL defenseman.
2