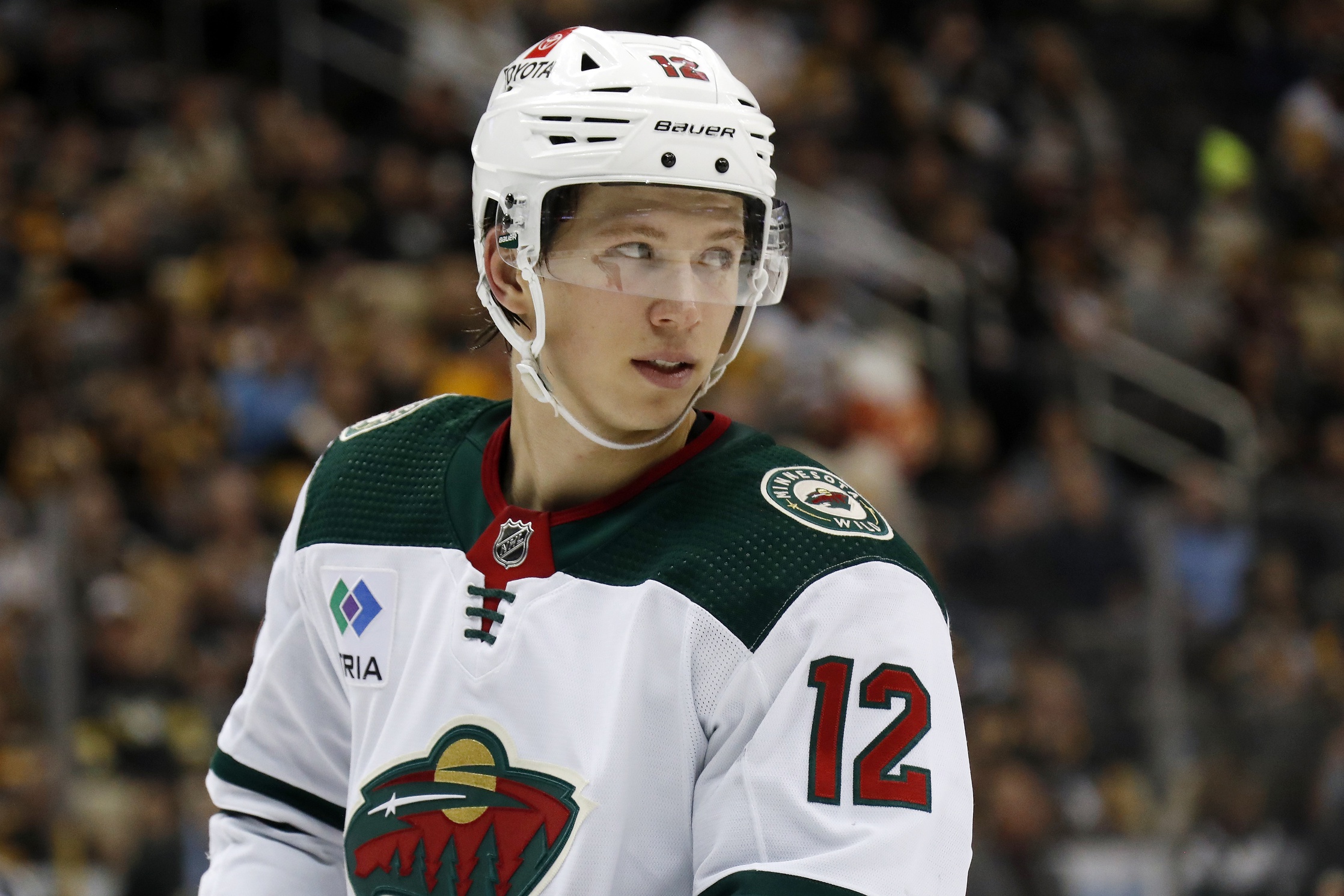 Image courtesy of Charles LeClaire-USA Today Sports
In the opening minute of The Wolf of Wall Street, infamous white-collar criminal Jordan Belfort recounts, "The year I turned 26, I made 49 million dollars. Which really pissed me off because it was three shy of a million a week." Perhaps Matt Boldy feels the same about his own $49 million contract last signed in January. He hasn't even played his first game under it, and it's already turning into a steal for the Minnesota Wild. 
Dom Luszczyszyn of The Athletic ranked the top ten contracts in the NHL, and Boldy's deal landed in fifth place. The formula he used to determine "most valuable" was heavily dependent upon his analytical models, which incorporate points, shots for and against, shot danger based on the location of those shots, shot-blocking, faceoffs, and many other factors. After all the fancy math, the model judges Boldy as worth over $11 million per year. 

At just 22 years old, it's hard to imagine a world where he doesn't keep getting better from here. Boldy made his NCAA debut at the age of 18 and jumped to the AHL after finishing his sophomore year of college. He outgrew the AHL and debuted in the NHL at the age of 20. Even for a first-round prospect, it's rare to become an established NHL player in the third year after the draft.
Boldy did more than establish himself. He dazzled. Over his first 128 NHL games, Boldy has scored 29 goals and 65 points per 82 games. Coming into his third season in the NHL, he should be able to easily out-do that rate. 
Even now, though, an $11 million-dollar man is a true franchise forward. which puts Boldy at a similar value to players such as Nikita Kucherov. This is a shocking comparison, which is partially dependent upon the 30-year-old Kucherov's slight decline with age.
If it still sounds like an exaggeration, note that Boldy's defensive game helps to buoy him into elite company. Most players in their second season are a liability on one side of the puck or the other, but not Boldy. He is the rare 22-year-old with a true 200-foot game. On top of that, he's dynamite on Minnesota's top power play unit and contributed average results in a short time on the penalty kill. He's even chipped in on the faceoff dot with a 55.4% success rate. 
How does Boldy accomplish all this? It boils down to two superpowers: He never gives up the puck, and he has a nose for the net. Both of these are evident in the below player card from HockeyViz.

At both 5-on-5 and on the power play, Boldy plays in such a way that he or his teammates take far more shots from inside the home-plate area. Boldy also maintains Minnesota's reputation as a team that gives up very little from the middle of their defensive zone. HockeyViz' "setting" statistic shows that Boldy's passes deliver better-than-expected shooting percentages. When you see him play, this all makes sense -- Boldy makes responsible choices with the puck on his stick, and he drives to the dirty areas whenever possible. 
What's especially interesting about this card is that it's from the day the contract was signed, not today. Shortly after signing his $7MM x 7-year deal, Boldy went on a scoring tear, potting 19 goals and 15 assists over the final 39 games of the season. Much of this came with Kirill Kaprizov out due to injury, meaning that Boldy was the focal point of opposing defenses. 
Luszczyszyn credits the timing of Boldy's deal as part of the reason it came as such a steal. The Wild buying low played a factor in the deal, but there's more at play here. Joe Smith paraphrased Boldy's agent Brian Bartlett that there was risk Boldy ends up underpaid in the end, so it's likely that this wasn't the whole story. If Bartlett acknowledges the possibility of becoming underpaid, it's tough to argue that Minnesota's front office tricked him into this deal. 
As Bill Guerin has said ad nauseum with regard to working out contracts, "it's a negotiation." In other words, Minnesota gave up something in return for this deal. Specifically, they gave up short-term cap flexibility over the next two years, a time where they could have used an extra few million dollars the most.
While Boldy may produce like an $11 million player, he could only get that money on the open market. Before signing his seven-year deal, Boldy had several years of Restricted Free Agency in which he could only sign with Minnesota. During these years, players get paid far below market value because they have no leverage aside from a holdout. 
Minnesota had the option to sign Boldy for cheap during these years and then extend him once he hit his prime. Instead, they gave Boldy his pay day early, allowing them to spread the cost savings out for the entire life of Boldy's seven-year deal. Minnesota prioritized Boldy's deal so they would have an idea of their post-buyout world. This contract provides them with cost certainty during the team's next potential Cup window in 2025-26. 
This is a trend among the other contracts on Luszczyszyn's list. Of the nine other players on the list, eight are 25 or younger, and seven signed extensions lasting six or more years.
The players on these contracts are playing for the Florida Panthers, New Jersey Devils, Colorado Avalanche, Ottawa Senators, New York Rangers, Dallas Stars, and Boston Bruins. The common thread: all of these teams are either starting their competitive window, or are expected to do so in the near future. The only exceptions are Colorado and Boston, who have already hit their competitive window for years. The obvious takeaway here is that smart teams are signing their young stars earlier, and that these contracts are cornerstones for Stanley Cup contenders. 
Minnesota has two similar contracts on the roster in Joel Eriksson Ek and Kirill Kaprizov. While there isn't much room in the next two years to squeeze any more of these deals in, it's something to monitor as Guerin's Wild tenure stretches into the future. With any luck, Minnesota can continue to exploit this cheat code for years to come. 
All data via Hockey Reference unless otherwise stated.
4