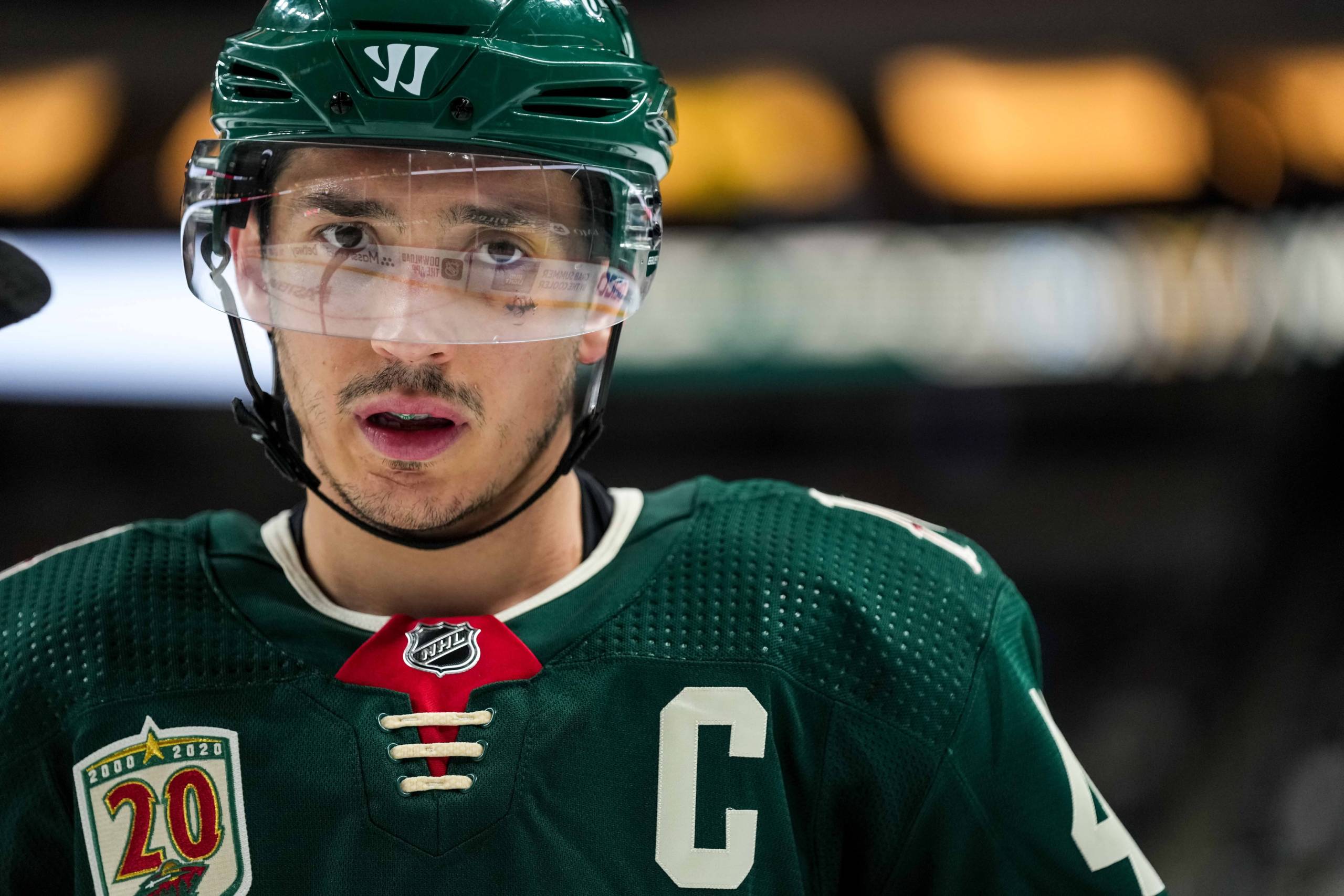 Jared Spurgeon is an 11-year NHL veteran with over 700 games under his belt. His ability to move the puck in transition, score timely goals, and defend the net make him arguably the best defenseman in Minnesota Wild history. He became the franchise's second-ever full-time captain last fall, yet he enters this season in an unfamiliar spot: being the face of the Wild's blue line.
For years that was Ryan Suter, as the $98 million man got the bulk of the press, minutes, and points. Meanwhile, Spurgeon thrived, at first on a pairing below Suter, then later as Suter's partner. Everyone knew about Suter; only the real Wild Heads knew that Spurgeon was his equal.
The relative obscurity kind of suited Spurgeon. He'll retire as a fan favorite in Minnesota with over $80 million in career earnings. Still, it's odd that a player of his stature lasted so long in the league with one team without it truly being "his team." It's only now, at age 31, that we're seeing a blue line with his identity stamped on it. But is that too late?
When Bill Guerin signed Spurgeon to a seven-year extension two years ago, he locked him down until age-36. We all know how aging curves work by this point — players peak in their early-to-mid-20s, then decline slowly until falling off the table sometime in their 30s. There are always exceptions to this, of course. Zdeno Chara was an elite defenseman at 39. There's a term for these players, though: freaks of nature.
Is Spurgeon that? Elite players indeed have a better shot at thriving into their mid-30s. This has less to do with immunity to aging and more to do with them being able to sustain a drop-off and still be productive. To gauge what to expect from Spurgeon going forward, we should compare him to fellow elite defensemen.
So let's do that. Using Evolving Hockey's Skater Similarity tool, here are the nine defensemen who profile most like Spurgeon over the past three years and how they fared for the three years after.

It gets ugly fast. Using Standings Points Above Replacement as a baseline, none of these players were able to retain their value as time marched on. Only two of them — Suter and Mark Giordano — were able to retain even roughly two-thirds of their value. As a whole, this group of nine suffered an average decline of 58%.
Based on this, we can expect Spurgeon to be worth about 2.0 points in the standings per 82 games. Still a good player, but not quite the impact he's previously had, and with the threat of a Marc-Edouard Vlasic-like collapse present. And don't look now, but Spurgeon's posted his lowest SPAR in six seasons. Part of this was shooting percentage driven, but given what we know about aging curves, you have to wonder.

What did the players in this group that aged best have in common? A very good defenseman supporting them. Suter hasn't played fewer than 60% of his five-on-five minutes with Spurgeon since 2014-15 when Suter was 30. Similarly, Mark Giordano, the other success story on here, was helped through much of his 30s by star Dougie Hamilton and high-end supporting player T.J. Brodie.
Does Spurgeon have his own Spurgeon to help him age gracefully? Not yet. After a strong season in Arizona, Alex Goligoski was signed to play that role, but he's now 36. Even if he can help Spurgeon next year, can he keep it going after that? Probably not.
Jonas Brodin could slide up to that role, doing for Spurgeon what Spurgeon did for Suter these past few years. Brodin could provide the defensive support on a pairing, allowing Spurgeon to focus on carrying the puck and creating offense. It makes sense — Spurgeon has a sneaky-great shot and is a good transition defenseman. He probably won't be able to do everything, though, making a defensive caddy necessary. As far as that goes, Brodin's the best there is.
That leaves Minnesota with a potential depth issue going forward. The Wild currently rely on their defensive depth to smother opponents. For 46-50 minutes a night, either Spurgeon or Brodin will be shutting down forwards. If you put them together, that's only 23-25 minutes of elite defense being iced by Minnesota.
What, then, would happen to Matt Dumba, who has excellent chemistry with Brodin? Would that prevent an offensive prospect like Calen Addison from getting Brodin's defensive support to help ease him into the NHL?
If the Wild keep Brodin and Spurgeon separated, though, it's hard to see who else could function in a support role for Spurgeon. Current defensemen Dmitry Kulikov, Jon Merrill, and Jordie Benn can play physically but don't have the transition chops to keep up with Spurgeon.
You may be optimistic about Minnesota's four best left defensemen prospects (Carson Lambos, Ryan O'Rourke, Jack Peart, and Daemon Hunt), but none of them are even 20 years old yet. Yes, Brodin made a splash playing top-pairing at age 19, but his game was uniquely advanced for his age. It's hard to see any of those guys making that kind of impact even in a year or two.
Arguing whether or not it was smart to sign even a fantastic defenseman like Spurgeon until age 36 is moot. What's done is done. This is Spurgeon's blue line now, and Minnesota has to figure out how to ensure it stays that way. Goligoski might be the right Band-Aid for now, but more work has to be done to maximize the value from Spurgeon's contract for years to come.