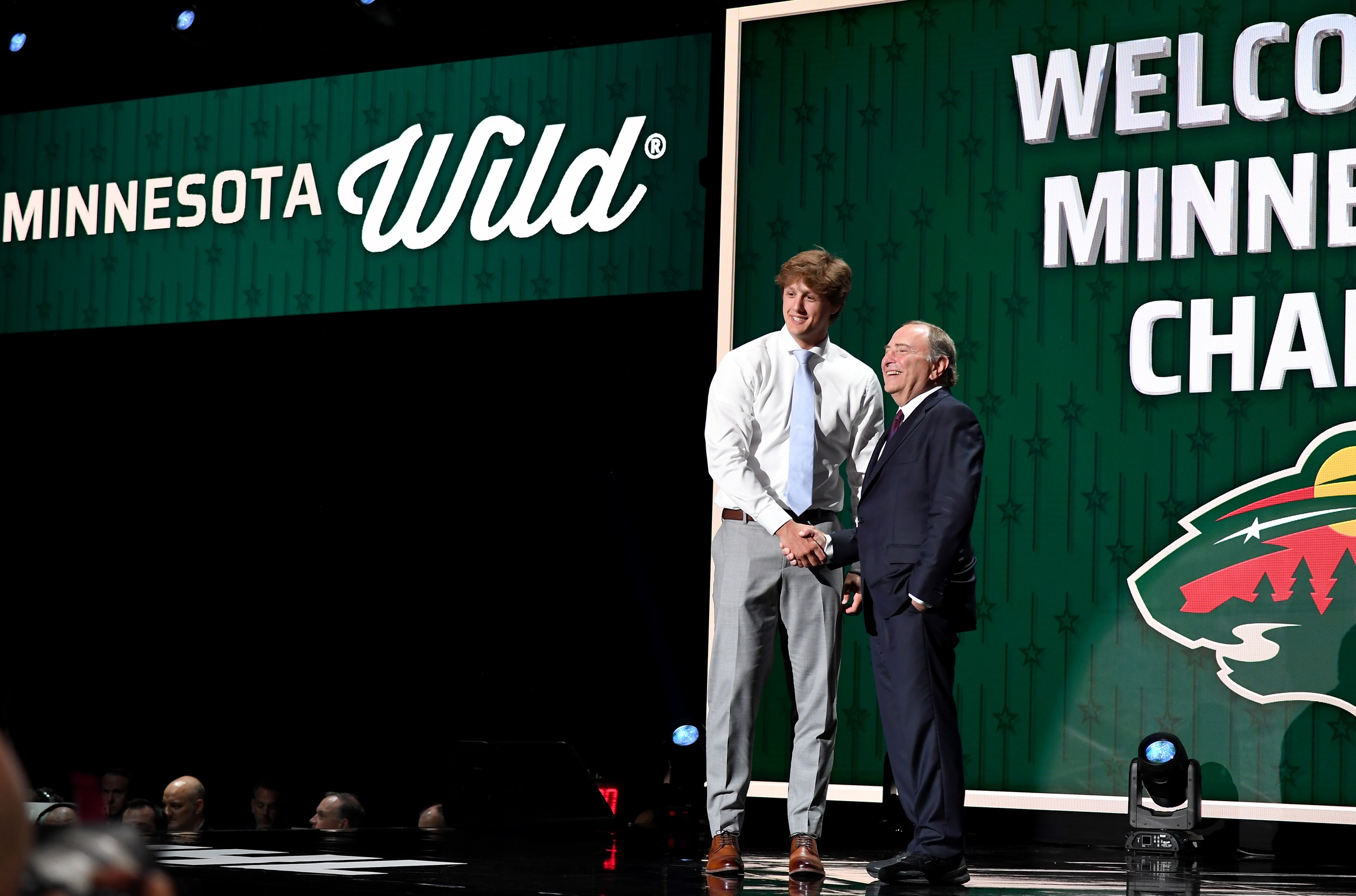 Image courtesy of Christopher Hanewinckel-USA TODAY Sports
When the Minnesota Wild read Charlie Stramel's name at pick No. 21 of the NHL Draft, the State of Hockey's collective reaction was, more or less, "Who?" 
That might be odd for a born-and-raised Minnesota kid, but Wild fans (myself included) were still trying to recover from their rage of the Chicago Blackhawks taking another, more highly-touted hometown hero. At 19th overall, two picks ahead of where the Wild were drafting, the hated Blackhawks scooped up Mounds View's Oliver Moore, because of course they did. I can't say that my initial reaction to the Wild announcing Stramel as their first pick in the draft was a good one. 
I didn't leave it there, though. I took a deep breath and made a call to a trusted friend of mine that played with Stramel before he went to Wisconsin. We are leaving him anonymous at his request, but he glowed about Stramel's potential. According to him, Stramel is an absolute freak and he's convinced we will look back and see this was a great pick.
"He's one of the best players I've ever played with."
Stramel did struggle at Wisconsin, no one is disputing that. But it has to be said that he was facing a plethora of things working against him. Wisconsin was a dumpster fire as a team, playing with no real plan or structure. They were one of the worst teams in the Big Ten and their coach was fired after their putrid performance. He was thrown onto the top line and expected to be a star from the second he stepped on the ice. That's not a good environment for a kid to develop in. Add in a back injury, and you have a recipe for a not-very-successful season as a young freshman adjusting to the college game. 
Scoring just 12 points in 33 games is tough, but he's hardly the first Wild player to struggle to adjust to the NCAA. If you'll remember, Matt Boldy had an extremely slow start out of the gate at Boston College, with just six points in his first 20. His play was alarming and he had minuscule point totals, but eventually, he figured it out and went on a tear. This was also on a team with much more structured and talented than Stramel's Badgers. That better position no doubt helped Boldy develop and rebound for a successful second half. 
Look past last year's stumble, and you'll see there's much more to Stramel than meets the eye. But don't take it from me.
"He plays to his size," Stramel's former teammate says of the 6-foot-3, 222 lbs. center. "He is not easily knocked off his skates. He skates super hard and he has a rocket of a shot."
It's very clear that few players have his natural physical gifts. It's clearer that few players work harder to maximize those gifts. The NHL doesn't put as much stock into the combine as the NFL, but Stramel's performance there stood out nonetheless. 
Director of Amateur Scouting Judd Brackett unwittingly echoes his former teammate's claims about Stramel's athleticism. As Brackett told NHL.com's Scott Burnside at the draft: "To be honest with you, he's a freak."
Before his freshman season, Stramel used his athleticism to put up points. He was almost a point-per-game player for the US NTDP, and a half-point-per-game player at the Under-20 World Junior Championships. Very often, he played against older competition, and very often, he succeeded.
This is why Stramel was a sure-fire top-15 pick coming into the season. Centers with his combination of size, speed, and skill don't come along very often. Whatever Stramel's struggles were, he still had that. That rare set of traits was the biggest reason the Wild targeted him, as Brackett emphasized in post-draft interviews.
Point production was the focus of most of the criticism around Stramel's selection, but zeroing in on that misses the point. It's not just that Stramel can skate and has good hands. Stramel also displays a full 200-foot game, putting in the effort and work all over the ice. A lot of players get described that way, but his former teammate backs that up. "He's willing to backcheck and pick guys up just as well as he can get in the offensive zone."
That defensive ability, his former teammate claims, makes Stramel a more well-rounded player than Isaac Howard, a top prospect in his own right, who went 21st overall to the Tampa Bay Lightning at the 2022 Draft. It's no knock on Howard, who scored 17 points in 35 games as a freshman at UMD. They're different players with their own skill sets. But if you're looking for a player who can make an impact in all three zones, Stramel has the decisive edge.
Stramel's former teammate also speaks very highly of his character and how he is in the locker room. "Awesome guy, super nice, not cocky at all. Super upbeat, he's a team player and works his butt off in the corners." That's the kind of stuff you love to hear if you are a coach or a fan about a new young player. Character is a big part of the identity the Wild are building. Players at every level love teammates that work hard for pucks and are a positive force in the locker room. 
It's easy to see Stramel turning into an even more filled-out and aggressive Joel Eriksson Ek, a two-way center boasting both size and skill. Stramel may never be a point-per-game player in the NHL, but if you get a reliable 200-foot center to play in your middle six, that's a win. There was disappointment initially when the Wild drafted Eriksson Ek, but no one's complaining about that pick now, are they?
If, or more likely, when Stramel turns it around at Wisconsin next year, fans may well look at this pick and be happy the Wild nabbed Stramel where they did. His ceiling is sky-high and if he can turn it around and put it all together, watch out. 
But again, you don't have to just take my word for it.
6