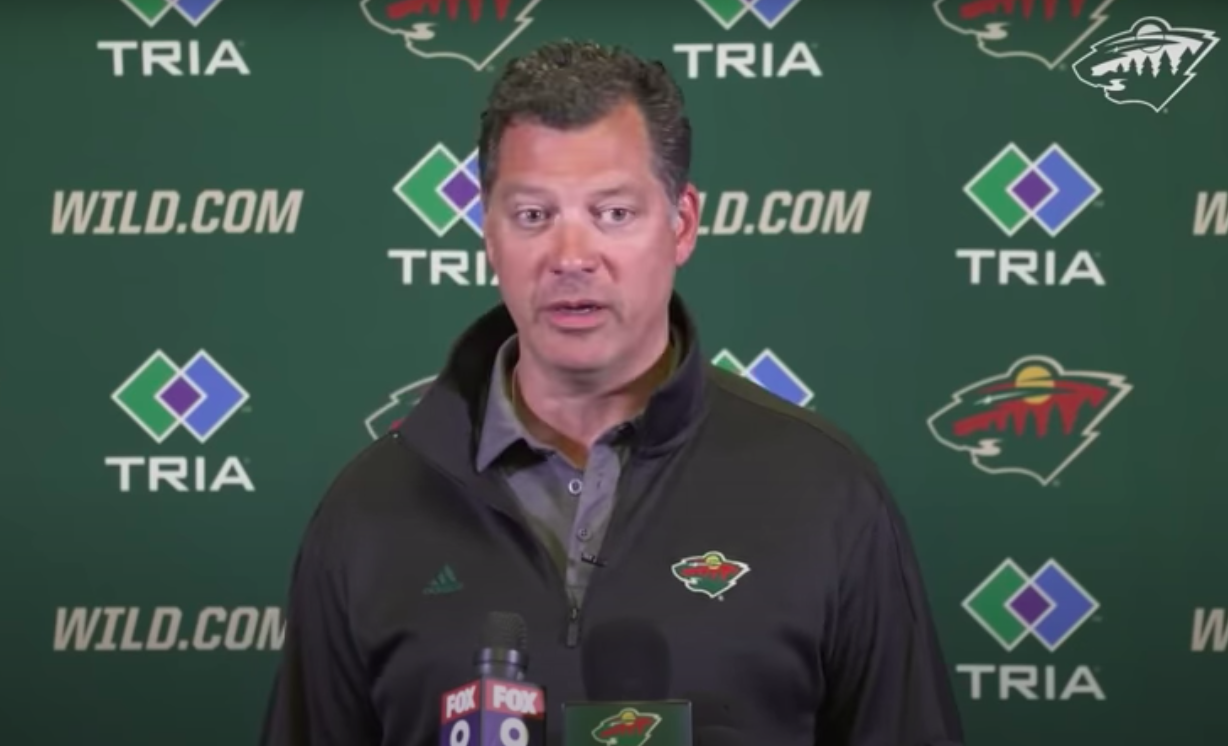 So far in his tenure as the general manager of the Minnesota Wild, Bill Guerin has made the right moves to help accomplish short-term goals while building towards the future. He has brought his winning pedigree to establish a long-term vision of the future and create a winning culture.
One of his first moves was to lock up Jared Spurgeon on a seven-year contract. Not only did he ensure he would have a top-pairing reliable defenseman for years to come, but he signed the player who would eventually become the successor to Mikko Koivu as the second full-time captain in franchise history.
However, it took Guerin nearly eight months to make a trade. His diligent roster evaluation fostered stability and displayed his patience and vision. He wanted to make sure he had a concrete plan.
He made a significant move by dealing one of Chuck Fletcher's last core players, Jason Zucker, and was able to get a strong package in return that included forward Alex Galchenyuk, top defensive prospect Calen Addison, and a first-round pick that the Pittsburgh Penguins eventually deferred to the 2021 draft. Zucker likely would have been exposed in the Seattle Expansion Draft, an example of how Guerin's proactive approach to roster management paid off.
As soon as it was announced that Judd Brackett wasn't returning to the Vancouver Canucks, Guerin made it a priority to sign him as Minnesota's new director of amateur scouting, which marked Guerin's first external addition to the front office. Getting a high-end scouting mind who helped build Vancouver's impressive young roster was a meaningful addition.
After two general managers failed to bring highly coveted Russian prospect Kirill Kaprizov to the NHL, Guerin was able to make it happen and the Wild finally signed their budding star winger.
Guerin then decided to utilize his cap space by acquiring pending unrestricted free agents to one-year deals, opening up an abundance of cap space this summer. He acquired Bjugstad from the Penguins for a conditional seventh-round pick, a buy-low deal that ended up becoming a bargain. The conditions weren't met, so the Wild got a middle-six center for free. Sure, the Penguins wanted to unload Bjugstad to open up cap space, but you still have to give Guerin credit for the clever move.
Then he traded Eric Staal straight-up for Marcus Johansson. This has been Guerin's only questionable transaction because he didn't get a fair return for Staal, who still was producing at a top-six rate. On the other hand, Johansson was coming off an average season.
When all is said and done, the deal ended up a wash. The center experiment was quickly scrapped and Johansson was moved to wing, where he never really found a consistent role. Coincidentally, Staal, 36, regressed and went from a 28-goal scorer last year to being worth minus-1.1 wins above replacement, the sixth-worst rate in the league.
He then traded promising young forward Luke Kunin and a fourth-round pick for Nick Bonino, a second-round pick, and a third-round pick. Bonino was able to keep the Wild afloat in the face-off circle while being a fixture on the penalty kill and producing strong defensive numbers. The picks really bolstered the prospect pipeline too. It ended up being a phenomenal move by Guerin.
It can't be overstated how important it was to sign Jonas Brodin to a seven-year extension. Getting both him and Spurgeon locked up long-term was vital to maintaining one of the league's best defensive tandems.
Devan Dubnyk was declining rapidly; Guerin still got two late-round picks for him, more than what the goaltender was worth. Then he replaced Dubnyk by signing Cam Talbot to a three-year deal in free agency. Guerin was the clear winner of the free-agent goalie sweepstakes. It was one of the brightest spots this past season, and the Wild finally got stability in the crease.
On the same day, he sold relatively high on Ryan Donato by getting a third-round pick in return. Since then, Donato has struggled and his production is far below expectations for him in an elevated role. It was reported by Kevin Kurz of The Athletic that the San Jose Sharks will not qualify him as he searches for a new home for next season.
After reports of significant interest in Carson Soucy from nearly a dozen teams if he hit the open market, Guerin made sure that wouldn't happen by signing the defenseman to a three-year extension.
Guerin's "free-agent splash" was swapping defensemen Greg Pateryn and Ian Cole in a trade with the Colorado Avalanche. Of course, the Avs are stacked and wanted to open up a roster spot and cap space, but getting a high-end third-pairing defenseman for a player who was injured for nearly the entirety of the 2020-21 season was a steal.
One of the biggest moves he's made is signing Joel Eriksson Ek to an eight-year extension on a team-friendly deal. Eriksson Ek has emerged as one of the league's best two-way centers and was due for a raise.
He's also done a great job at extending depth players like Marcus Foligno and Ryan Hartman on team-friendly deals.
Guerin shocked the hockey world this week by buying out the final four years of Ryan Suter and Zach Parise's contracts. After the brief relief this offseason, the Wild will have serious cap problems over the next three years. With the need for an upgrade down the middle and both RFA's Kaprizov and Fiala unsigned, Guerin almost can't miss in order to ice a competitive team in an incredibly tight cap situation over the next four years.
The good news is that his decision-making has cultivated a winning culture and his track record over the past two years suggests that he is well prepared for the summer.
Assuming he can address the critical priorities this summer, which includes extending Kaprizov and Fiala plus fixing the center situation, this team should be competitive moving forward. There will be an uphill battle ahead as he attempts to build a Cup contender at the cap floor in this financial climate. Having said that, it has been well-documented that he has a plan that will benefit the team right now and in the future.