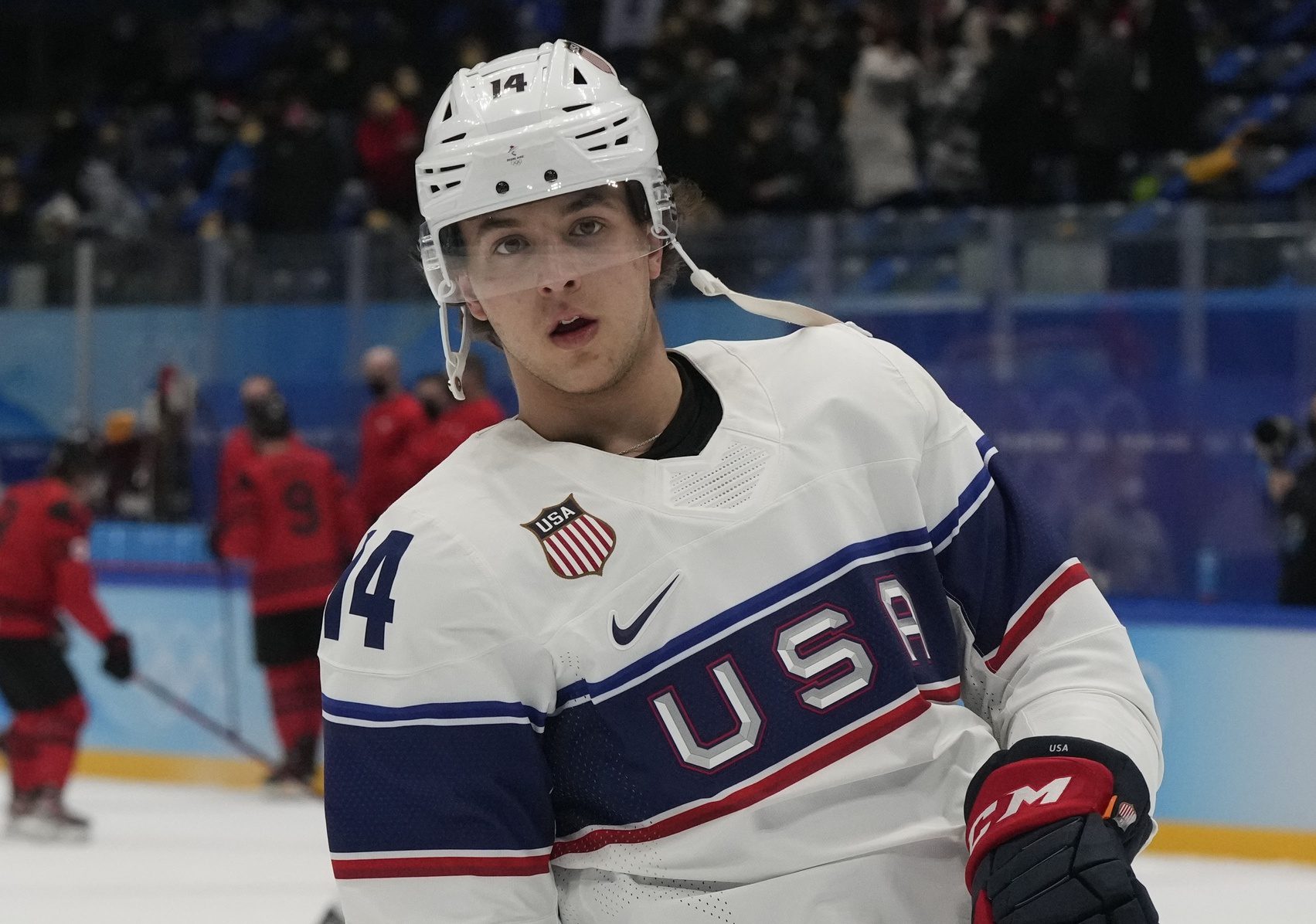 The Athletic recently ranked the Minnesota Wild organization at No. 1 in their yearly NHL prospect pool rankings. The Wild have only had a single Top-10 pick since 2012 when they took Marco Rossi ninth overall in 2020. So how did the Wild manage to get a top-ranked prospect pool without drafting anywhere near first overall? Thank Judd Brackett for that.
Scott Wheeler does these rankings for The Athletic and highlighted that the Wild have a blue-chip prospect at almost every single position. Center, left-wing, right-wing, right-defense, left-defense, and especially goaltender. They're all there.
Judd Brackett was in charge of Minnesota's draft when they picked all of the players on The Athletics' list except one (No. 9, Adam Beckman, 2019 Draft).
What makes the Wild's place atop this list so unique is that most other teams used multiple Top-10 picks to fill out their pools. The Detroit Red Wings (No. 4 per Wheelers' rankings) have Simon Edvinsson (No. 6 overall, 2021) and Marco Kasper (No. 8, 2022). The No. 2 New Jersey Devils have Simon Nemec (No. 2, 2022), Luke Hughes (No. 4, 2021), and Alexander Holtz (No. 7, 2020).
It's much more difficult to build a successful prospect group if you don't pick high. Let's look at how big of a drop-off there is from the Top-5, or even 10 picks to where the Wild usually slot in the draft.
New Jersey and Detroit both have been dreadful for a number of years. The Wild have missed the postseason just once in the past decade, and they still only held the 12 overall selection. Still, their farm system stands above those of perennial also-rans, and also everyone else.
There is a steep drop-off from picks one through five compared to picks six through ten. It only gets worse as you go on. So with the star potential so low on all but one of those picks, how have the Wild been able to wrangle all these top guys? Look no further than Brackett, their Director of Amateur Scouting.
Bill Guerin lured Brackett away from the Vancouver Canucks after the Wild hired him in August 2019. Brackett spent the last ten-plus seasons running Vancouver's draft table and selected players like Brock Boeser, Elias Pettersson, and Quinn Hughes. His stellar resume left Wild fans with plenty to be excited about.
Brackett goes out of his way when it comes to adding the best players in the Wild's prospect pool. While not everyone in Minnesota loves Guerin at the moment, a lot of the credit for the prospect pool can be found sitting in the Xcel Energy Center executive suites. Guerin and Brackett have worked together closely to craft an incredible group of young players. Guerin trusts Brackett to draft the right players, and Guerin just makes sure Brackett has enough picks.
Check out the saga of the Wild's 2020 third-rounder. In the 2019 draft, then-Wild GM Paul Fenton traded that pick to the Nashville Predators for their 2019 third-rounder that became Adam Beckman. So, that's Nashville's pick, right? End of story.
Wrong.
On Draft Day 2020, Minnesota traded Luke Kunin to Nashville for a second-rounder and their own third-rounder that Fenton traded in 2019. Then Brackett packaged that pick and a fifth-rounder to move up from 89 overall to 65, where they selected Daemon Hunt.
Despite just six points in 38 games as a rookie, Hunt is a promising defenseman, landing 13th on Wheeler's list in the Wild organization. 10K Rinks did an exclusive story on Hunt's progression, which could have him knocking on the NHL's door in the next few years.
And hey, what about that second-rounder they got in the Kunin trade, Marat Khusnutdinov? Take a look at this.
[caption id=attachment_144284" align="alignnone" width="869]

Courtesy of Elite Prospects[/caption]
These are All-Time 20-year-old season KHL statistics. Khusnutdinov's 0.64 points per game is 9th all-time among 20-year-olds in KHL history. Better than guys like Artmei Panarin and Pavel Buchnevich, with a chance to pass stars like Kirill Kaprizov and Evgeny Kuznetsov in raw point totals. And all that still put him only at No. 7 in Wheeler's rankings.
That trade looked like a major win at the time and has aged like Jared Spurgeon. That is to say: well.
Now let's fast forward to the 2021 draft. The Wild held the 22nd overall pick in the draft. When Jesper Wallstedt fell to the 20 pick in the Draft, Brackett didn't leave anything to chance. He went up and grabbed the pick to stop others from leap-frogging them for their guy.
The Wild used a 2021 third-rounder as ammo in a package to the Edmonton Oilers in order to move up two spots. Wallstedt heard his name called through a television screen over 4,000 miles away by the son of late Wild executive Tom Kurvers, and the rest is rapidly becoming history.
That was a major win for the Wild as Wallstedt has been described by Wheeler as "the best goaltending prospect in the world." Wheeler slotted him as No. 1 in his prospect rankings for Minnesota. Wallstedt is tearing it up in Iowa (.909 save percentage) and earned a spot in the AHL All-Star game.
Defenseman Carson Lambos was the other first-rounder the Wild got in that draft, and he sits sixth in Minnesota's prospect rankings. Guerin acquired the Lambos in the first move he made in Minnesota, trading Jason Zucker to the Pittsburgh Penguins along with Calen Addison.
The trade that sent Kevin Fiala to the Los Angeles Kings was the last deal to benefit Minnesota's pool. The Wild shipped Fiala to Hollywood for current Gopher captain and former Maple Grove Crimson star Brock Faber. The Wild also got a 2022 first-round pick, which they used on Liam Öhgren, who sits third in Minnesota's prospect rankings.
In turn, that additional draft capital allowed the Wild to make a riskier selection with their own pick. With a safer pick in Öhgren already in tow, they took a swing on skilled Russian winger Danila Yurov at 24th overall. Today, Yurov sits fourth overall in the Wild's prospect rankings.
Over the course of a few years, these moves launched the Wild into contention for the best prospect pool in the land. A lot of these players are expected to reach the NHL when the buyout penalties reduce greatly. Guerin and Brackett have set the Wild up to hit the ground running with this legion of prospects.
They rebuilt the franchise, without all that annoying "rebuilding" stuff. Brackett, Guerin, and the Wild have managed to assemble an incredible group of future NHLers without ever finishing in even the Bottom-10 of the league. Guerin's savvy trades and the Brackett's precision drafting are setting the Wild for success now and in the future.