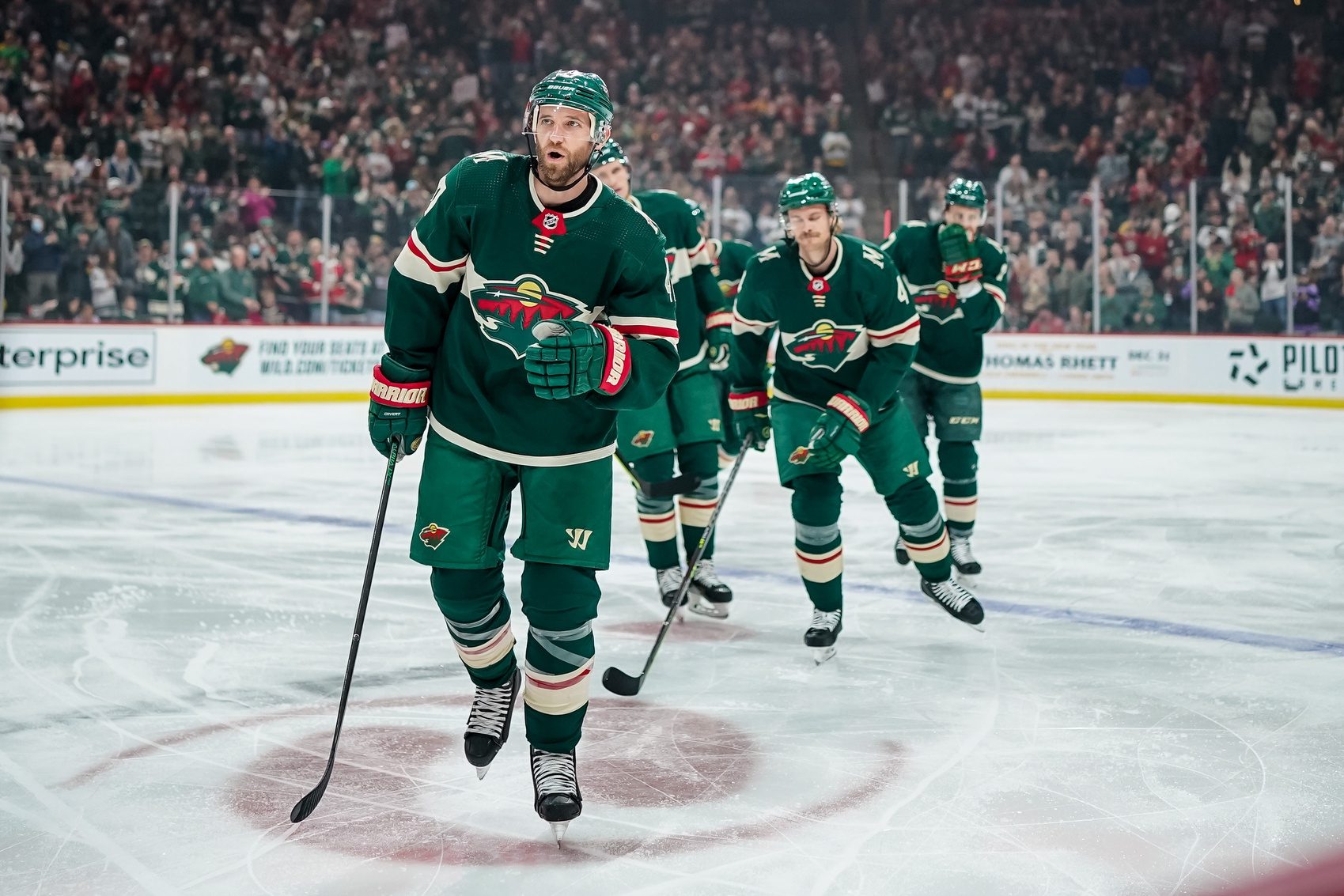 A handshake agreement was likely made when the Minnesota Wild signed Alex Goligoski to a one-year deal during free agency last summer. If the Wild wanted to retain the veteran defenseman's services beyond this season, it would be a team-friendly deal. Now they've chosen to go through with that, extending the 36-year-old to a two-year contract that will pay him $2 million annually and comes with a no-move clause.
This season, the veteran defender has 28 points and has formed a strong duo alongside Jared Spurgeon. The defensive pair is among the league's best. Not only does the pair have a 62% expected goals rate, but their 70% goal share is good for the fifth-best in the league.
The Wild brass made a good choice by adding him in free agency, considering he has at least been a serviceable and productive offensive defenseman. There weren't a ton of options for them last summer, but they managed to find a suitable replacement after buying out Ryan Suter.
But do the benefits outweigh the risks over the next two years? Probably not.
After having a career-best start and a solid first half, Goligoski has been underwhelming and frankly looks tired in the second half, which has landed him in the press box for three straight games. He's been unproductive on the power play and is often making careless mistakes in the defensive zone, especially when clearing the puck. That's why this deal is risky, especially in the second year.
Further, it's also evident that Spurgeon is the primary driver on the pair and that Goligoski hasn't been as good as the numbers reflect. This season, Goligoski has been worth two wins — top-25 in the league, per Evolving Hockey's Wins Above Replacement model. But part of that could be correlated to the fact he has the highest on-ice shooting percentage on the team.
Despite being productive offensively, it wasn't a slam-dunk decision whether to re-sign Goligoski or not. Sure, maybe the Wild might want to roll the dice with the veteran defenseman to keep him in Minnesota, but why not a one-year deal? Instead, they re-upped a 36-year-old for two more years. While it gives them some cost certainty option at a value, it's another example of the Wild offering too much term.
More baffling is this took place after the Wild's investment at the trade deadline, which notably brought in future Hall of Fame goaltender Marc-Andre Fleury and defenseman Jacob Middleton. While the organization needs cheap contracts to field a team during the next three years — a byproduct of buying out their two franchise cornerstones — it was still a surprising decision to see them trade for Middleton to essentially slide into Goligoski's role, then re-sign Goligoski.
With the addition of Middleton and top defensive prospect Calen Addison ready to make an impact at the NHL level, Goligoski's extension wasn't necessary.
The Wild currently hold the rights to eight NHL defensemen, assuming Jordie Benn departs and they've penciled in Addison on next year's roster. Spurgeon and Jonas Brodin are locked up for five and six years, respectively. Jon Merrill received a team-friendly three-year extension, and now Goligoski is in the fold for two years.

Middleton is an RFA and was the only piece Minnesota received in return for Kaapo Kahkonen, leading to the assumption that he is part of the Wild's future plans. There was no reason to bring Middleton in as a rental, potentially throwing the defense in flux, if there was no intention to re-sign him. The Wild will have to clear some room this summer, so the most reasonable explanation is that it hints at a major offseason trade involving someone on the blue line.
That leaves Matt Dumba and Dmitry Kulikov as potential departures. A Dumba trade seems like the most plausible because it doesn't make sense to re-sign Goligoski if the motive was ultimately to trade Kulikov. Trading Dumba would open the door to possibly re-signing Kevin Fiala, too.
The most perplexing element is that the brass continues to block Addison, who has been excellent in a small sample size. In 15 games this season, he has a 60% expected goals rate and has seamlessly fit in. He doesn't look out of place and clearly can handle an NHL role. But the Wild continue to add defenseman on the blue line, effectively blocking a role for Addison on the roster.
At least Minnesota knows that their defensive core will be stable next season. But the Goligoski extension doesn't look like the best allocation of money unless it's a prelude to something bigger this summer.
All Data Via Evolving-Hockey, Natural Stat Trick, Money Puck, and Hockey-Reference